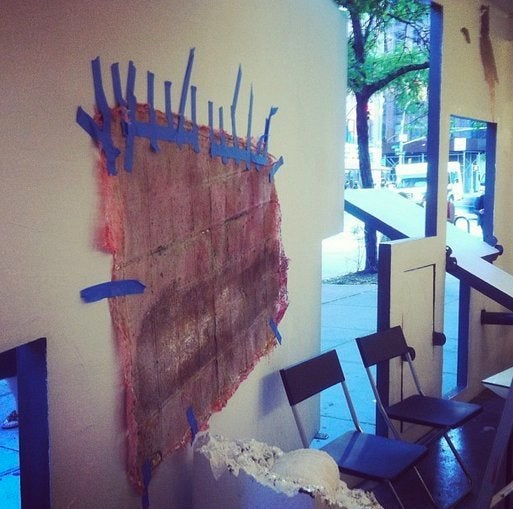 It feels like every architect in New York may be in Venice, Italy right now for the 13th Venice Architecture Biennale. Curated by British architect David Chipperfield, the theme of this year's Biennale is Common Ground, which many pavilions have taken as an invitation to consider the political and social aspects of architecture. (Though, one of the world's great architects seemed non-plussed when he professed that this year's Biennale curator could learn a lot from Pussy Riot.)
The various interpretations of the Common Ground theme radiate back to this side of the Atlantic with fiber optic speed, such that those of us not in Venice could easily spend our time following every tweet, blog and Instagram post in deep biennale envy. Yet, one of the great things about architecture is that it is all around us -- especially in a city like New York. So, in honor of not attending the 13th Venice Biennale, let me present you Abstract Containers -- an exhibit of architecture that you can find between the Whitney Museum uptown and Storefront for Art and Architecture in downtown Manhattan through September 9.
To see this exhibit you must visit the Whitney Museum's third floor galleries during museum hours. Here you will find Sharon Hayes' solo exhibition Sharon Hayes: There's so much I want to say to you. Either on your way into the Whitney Museum or on your way out you stop in the Museum's Sculpture Court -- the sunken pavement on 75th street. Here you find the Whitney's education studio structure designed by LOT-EK. Then you take the 6 train down to Spring Street (about 24 minutes) to Storefront for Art and Architecture. Here, if you are lucky, you will catch glimpses of artist Takashi Horisaki working on a commissioned project during the renovation of Storefront's gallery.
Abstract Containers effectively invites us to consider the city around us as if it were recognizably familiar but fundamentally altered. What would happen if speech could organize itself into objects, if the city could spontaneously form its own buildings, if buildings could peel off their own skins and record themselves?
Hayes -- an artist known for her performative forays into politics and history -- worked with artist Andrea Geyer to construct an environment that feels ready-made. Hayes refers to this cluster of existing pieces and newly commissioned works as "speech acts." As an established artist who works often with actions and text, Hayes does not ask for her work to be read as installation art and certainly not as architecture. Yet, the exhibit produces a reading of political space in a tangible way that reminds one of certain lines of architectural inquiry. The wood platform that Hayes and Geyer construct evokes, at different locations, a stage, a living room floor, or a grass lawn filled with campaign signs. If Vito Acconci's first foray into architecture involved the building of a slanted floor in a gallery, then this exhibit could easily portend an evolving line of architectural thought.
Outside on 75th street, the structure that LOT-EK designed serves the education department of the Whitney -- primarily as a space for art-making classes and informal lectures. The Whitney press release refers to LOT-EK's structure as a "pop-up studio," indicating its temporality. But the structure is much more build-in or drop-down, than pop-up. It is comprised of metal shipping containers, as are many of LOT-EK's projects, including the mixed retail and arts building proposal currently under environmental review for Pier 57 in Manhattan.
This work is often discussed in terms of its material, as if the choice of component defines its priorities from aesthetic to political. Beyond materiality, however, the design's emphasis on cubic volume and interior openness relates specifically to the program. The education studio, unlike the Breuer building, accomodates space for works in process and messier hands-on programs with a wide-ranging public.
LOT-EK, of course, is not timid about echoing Brutalism's interest in monolithic materiality. Says Ada Tolla, partner and co-designer of the project,"We always talked of our desire for the Whitney Studio to be a MONOLITH, we were after that kind of interaction with the Breuer's building, active, strong while respectful... Brutalism is my absolute favorite moment in architecture. So much courage, huge ideas, tough materials, naked gestures, incredible volumes." LOT-EK's appreciation for the concrete Breuer building serves as a reminder that the Breuer Whitney is itself a temporary structure at this point. The Breuer Whitney building is only temporarily housing its intended program until the Renzo Piano building opens downtown in 2015. The building, itself, may be preserved, but not its role in the city's culture and the American art-world.
Artist Takashi Horisaki has been working on this question of cataloguing the sometimes ephemeral relationship between activities and the structures that localize them. Downtown at Storefront for Art and Architecture he has been working for the past week on a commissioned project that casts the tin ceiling of the gallery in various translucent colors. According to Horisaki, "The landlord needed to install basic soundproofing, so they had to discard the tin ceiling although they felt it was an important part of the space's history, so this is where the project started from." If you make it to this leg of the exhibit, please be discrete. Storefront's galleries do not actually open to the public until another exhibit opens October 5, 2012. But due to the lack of ventilation, they often have to work with the wall panels partially open.
Of course, Abstract Container is an exhibit that I made up. What exactly is an exhibition of architecture, anyway? If the Hayes' exhibit, the LOT-EK education studio, and Horisaki's work share any fundamental alliance it may be the willingness to question while simultaneously engaging. What codes or expectations, for example, differentiate political action from aesthetics? Or, what makes the difference between a temporary structure and a permanent one, when our time in either is finite? LOT-EK's work, like Hayes' and Horisaki's, reminds one of both the urgency and fragility of such questions.
Correction: Storefront's galleries will open again to the public on October 5, not September 25.
Related
Popular in the Community