 Written with Ellen Dobbyn-Blackmore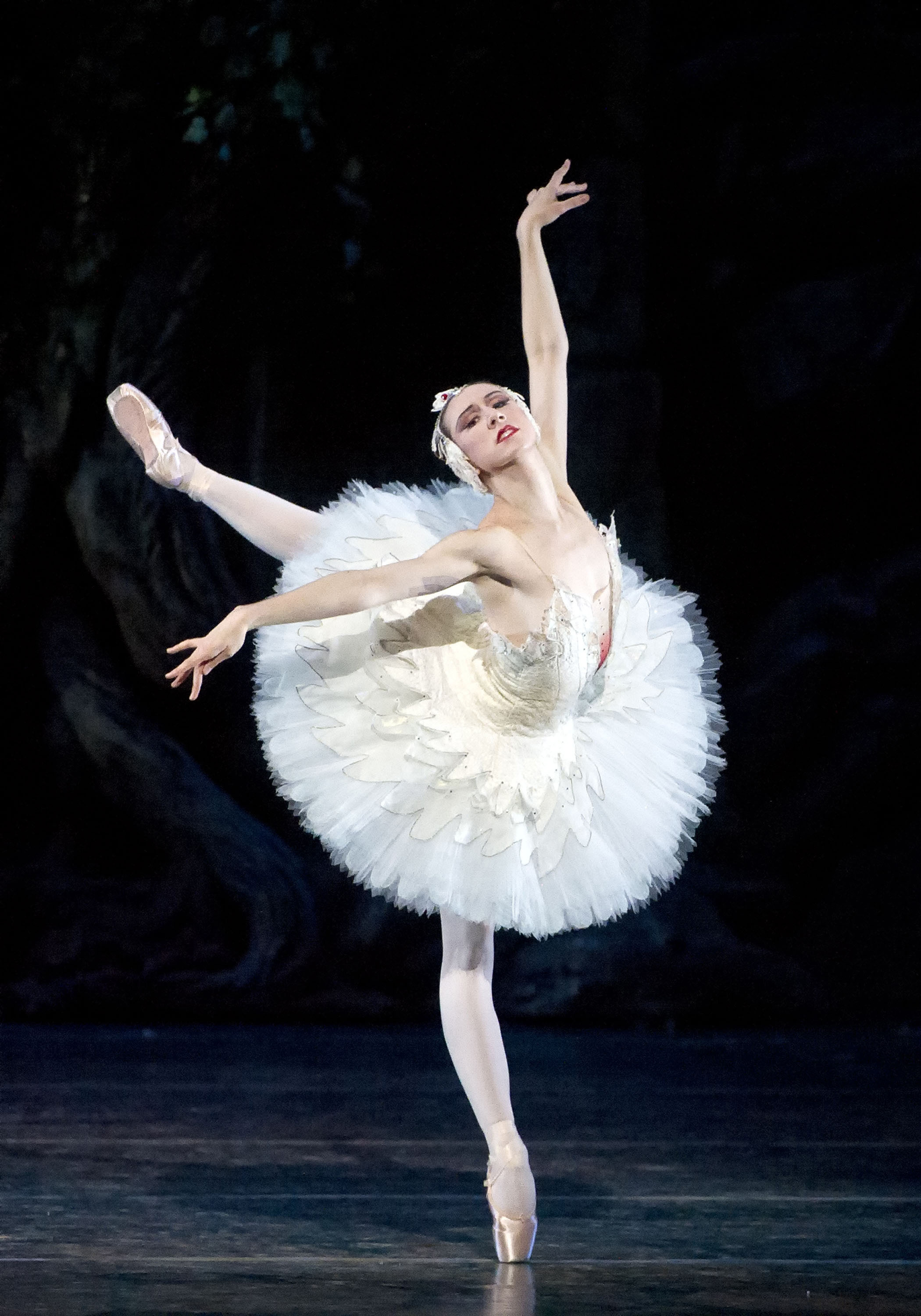 Isabella Boylston in Swan Lake with American Ballet Theatre
Photo by Gene Schiavone
American Ballet Theatre soloist Isabella Boylston defines space around her by moving through it. As she moves, whether on stage or in rehearsal, everything seems to shift and realign itself around her. Through seemingly empty space, she creates taut, radiating lines of palpable energy which twist, curve, and move in the imagination of the viewer. We see not only where she is and what she's doing now, but also where she's been, following swirling trails of dissipating images left behind by her passing. She is so wholly invested in her dancing that she makes the choreography look and feel both spontaneous and inevitable rather than rehearsed and stuck in time. It's a gift born of talent, hard work and a search for truth.
That rare quality of being able to define space is not given to every dancer. It is more than just a harmonious arrangement of bone and muscle. It's more than having high, perfectly curved arches and perfect balletic line. There are limits to beauty. It can exist objectively yet fail to move us when it has no truth to express. Talent is essential but there are many technical virtuosos out there who awe us with tricks while failing to touch the core of our being. To be among the best dancers means being a seeker of truth and ultimate expression in addition to mastering technical requirements. An artist must have the ability to focus and direct attention, theirs and ours, toward a common goal. The experience of dance begins with movement and while a good dancer is fun to watch, a great dancer demands your attention. The greatest dancers are performing artists who bring you into their world and take you to the transcendent realm. For Isabella Boylston, the goal of every performance is to find herself "in the moment" and take us with her.
Every young ballerina has a dancer she looks up to, for Boylston it was Diana Vishneva. A videocassette that was entirely in Japanese served as the introduction to her first role model. She studied it endlessly. Her mother surprised her with a trip to New York from the Harid Conservatory in Florida where she was studying ballet to see Vishneva in Romeo and Juliet. She confessed to being in tears after the performance and she also named Julie Kent as a role model for her younger self. When confronted with the fact that she is now a role model for young dancers, she seemed initially uncomfortable with the idea. I pointed out that not many American ballerinas get to dance the Swan Queen at ABT, she deflected: "ABT seemed like a very far-fetched dream for me as a kid. I didn't really know what would happen. I thought I would audition for all these companies and let it happen. Obviously I wanted it but I had no expectation."
Now that her expectations have been exceeded she has to adjust and raise her sights higher still. So I asked again about being a role model and she relented, "Gosh, that's a lot of pressure but that's wonderful. When you're a kid you don't see with such a critical eye as you do when you're a professional. You just let yourself get carried away by it. It's an honor if they look up to me. I would hope to be inspiring to young dancers."
Last year, Boylston had debuts in Swan Lake and the full length Don Quixote. The first is a landmark in any great ballerina's life and the second is a crowd pleaser that tests a dancer's stamina and innate star quality. While rehearsing for her upcoming Don Q debut at the Met with Daniil Simkin, a few things become readily apparent. The partnership between the two is flourishing and looks more evolved than it did last year. Simkin has put on some much needed muscle in his upper body and the overhead lifts are looking considerably easier though the one-armed lifts are still uncertain. Simkin is a gifted technician, an acknowledged star who is sometimes compared with Baryshnikov. He has a wide following but the prince roles are where his legacy will ultimately be defined and he is putting everything into it. Boylston is matching his effort with an equal resolve of her own that will not be denied. This is a new season with higher expectations for both of them as they move up from the matinee to an evening performance of Swan Lake on June 19th along with Don Quixote on May 30th.
The biggest change for Boylston this year is the absence of her former mentor and coach, Susan Jaffe, who left ABT to take the position of Dean of Dance at UNC's School of the Arts. Boylston is now working with Irina Kolpakova about whom she said, "I feel really lucky to work with her because she has such a wealth of knowledge and she's also very loving and warm as well as demanding. But it's different. Susan and I were so close. Since she left it's been more up to me to find my own way." In doing so, she is becoming more confident and learning to trust her own instincts. It showed in rehearsal, in the way she was communicating with Simkin, attacking her steps with authority and identifying where things needed improvement. Their interplay was cheerful, focused and professional and they worked toward solutions with clarity. Boylston is at the upper limit of height for Simkin to partner making them a less than ideal match but they are both working hard at it and this partnership can only get better.
About performing Don Q with James Whiteside as her partner in Barcelona last summer, she said, "I never thought I would enjoy the role of Kitri so much. In rehearsal, there's so much dancing and jumping. It's exhausting. It's also a lighthearted role, not as complex as Swan Lake, obviously. So I was surprised at how much I was able to enjoy it. I think it will be really fun to do it with Daniil."
Reviewing her performance in last year's Swan Lake, Boylston said, "I felt really proud of my second act. I felt like I got to where I knew I could get for my first show. I think my Black Swan was not as assured as I had rehearsed it. Technically it was fine but there's a lot that I want to improve. I just knew I could have gotten more out of it." She has a long list of expectations for improvements to be made this time around: "You can spend your whole career on it. I work on the same passages over and over and over. I'm sure Irina is sick of looking at the same thing but I feel like I can't quite make it look how I want it to. Maybe when I'm forty I can let go and do whatever but right now I'm trying to get it all right and do it the correct way."
When I mentioned Jaffe's assertion that she didn't feel like she owned Swan Lake until she had been doing it for ten years, Boylston thought that sounded about right, "I definitely think it takes a long time to grow into it. It's really hard because I only get two shows of Swan Lake a year and I feel very lucky to get that in this company. You work and work in the studio, day in and day out and I'm always thinking about the steps, thinking about what I want to do with it but there's only so much you can get from the rehearsals. You learn so much about the character from being on stage with the lights, costumes and orchestra. Just being in the moment." Being in the moment is how Boylston describes the feeling she gets when she has performed to her greatest potential, notwithstanding technical mishaps.
How important is it to her? Boylston lays it out: "On the one hand it's just ballet but to us it's everything. I'm trying to be honest on stage. I'm not there for showing off. I'm not often happy with my shows but when I am, and when I think it went well, I was really in the moment and able to be true to the music and the character and the choreography. There are technical things that I'm never quite satisfied with after every show but I judge my performance based on how I feel. Hopefully one day I'll feel more satisfied with my performances but it's hard. It goes in cycles of ups and down but I guess that's the agony and the ecstasy of being a dancer." She said that with a smile and an obvious sense of humor but there was no mistaking that she meant it. A true artist always has to reconcile her imagined ideal with the reality of human limitations.
This season at the Met is another important one for Isabella Boylston. She faces her own raised expectations in addition to those of everyone around her. If she does well with her assigned roles this season, she will be rewarded with other major roles and that will put her squarely on track to be named principal dancer. With last year's major milestones safely behind her, it's time to look ahead and think about what comes next. When asked about what roles she wants to do in the future, Boylston said, "I feel very fortunate to have gotten what I have. I feel like they've given me really technically challenging roles in Swan Lake, Don Q, Firebird, Theme and Variations, and it's great because I think I've gotten so much stronger technically and more confident by doing these roles. I feel more comfortable in the lyrical roles. I would love to take on Juliet, Giselle and Manon." Getting to dance those top dramatic ballerina roles would place Boylston among the world's elite dancers and she seems determined to earn it.
She added that she believes that by proving herself in the roles she has already been given, she will demonstrate that she has the necessary maturity and is ready to take on more. In addition to Don Q and Swan Lake, she also has a role in a new ballet by resident choreographer Alexei Ratmansky and will participate in ABT's new dancer exchange program. The exchange program will send her to the Royal Danish Ballet this winter where she will be performing the roles of the Dew Drop Fairy and the Sugar Plum Fairy in the Nutcracker. The Royal Danish Ballet dances Balanchine's version of the Nutcracker and she is looking forward to it with enthusiasm. Both parts suit her well and show off her abundant skills. Performing in Copenhagen will make her more familiar to European audiences and open opportunities for to dance as a guest artist with other companies there.
Boylston wrapped up by saying: "I think that everyone experiences self-doubt so I am trying to believe in myself more. I think, hopefully, that will show in my dancing. This past year has been a really big learning time for me. I've had to work more on my own. I remember last year I had a show, I think it was Bright Stream, and after a rehearsal I approached Alexei (Ratmansky) and asked him for feedback and he said, 'it's great, the steps are good but now you've arrived. You're doing Swan Queen. Your instincts are good. You just need to trust yourself.' So I've been trying to believe in myself more. Maybe that sounds corny but I'm trying to trust myself more and do it my way. I'm going to keep working. I'm very determined." As of now, that combination of talent, tenacity and truthfulness makes Isabella Boylston look like a lock to join the ranks of American Ballet Theatre's top principal ballerinas. The good news is that it couldn't happen to a nicer or more deserving person.
Below: Isabella Boylston in American Ballet Theatre's Swan Lake
All photos by Gene Schiavone
PHOTO GALLERY
Isabella Boylston in ABT's Swan Lake, all photos by Gene Schiavone
REAL LIFE. REAL NEWS. REAL VOICES.
Help us tell more of the stories that matter from voices that too often remain unheard.