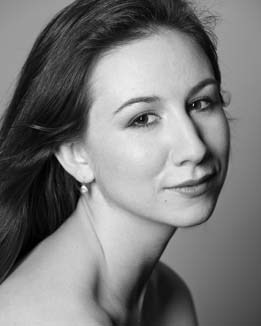 Isabella Boylston, principal dancer, American Ballet Theatre
Photo: ©Rosalie O'Connor
Isabella Boylston is steadily working her way up to the top rank of American Ballet Theatre's principal dancers. Her rise has been incremental rather than sudden, with some choice new roles added each season. With each new role her on stage presence seems to grow and she is becoming a deeply complex artist in addition to being technically gifted. She's immensely popular with young dancers who see in her the dancer that they want to be. That is probably because there's an uncompromising quality to her technique. She takes no easy shortcuts and she never cheats in her execution. Then there's that ineffable quality of vulnerability, her openness, that draws you to her when she's on stage. On Wednesday, June 22nd, she will make her debut as Juliet in Sir Kenneth MacMillan's Romeo and Juliet.
AB-D: So, Juliet...
IB: Yes! I've been looking forward to this for the longest time. It was one of the first ballets I ever saw at ABT when I was a teenager.
What's the challenge of playing Juliet?
It's such a well-known story. Everyone out there knows what's going to happen but you have to remember that Juliet doesn't know the story. She's living it and she doesn't know what's coming next. You have to keep it in the moment so you don't give anything away too soon.
In MacMillan's R&J it's Juliet that makes everything happen. What do you see in her character that makes her do that?
In the end, I think it's desperation. She obviously has a stubborn side and she's strong willed. She's not going to give in and marry Paris, this guy that's perfect. She's intelligent and educated but compulsive and passionate. To me she's very likeable. I love playing Giselle but I feel like Juliet is more likeable and more relatable to me.
Has reading Shakespeare's play affected your understanding of Juliet?
Definitely. First, it gave me an overall sketch of who is Juliet. There are certain points where I am able to use lines from the play to go with my actions and thoughts. MacMillan did not follow the play exactly. He took liberties. In the play, although she is young she seems to have maturity and she's very witty. She wouldn't play with dolls like she does in the ballet. You can't convey the same things in dance as you can with words so I understand how it works dramatically in the ballet.
Have you been watching film?
I've seen the Claire Danes and Leonardo DiCaprio version many times. I prefer the Zeffirelli film, actually. She (Olivia Hussey) was literally a child when she made that film.
How much of your own inner fourteen-year-old do you draw on for your Juliet?
It's hard because when you're fourteen you feel like you're old already and you know everything. I try to remember what that was like and it helps to put an extra youthful spring in my step, especially in the beginning.
How was it working with Julie Kent to learn the role?
We were always close, especially the last couple of years. We have a friendship and I've always admired her dancing. I'm sure you noticed this when you watched our rehearsal that she leaves the structure open for me in many ways. You have to do the choreography but there's also a lot of open space. In the third act there are so many things you can do and different ways to move around the room. Julie hasn't given me a lot of specific directions for those moments. She would actually say, "I'm not going to tell you what to do. You have to figure it out." I'm grateful for that. I think it must be a temptation to try to get someone to do it the way you did it. With Julie, it was the opposite. She wants me to give it my own interpretation.
Yes, I noticed that she was pointing out that there were choices to be made and that it doesn't matter as long as you make an intentional choice.
Exactly. I think this would be way harder for me if this were my first full length ballet but I feel like I have enough experience now to figure it out on my own.
Overall, do you think that leaving that ambiguity is a good thing?
I think that as an artist you have to be able to make your own choices and I think that I have the maturity now. Five years ago I might not have been able to.
Gemma Bond said that some of MacMillan's greatest moments in Romeo and Juliet are the quietest.
Right. It's true that there are a lot of points where Juliet is doing nothing and the music is playing. It's kind of a scary place for me as a dancer to be there with nothing to do. You have to get comfortable with yourself and fill yourself with thoughts so you're not empty or at a loss.
How is your partnership with James Whiteside?
It's great. He's a really good friend of mine. When we first started doing it we kept seeing each other as James and Isabella. It was hard for us to go there emotionally because we were cracking up. We tried to do the kiss in the first rehearsal and Kevin McKenzie made us stop. He told us we needed to cut it out, right now. He told us that any time we felt like laughter was creeping in that we had to break the scene and start over. We took it to heart and I'm glad that we got that lecture. You set yourself up in those rehearsals for how you're going to feel in the performance. The lights won't just come on automatically when you go on stage.
What are you going to do when you meet Romeo for the first time?
I don't think I'm going to do that much. I'm going to try to have the right thoughts in mind. You don't want to project too much. I want it to come from inside rather than trying to make it look like I'm feeling something.
How is the Balcony Scene working out?
To dance the pas de deux is incredible. I trust James so much and he's such a strong partner that I can just go for everything and I know he'll catch me.

MacMillan wanted each Juliet to decide for herself how her body would react to the potion... how is your body going to react?
It tastes really bad. My body wants to reject it but I'm trying to keep it down because I know that this is my last hope. It's a struggle of mind over matter.
What are you planning to do with the death scene?
I know what I'm doing but I haven't made all my choices yet. Some choices I may not even be able to make until I'm in the moment. The silent scream was hard for me at first.
So you're not going to give away how you're going to die?
Hopefully not.
Do you have a favorite moment in the ballet?
I don't know yet. I don't think I'll know until after I perform it. I love the suspense and the music of the potion scene.

What's coming up for you after the season ends?
I'm going to be artist in residence at the Vail International Dance Festival this summer which I'm really excited about. I'll be performing Jerome Robbins' Afternoon of a Faun for the first time and the pas deux, This Bitter Earth. It's going to be fun.
Calling all HuffPost superfans!
Sign up for membership to become a founding member and help shape HuffPost's next chapter