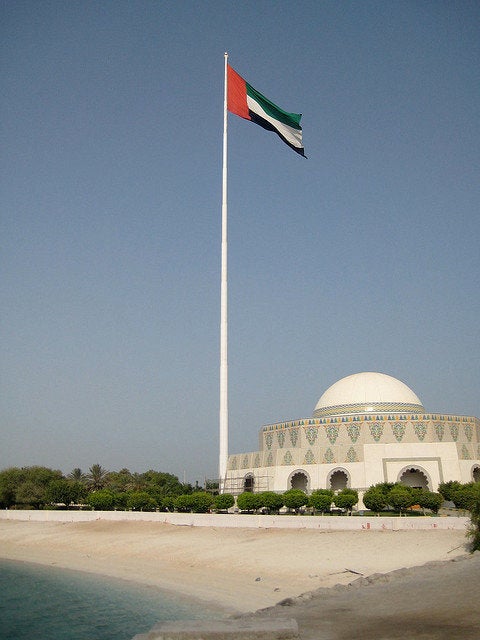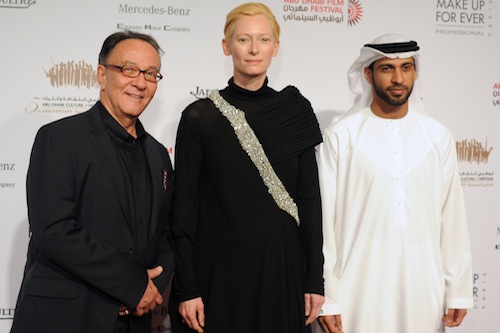 I constantly crave a place where class, glamour and culture unite to form a kind of unique yet affordable luxury. A place where great world cinema plays nearly uninterrupted all day long and a great buffet of international food is served, but also where being a woman with a healthy dose of self-respect is still celebrated. I ended up finding it all in Abu Dhabi, during the fifth annual Abu Dhabi Film Festival.
ADFF Executive Director Peter Scarlet disclosed during his inspiring speech at the awards ceremony that this year's edition of the festival featured 150 international films, several competitions culminating in special prizes for world filmmakers, and was covered by 281 international journalists, from all over the globe. I like to think I was that odd, out of the group "one" in the bunch... But I digress.
Though some may argue that ten days of such cinematic grandness, parties and interviews could turn out to be completely overwhelming, for me ADFF was simply heaven on earth.
To mention just a few highlights, I got to watch fellow Italian Nanni Moretti's latest thought-provoking masterpiece Habemus Papam (We Have a Pope) while sitting in the royal seats at the Abu Dhabi Theater, and rubbed shoulders at the luxurious Fairmont Bab Al Bahr hotel with a glowing Tilda Swinton in a flowy dark green dress, a look she perfected by wearing matching emerald rings.
I also caught up with my favorite Swedish filmmaker Göran Olsson in the balmy morning sun before his insightful talk on what makes a great documentary -- a subject on which he is an expert since his fantastic The Black Power Mixtape 1967-1975 is currently shown nearly all over the world. I even found myself in the enviable position of interviewing legendary Tunisian filmmaker Ridha Behi and his producer Ziad Hamzeh (at the festival with their film Always Brando) over a gourmet seafood dinner waterside, under the stars and al fresco, on a magical night at the Fishmarket Restaurant -- all courtesy of Hamzeh's cousin.
But while my own personal journey at ADFF may have gone far beyond just the simple enjoyment of world cinema masterpieces, in an idyllic setting so conducive to culture and entertainment, I know that even to the average audience member the experience must have felt incredible.
There were masterclasses with Welcome to the Dollhouse filmmaker Todd Solondz, Waiting for Happiness writer and director Abderrahmane Sissako and French musical duo Air (who scored Sofia Coppola's The Virgin Suicides). There were panels featuring Fortissimo's Michael Werner, Pacha Pictures's Frederic Sichler and film historian and TV presenter Serge Bromberg, who has been responsible for restoring some cinematic oldies such as A Trip to the Moon from 1902, which screened at ADFF.
Films featured in this edition ranged from shorts from MENA to documentaries from Mexico and India, to narrative features from Iran, Japan, Russia and the USA, shown around Abu Dhabi, in the grandiose Abu Dhabi Theater, the open air dramatic setting of the Fairmont (with Sheikh Zayed Mosque offering a generous backdrop that can only be described as cinematic) or the Marina Mall VOX complex.
The festival then culminated in the presentation of the coveted Black Pearl Awards at a ceremony on Friday, October 21st, in the Grand Ballroom of the Fairmont, following a glamorous red carpet and the screening of actor turned filmmaker Rupert Friend's short film Steve, starring Colin Firth as the neighbor from hell (or heaven, perhaps) and Keira Knightley and Tom Mison as the objects of his attention.
The top awards were handed out to Marjane Satrapi's Chicken With Plums for Best Narrative Feature, Asghar Farhadi's A Separation for Special Jury Award, Ismaël Ferroukhi as Best Director from the Arab World for Free Men, and Ziad Hamzeh and Ridha Behi as Best Producers from the Arab World for Always Brando "in recognition of their determination to realize their cinematic dream against all odds."
Behi and his film have been through it all since March 2004, when Marlon Brando personally agreed to star in the project and then, just three months later, died at age 80. But the result, with a hint of Brando and a lot of heart, is a film that is at once touching and incredibly poignant, particularly in light of the recent changes in Tunisia and the economic turmoil we are feeling around the world.
Best Documentary went to Position Among the Stars directed by Leonard Retel Helmrich, while Jury Mention was awarded to The Tiniest Place directed by Tatiana Huezo, with Gemma Atwal winning Best Director for Marathon Boy, Safinez Bousbia winning Best Director from the Arab World for El Gusto and Mohamed Hefzy winning Best Producer from the Arab World for Tahrir 2011: The Good, the Bad & the Politician.
New Horizons Awards were given to Stories Only Exist When Remembered directed by Julia Murat for Best Film, Alms for a Blind Horse directed by Gurvinder Singh got a Special Jury Award, while Amr Salama got Best Director from the Arab World for Asma'a and Maged El Kedwani won Best Actor for his performance in the film, which enjoyed its world premiere at ADFF. Memona Mohamed from Tears of Sand and Sonia Guedes from Stories Only Exist When Remembered shared the Best Actress award, but I'm sure will each get their own stylish, personalized Jaeger-LeCoultre watch, which was part of the prize.
A special Black Pearl Career Excellence Award was bestowed on the ever-gracious Tilda Swinton, who currently stars in We Need To Talk About Kevin, a film directed and co-written by Lynne Ramsay, featured in the festival.
Even after the stars and filmmakers have returned to their home countries, the red carpets have been rolled up and the volunteers have called it a day, the hospitality of this Emirate remains. I admit I have been fortunate to call the Hilton Abu Dhabi home for more than a week, where taxis abound, the food is truly gourmet and the service impeccable.
My only problem seems to be how pack my luggage with the dozen scrumptious double chocolate heaven cupcakes I bought at Bloomsbury's in Al Wahda Mall...
Top image of Peter Scarlet, Tilda Swinton and Eissa Saif Rashed Al Mazrouei courtesy of the Abu Dhabi Film Festival

Calling all HuffPost superfans!
Sign up for membership to become a founding member and help shape HuffPost's next chapter