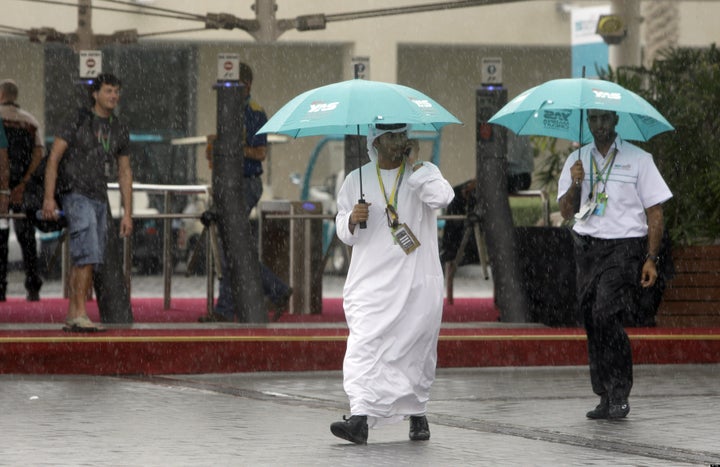 Desert dwellers wishing to transform their arid surroundings into a profitable, crop-sustaining oasis have reportedly gotten one step closer to making that dream a reality, as Abu Dhabi scientists now claim to have created more than 50 artificial rainstorms from clear skies during peak summer months in 2010.
According to Arabian Business, the storms were part of a top secret, Swiss-backed project, commissioned by Sheikh Khalifa bin Zayed Al Nahyan, president of the UAE and leader of Abu Dhabi. Called "Weathertec," the climate project -- said to be worth a staggering $11 million -- utilized ionizers resembling giant lampshades to generate fields of negatively charged particles, which create cloud formation, throughout the country's Al Ain region, the Telegraph is reporting.
"We are currently operating our innovative rainfall enhancement technology, Weathertec, in the region of Al Ain in Abu Dhabid," Helmut Fluhrer, the founder of Metro Systems International, the Swiss company in charge of the project, is quoted as saying. "We started in June 2010 and have achieved a number of rainfalls."
Monitored by the Max Planck Institute for Technology, a leading tank for the study of atmosphere physics, the fake storms are said to have baffled Abu Dhabi residents by also producing hail, wind gales and even lightning.
"There are many applications," Professor Hartmut Grassl, a former institute director, is quoted by the Daily Mail as saying. "One is getting water into a dry area. Maybe this is a most important point for mankind."
Related
Popular in the Community