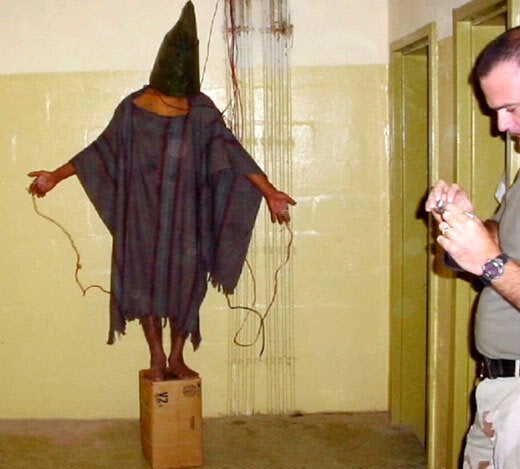 The Pentagon on Thursday denied the Daily Telegraph report that photographs of Iraqi prisoner abuse, whose release U.S. President Obama wants to block, include images of apparent rape and sexual abuse.
Pentagon spokesman Bryan Whitman said the newspaper had shown "an inability to get the facts right."
"I want to speak generally about some reports I've witnessed over the past few years in the British media. And in some ways, I'm surprised it filtered down," Gibbs said. "Let's just say if I wanted to look up -- if I wanted to read a writeup today of how Manchester United fared last night in the Champion's League cup, I might open up a British newspaper. If I was looking for something that bordered on truthful news, I'm not entirely sure it'd be in the first pack of clips I'd pick up."
LONDON (AP) -- A former U.S. general said graphic images of rape and torture are among the photos of Iraqi prisoner abuse that President Obama's administration does not want released.
Retired Major Gen. Antonio Taguba, who oversaw the U.S. investigation into the abuses at Abu Ghraib prison, told Britain's Daily Telegraph in an article published Wednesday that he agreed with Obama's decision not to release the pictures.
"I am not sure what purpose their release would serve other than a legal one and the consequence would be to imperil our troops, the only protectors of our foreign policy, when we most need them," Taguba was quoted by the Daily Telegraph. "The mere description of these pictures is horrendous enough, take my word for it."
Two Obama administration officials didn't immediately respond to e-mail requests for comment Wednesday night.
The prisoner abuse scandal at Abu Ghraib exploded after photos taken by soldiers appeared in 2004.
According to the Telegraph, the new photos depicted much more serious abuses than previously documented.
One photo reportedly showed an American soldier apparently raping a female prisoner and another was said to show a male translator raping a male detainee, the Telegraph reported.
It was not immediately clear from the report who had seen the photos or how they might have been obtained.
The Telegraph said the photos relate to 400 cases of alleged abuse between 2001 and 2005 at Abu Ghraib and six other prisons.
The newspaper said the images in the photos were backed up by statements from Taguba's report into prisoner abuses at Abu Ghraib obtained under the U.S. Freedom of Information Act.
Calling all HuffPost superfans!
Sign up for membership to become a founding member and help shape HuffPost's next chapter