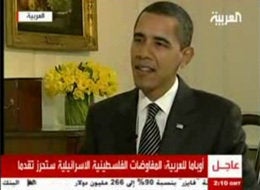 What transfixed me most about President Obama's eloquently choreographed initial outreach to the broader Muslim world on the moderate pan-Arab satellite channel "Al-Arabiya" was the studied confidence of the messenger and the mastery of his message.
In an unprecedented unveiling of the new Democratic "soft power" public diplomacy, the immensely popular Obama wasted no time following directly upon his Inaugural Address outreach to the Muslim world by granting his first presidential television interview to the region's highly respected "Walter Cronkite" -- Hesham Melham, to reach out directly to an audience of hundreds of millions. It is just a matter of time before some journalists in the Arab world attach the affectionate moniker "Abu" (father) to their newly minted American friend.
Obama's message was conciliatory and purposeful: "My job is to communicate to the Muslim World that Americans are not your enemy..." "[M]y job is to communicate the fact that the United States has a stake in the well-being of the Muslim world that the language we use has to be a language of respect," he said. He lauded Saudi Arabia's Arab peace initiative, reiterated his promise to withdraw U.S. troops from Iraq, to close the Guantanamo detention facility and commit the U.S. to reconcile Palestinian and Israeli. President Obama's goal was to lay the foundation for what surely will be an innovative and comprehensive Muslim world "stimulus" package intended to take the "battle of ideas" being waged between the West and Bin Laden directly to the so-called Arab Street. There is talk of new cultural centers and people-to-people exchanges to buttress a full-throttled re-engagement.
As president of Layalina Productions, America's most successful producer of commercial-style television for Arab media markets, I have spent nearly 7 years developing new media programs and initiatives intended to help restore the battered image of America throughout the Arab world. But with a Bush administration as the backdrop, it was like trying to fight with two hands tied behind our backs. Obama's election will surely mean new opportunities and progress for ventures like Layalina Productions, which are part of the broader private sector effort in the U.S. to bridge the divide opened up by the Bush Administration's policy failures and public diplomacy shortcomings.
In a tangible first step beyond his initial rhetoric, President Obama and Secretary Clinton wasted no time dispatching Sen. George Mitchell -- America's respected and highly admired peace envoy -- to conduct the Administration's first "listening tour" of Middle East capitals. The trip by Mitchell constitutes a tangible realization of Obama's campaign promise to immediately reinsert America as the indispensable peace broker for salvaging any hope for lasting peace between Israel and its Arab neighbors.
Undeniably a new era in U.S.-Muslim world reconciliation has dawned with the election of President Obama. However, even his loftiest rhetoric and deepest empathy will be insufficient to bridge the divide without tangible actions and recalibration of certain policies. Many in his intended audience probably were hoping to hear new signals that the U.S. would embrace a more nuanced approach to the plight of Palestinians, particularly in the wake of the civilian suffering in Gaza witnessed by so many in the Arab world. Others want to see a president who is prepared to attentively listen to the grievances that hallmark the divided relationship.
All one need do is read Barack Obama's books to appreciate how much thought he has given to the task.
But the true test of Obama's presidency will not only be the innovative statecraft of its regional diplomacy, but also his ability to help mobilize a comprehensive initiative to lift the Arab world out of its economic and social poverty. Creating a new Islamic Development Reconstruction Bank funding by Muslim oil producing states, developing new vocational universities to train younger Arabs in skills, supporting new civil society institutions to build accountability within autocratic Arab regimes... all are just pieces of a broader U.S. engagement.
In the not too distant future, President Obama's staff has signaled his intention to travel to a Muslim nation to deliver his message of reconciliation in person. I hope the former senator from Illinois will select Casablanca, Morocco -- Chicago's Arab world "sister city" as his point of re-entry as president into the Muslim world. Morocco is a microcosm of the struggles taking place within the Arab world for the soul of its next generation -- pitting modernity and moderation against a determined struggle by Al Qaeda to transform North Africa into another bastion of extremism.
Not surprisingly, the President's Muslim world outreach initiative comes in the wake of a full throttled propaganda campaign by Al Qaeda to discredit our new president that is at once so inane and brazenly stupid that it has undermined itself in the process. In a deliberate and desperate name-calling offensive that reveals Al Qaeda's panic over Obama's election, Al Qaeda's websites are blaring every conceivable Arab juvenile curse at him. "A House Negro," "hypocrite," a "killer of innocents," so on an so forth. It is not by accident that Al Arabiya's competitor Al Jazeera made nary a mention of the President's interview that received enormous attention, but could not resist reporting on Al Qaeda's slurs and diatribes in recent days.
Al Qaeda is on thin ice in its effort to portray Obama as "Bush III.". Indeed, its leaders now have a true dose of Obama's dexterity. As Obama's pen drafts the message that will decay Al Qaeda's appeal within its Muslim world constituency, his sword continues to hunt down Al Qaeda's leaders in Pakistan. Osama Bin Laden... meet "Abu" Obama.
Calling all HuffPost superfans!
Sign up for membership to become a founding member and help shape HuffPost's next chapter