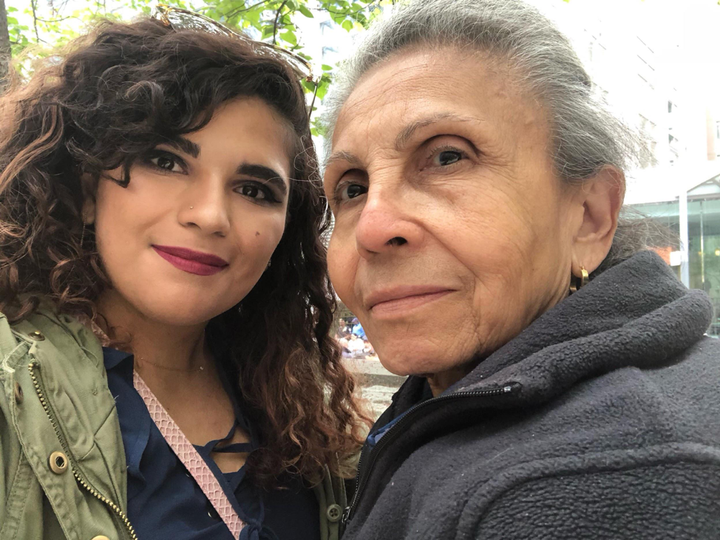 When I watched the video of attorney Aaron Schlossberg barking about Spanish speakers in a New York City sandwich shop last week, I sighed and rolled my eyes. As a Latina in this country, I was hardly shocked. In the days afterward, when New Yorkers saw this as not just a negative situation but also an opportunity to celebrate the diversity of Latin culture, I was proud.
When it was announced on Facebook that a protest ― complete with a dance party, a mariachi band and taco trucks ― was set to take place outside Schlossberg's Upper West Side apartment, I knew I had to be there. He lives right down the block from my family.
At the same time this event was gathering support online, the video of Schlossberg's outburst was making its way onto every major English and Spanish TV station in New York. Whereas I check my social feed for updates, my smartphoneless, computerless abuela relies on her TV for news and it was there she learned what had happened the previous day.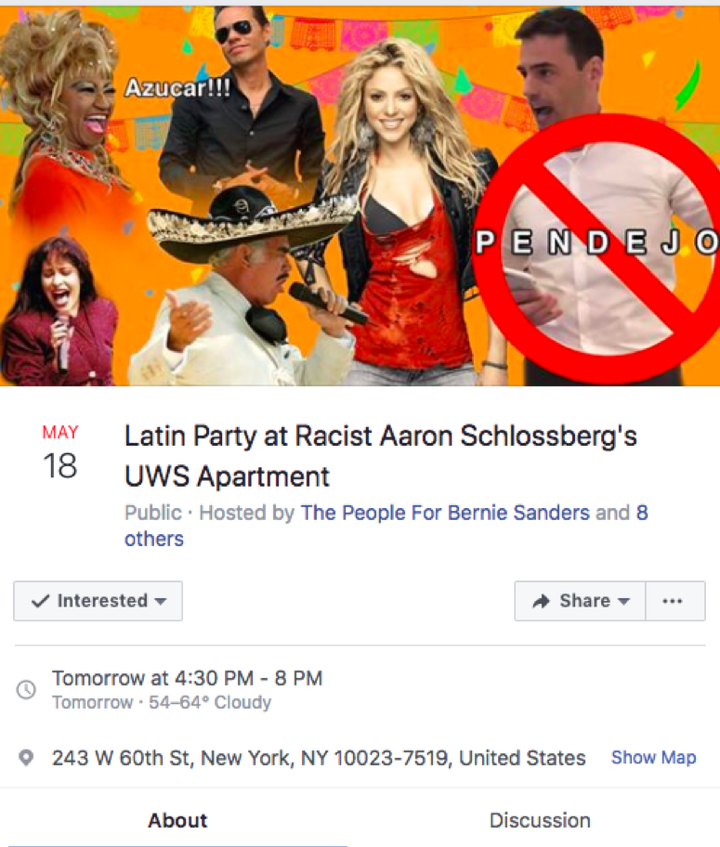 Getting ready for bed the night before the protest, she walked into my room.
"You know what?" she said. "I'm going."
The more I thought about her desire to attend this particular rally, the more I felt I knew why. This video of a white man yelling at Latinos for speaking in Spanish is just a snippet of something she's experienced her whole life, something that I'd been a witness to countless times. At almost 80, she doesn't like putting herself in a situation that could potentially become dangerous, but if something did happen, I was thoroughly prepared to sling her over my shoulder and run. 
As I've grown up, my abuela has been my hero. A recently retired hospital receptionist, she was an expert in translating English for Spanish-speaking patients who needed help reading prescriptions, getting directions and filling out paperwork. She has always been selfless, kind and patient ― not only at her job helping non-English speakers for over 30 years, but also in her daily life running errands, going to museums or taking walks through the Upper West Side.
She is constantly doing for others and checks her privilege as an experienced English speaker by lending her voice to individuals whose own voices have been silenced by prejudice and ignorance. And yet, having moved to this neighborhood from Puerto Rico in the 1950s, she will still tell you that her English is horrible.
During grocery store runs, shopping trips and even church services as a child, I often saw somebody give her a scowl, send her a side-eye or offer some snide remark about her chattering in Spanish or thick accent in English. In some instances, she would be gracious and simply ignore those who seemed personally offended that she would do something so innocent as ask me to grab a roll of paper towels in Spanish. At other times, especially when someone had the nerve to chastise her for "not knowing English" or speaking Spanish "in the United States," my abuela would not hold her bilingual tongue.
During grocery store runs, shopping trips and even church services as a child, I often saw somebody give her a scowl, send her a side-eye or offer some snide remark about her chattering in Spanish or thick accent in English.
There was one incident that has always stayed with me. We were shopping together at Marshalls on a Saturday afternoon when I was about 17. In the home goods section, my grandmother was admiring scented candles and, as so many shoppers do, proceeded to open the lid to a large three-wick candle to catch a whiff of its scent. She did not break any of the candle's packaging or plastic sealing. She simply smelled the candle and asked me in Spanish what I thought of it.
Shortly thereafter, a woman around the same age as my grandmother approached her, saying she had been following us through the store for a while and believed that my grandmother had tampered with the merchandise and tried to smuggle the candle into her purse. When my grandmother spoke to defend herself, the woman scoffed at her accent and told her to speak English properly if she was going to shop there. It didn't matter if she was "an old immigrant," the other shopper put it.
With clear, crisp English, my abuela responded.
"First of all, I have an accent because I speak both English and Spanish. What do you speak?"
"Secondly," she continued as she grabbed a hand mirror from a nearby shelf and turned it toward the woman, "look at yourself in the mirror, lady. You're no spring chicken yourself."
"And lastly, why do you care what I'm doing with this candle? Do you work here? Are you going to buy it for me? No? Then mind your business."
Clearly, incidents like this are nothing new. It's just that in 2018 some of them are finally being televised and shared on social media where they can gain traction and visibility.
As I lay in bed the night before the gathering on West 60th Street, I thought about that moment at Marshalls and was grateful that she had the ability to speak up for herself, but frustrated at the idea that people might need to speak English in order to defend themselves from all the other Aaron Schlossbergs in the country. Countless times, my grandmother had supported other people who couldn't speak in their defense, but once upon a time she must have been that person standing in silence while someone criticized her in a language she did not know.
The next day as I was getting ready, I found a piece of paper (see photo below) sitting on the living-room television stand. My abuela has the habit of writing notes to remind herself of upcoming events and good ideas that she doesn't want to forget.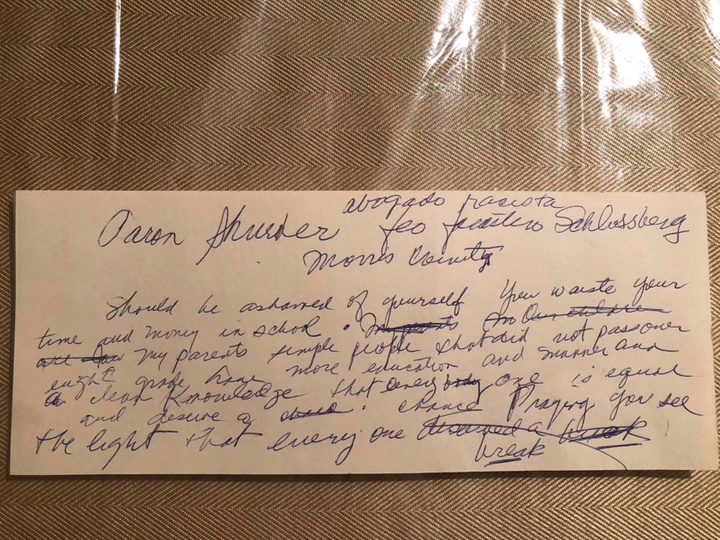 "Aaron Schlossberg 'racist lawyer' should be ashamed of yourself," the note began. "You wasted your time and money in school. My parents, simple people that did not pass only eighth grade, had more education, manners, and a clear knowledge that everyone is equal and deserves respect and a chance. No one should be judged by anyone. Praying you will see the light that everyone deserves a break."
The chance to share that day's activism and pride with the person I've always looked up to filled my heart, but awareness of how much she has struggled herself also broke it. Many a time she'd been "caught" speaking Spanish, but why did those people assume she didn't know English too? And so what if she hadn't? She and so many other Latinos ― and other individuals from other countries ― have had to face down so much racism and discrimination.
Surrounded later by 20- and 30-somethings, their phones buzzing with livestreams, I saw a small, tired woman with her arms folded as if hugging herself, watching a party now confronting adversity that nobody had ever confronted for her.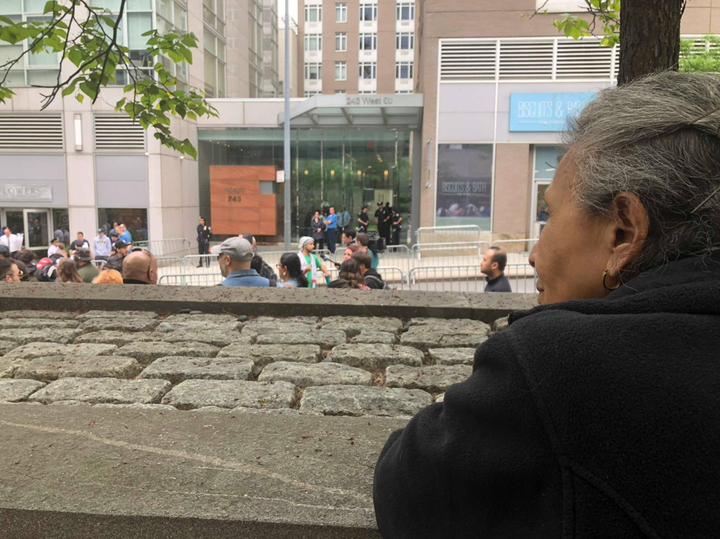 To her, Schlossberg was a coward: too scared to come out and literally face the music, too scared to say sorry. She admired the festivities as trays of food were shared and those around her got to chatting. She smiled, chanted and clapped her hands. She met new people and even expressed a hint of sadness in seeing a heavy police force at an event she found to be "so nice and happy."
Although my grandmother had long envisioned public activism to be both militant and dangerous, this protest helped show her that it can be done with good and safe intentions. We can be angry and rightfully demand change, and we can enjoy ourselves while we do it. It's not unusual at gatherings like the one last week to march to the sounds of uplifting music or make a new friend out of a stranger you bumped into in the crowd. That day, there was salsa dancing, sunshine and dogs barking in excitement.
As racism continues to rear its ugly head in this country, my abuela's participation in that protest reminded me that you don't have to be any particular age, ethnicity, education level or language competency to take a stand and help make a difference. My grandmother is a prime example of someone doing what they know is right for others, even when they face injustice themselves. She gives me new hope that, building on what her parents taught her and she passed onto me, we can teach others who we are and how we live not with hatred, but maybe with some music and tacos.
Do you have a personal story you'd like to see published on HuffPost? Find out what we're looking for here and send us a pitch!
REAL LIFE. REAL NEWS. REAL VOICES.
Help us tell more of the stories that matter from voices that too often remain unheard.