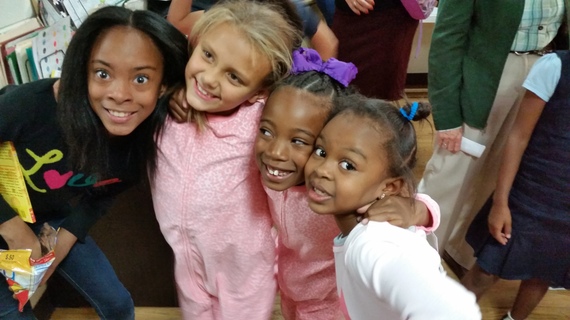 "I see abundance radiating all around me."
That quote stares me in the face every day. I found it somewhere and taped it on my computer rim so I wouldn't be afraid of lack... of not having enough money to keep going on those days I feel stretched and our shelves are empty. There is indeed abundance and yes, it really is everywhere. It's not always about the money. Here I see and even hear abundance when the children come to spend an hour with us reading, choosing a new book to take with them when they leave, and reaching out to accept a new pair of pajamas with their name on it.
Abundance shows up when you least expect it. It just doesn't always look like abundance.
The volunteers we see never have a shortage of affection and hugs for the children. Often as they leave, a volunteer will disclose a recent traumatic event in her life, or a troubling situation she is dealing with that almost precluded her from keeping her date with us, but in the end, the decision to give and give greatly won over.
The children never lack in enthusiasm when they nestle up with a volunteer to listen to a story, just for them. When they arrive, they are overflowing with anticipation for what's going to happen, and when they leave they are filled with an extraordinary amount of joy and love. And it's contagious!
An abundance of tolerance is more valuable than any expensive thing . An abundance of compassion is worth more than a million dollars, and an abundance of time to share is incomparable.
Abundance is all around us. We just have to recognize it in all its forms.
Calling all HuffPost superfans!
Sign up for membership to become a founding member and help shape HuffPost's next chapter