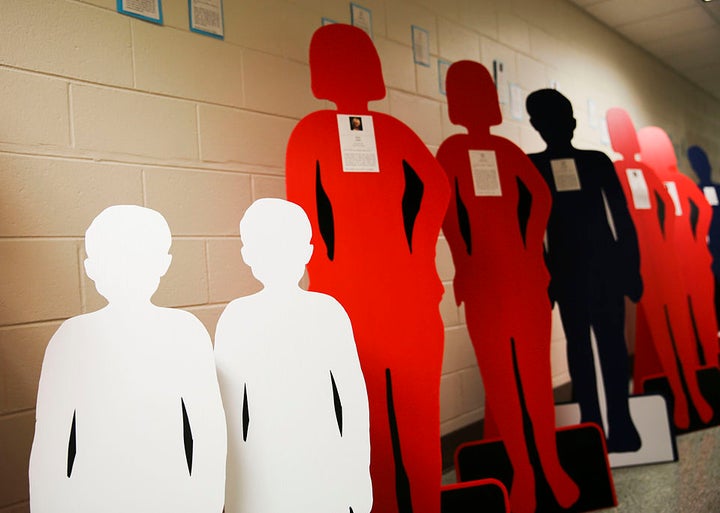 Stephanie Bell, better known as the female wrestler, Jade, has just broken her silence about domestic violence inflicted on her by a former boyfriend. She had kept the abuse hidden for a long time. Jade was concerned that if she went public it might damage her career and that since she made her living wrestling, people might not even believe her story. On August 1, 2016, she told HuffPost contributor Bryan Pacheco, "Women athletes, CEOs, those in power, we feel this pressure to be a role model to other women, to be strong, that we don't want to let them know our struggle." Jade was loath to be seen as a victim but says she had to make a stand when the abuse escalated. According to Jade, her boyfriend, also a wrestler, would headbutt her or start choking her if he didn't like what she said. "I realized that his mindset was because I'm not hitting you, it's OK. Because I'm not leaving a mark on you, it's OK." This view could not be further from the truth. A study published in 2007, entitled "Non-fatal strangulation is an important risk factor for homicide of women" showed that a woman who has been choked by her abusive partner in the past has a seven times greater risk of being killed by him.
Unless the perpetrators or victims are celebrities or politicians, domestic violence continues to be a silent epidemic, out of the media spotlight. Even Jade felt the stigma that made her keep abuse secret until it became too much for her to bear and she feared for her safety.
Women obey a code of silence for many reasons. They are scared of enraging their husbands and escalating his violence. They don't want to break up the family. They may have no source of income without their husband and feel that they have nowhere to go. A wife may be scared that if she leaves, her husband will seek her out and exact revenge. She may feel that she has no safe place to hide. She might need to quit her job to prevent being tracked down at work. Her kids might have to be moved to another school to prevent her husband finding her when she is dropping them off or picking them up. A woman will need strong support from friends, relatives and the community to achieve a safe exit from an abusive relationship, especially if she has young children in tow.
Yet some local authorities in America, rather than helping abused women, may penalize them for speaking out. All Things Considered on National Public Radio ran a story on June 29, 2016 about how low-income domestic abuse victims are being forced to choose between silence and eviction. In an attempt to combat crime and nuisances in rental dwellings, local communities have passed laws to limit the number of times police can be called to a residence. Abuse victim Lakisha Briggs, from Norristown, Pennsylvania, discovered that her landlord could face a fine and the suspension of his rental license if police were called to her home more than three times in four months for "disorderly behavior." The solution? Evict the tenant. After already having "one strike" against her, Biggs chose to keep silent about her boyfriend's continuing abuse. After he cut her throat with a broken ashtray and left her bleeding, both the police and an ambulance had to be called to the home. When Biggs returned from hospital, the landlord told her she had to leave. Actions by the ACLU and the Federal Government eventually got the Norristown law repealed, but similar ordinances remain on the books all over the United States.
In my book, Adulterer's Wife: How to Thrive Whether You Stay or Not, I write, "One reason you should run to the nearest exit away from your marriage is if your husband is physically abusive and you fear for your safety." Despite the growing number of battered women's shelters and therapists, women continue to stay passive, silent and afraid. As long as they do so, abusive men will continue to bruise, batter and sometimes kill their partners.
Many people fortunate enough to have never experienced domestic violence still believe that is mainly a problem of the past, or only happens in cultures 'less civilized' than the United States. Yet more than 31 percent of American women—nearly a third—have been physically abused by an intimate partner at some point in their lives. Just under one in five—19.3 percent—have been raped. These astounding figures come from a National Intimate Partner and Sexual Violence Survey, the results of which were released by the CDC (Centers for Disease Control) in September 2014. It was based on more than 12,000 phone interviews carried out in 2011. The common myth is that most of this abuse occurs among low-income areas populated by ethnic minorities and recent immigrants. Not so. For example, according to an article by Cecilia Zamora published in the Marin Independent Journal on October 30, 2013, in Marin County, California, domestic assault is the number one crime. This is one of the wealthiest areas in America. Despite statistics like these that show outrageously high rates of domestic violence, the media stays as silent about it as do the abused women.
In all ethnic groups and all classes of society, from the extremely disadvantaged to the most affluent, a veil of silence allows domestic violence to be tolerated. The result is that today abuse keeps on happening, over and over again. Silence is not golden. Women must speak out and receive the support they need to live in a safe environment. The media should draw attention to the issue to encourage communities to develop viable solutions. The bottom line: in our culture there should be zero tolerance of domestic abuse.
Popular in the Community