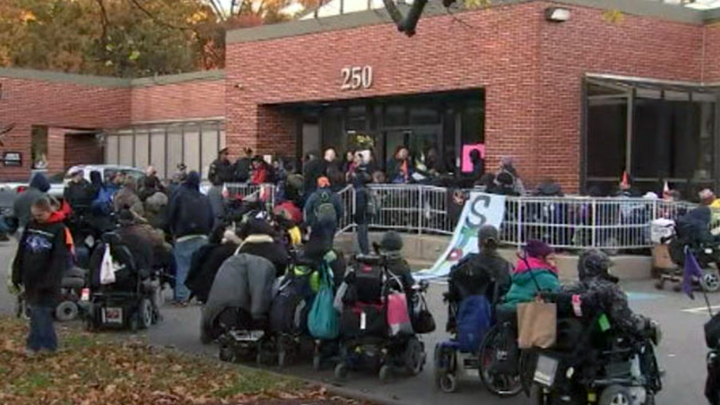 In October, the national disability advocacy organization ADAPT organized a protest in front of the Judge Rotenberg Center in Canton, Mass. over the center's use of aversive electric skin shocks on students in its care. More than 100 people came out to demand that the center stop the practice.
Make no mistake: the use of electric shocks is torture, and this torture has been allowed to go on because its victims are people with disabilities. The Rotenberg Center, a residential program for people with intellectual and developmental disabilities and psychiatric disorders, is the only place in the United States that practices it.
To administer it, a remote-controlled pack called a Graduated Electronic Decelerator (GED) is attached to an individual's back and sends shocks to the arms, legs, soles of the feet, torso and fingertips. The shocks last two seconds each and are so powerful they leave marks on the skin. Some Rotenberg residents have received up to 5,000 shocks per day.
The original GED delivers a shock of 15.5 milliamps of electricity, and an updated model, the GED-4, emits 45.5 milliamps of electricity—more than 15 times as powerful as stun belts used on incarcerated adults that deliver shocks of 3 to 4 milliamps.
Rotenberg resident Andre McCollins was tied down, restrained, and shocked 31 times in seven hours for refusing to remove his jacket (warning: the video in the link is extremely graphic). He was 18 at the time of the incident. Jennifer Msumba, an autistic woman who spent seven years at the Rotenberg Center, testified to a U.S. Food and Drug Administration advisory panel that the GEDs left burn marks, caused muscle cramps for a few days after the shocks, and often misfired, shocking people inadvertently.
Proponents of the use of aversive electric shocks argue that they are used only in severe cases, but there is no evidence that this "therapy" has long-term effectiveness in changing behavior. Survivors describe horrifying treatment, and any potential benefits are outweighed by likely after effects including the development of post-traumatic stress disorder, heart palpitations, seizures, suicidal behaviors and increased aggression. For an intervention ostensibly intended to help, this is unconscionable.
In 2011, the Massachusetts Department of Developmental Services introduced new regulations that prohibited the use of aversive electric shock on a student whose individual treatment plan did not already involve the GED. About 80 students at the Judge Rotenberg Center were "grandfathered in," as the device was already being used on them.
The United Nations Special Rapporteur on torture condemned the Judge Rotenberg Center and determined that the rights of the center's students who were subjected to electric shock and physical means of restraints had been "violated under the UN Convention against Torture and other international standards." Also, restraining students in a facedown "prone" position to prevent them from removing the GED pack jeopardizes their physical safety, and, outside of Massachusetts, several states have banned the use of such prone facedown restraints.
About 90 percent of the center's students are people of color. Students from marginalized populations are among the most vulnerable, and nonverbal people are shocked more than their verbal counterparts. There is no age limit for shock aversives, and the state of Massachusetts does not place a ceiling on the level of pain students can be forced to endure, provided they do not die. In the Judge Rotenberg Center's forty-year history, first as the Behavioral Research Institute in Rhode Island and then in its current incarnation, six people have died from severe neglect and maltreatment.
The FDA must ban the use of shock aversives. It's also of crucial importance to recognize that the Judge Rotenberg Center does not occur in a vacuum.
Arizona, California, Colorado, Connecticut, Florida, Nevada, New Jersey, New York, North and South Dakota, Pennsylvania, and Rhode Island have all taken steps to ban or limit the use of aversive techniques on people with disabilities, and Massachusetts should follow suit. But if Massachusetts will not do the right thing, true change must be championed at the federal level. Further, the Judge Rotenberg Center has moved from state to state before, so only a national response will protect individuals with disabilities in the long-term.
The Judge Rotenberg Center brands itself as a place for lost causes, and no case is too extreme for its methods. Desperate parents may be lured in by the Center's image as the last line of defense against frightening self-injurious behavior, but abuse is not and never has been the answer.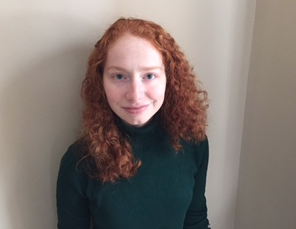 Shayna Korol is a student at Brandeis University and a Ruderman Scholar. The Ruderman Social Justice in Disability Scholars Program is an opportunity for Brandeis undergraduates with an interest in disability issues to expand their knowledge and experience in the field. The program was established in 2013 through the generosity of the Ruderman Family Foundation with the goal of identifying, supporting and training undergraduates to become future leaders in disability-related fields.
Popular in the Community