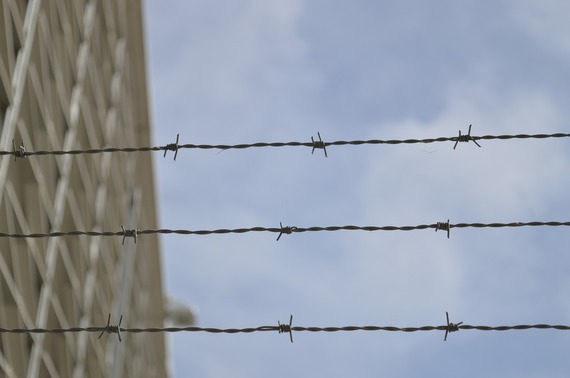 Image: Prison. Stock Photo. Pixabay.com
Kazakhstan's prison authorities were itching to get their hands on human-rights lawyer Vadim Kuramshin, who had embarrassed them inside and outside the country by exposing abuse of inmates.
When Kuramshin accused prosecutors in southern Kazakhstan's Zhambyl Province of corruption, the prison bosses got their chance.
As often happens across the former Soviet Union, those who level corruption allegations often find themselves quickly facing trumped-up corruption charges of their own -- and that's what happened to Kuramshin.
He ended up in prison, where he was subjected to beatings, sexual abuse and denial of medical care.
Kuramshin's plight encapsulates a problem that is widespread in the former Soviet Union: Prisoners of conscience are routinely beaten, tortured and denied medical coverage while incarcerated.
Most of the abuse is at the hands of prison staff but sometimes penal authorities have inmates do their dirty work, as in a recent case in Armenia.
To be sure, ordinary criminals -- as opposed to prisoners of conscience -- are mistreated as well. Lots of prisons in the region have shown they are equal-opportunity brutalizers.
For those of us who are human-rights defenders, abuse of prisoners of conscience who have committed no crimes is particularly repugnant.
I include in the category "prisoners of conscience" political dissidents, human-rights defenders, journalists, persecuted religious minorities and corruption whistleblowers.
One of the most egregious examples of the mistreatment of a prisoner of conscience was the case of Sergei Magnitsky, whose death in a Russian prison in 2009 generated international outrage.
Magnitsky, who was with the Moscow law firm Firestone Duncan, was helping American-owned Hermitage Capital Management document corruption allegations against Moscow government officials, police and mafia elements. That corruption was making it harder for Hermitage Capital to operate and make a profit.
Magnitsky's whistleblowing angered those he was trying to expose, and they succeeded in getting a trumped-up corruption case filed against him.
It came as no surprise when a court convicted him and sent him to Moscow's notorious Butyrka Prison in 2008.
At Butyrka he began suffering from an inflamed gall bladder, gall stones and an inflamed pancreas -- ailments that debilitated him and caused excruciating pain. Prison officials ignored his condition for months, but finally scheduled surgery for it in June of 2009. But they never had it done.
Magnitsky died in prison in November 2009. In addition to his health problems, there was evidence he was beaten before he died, international human-rights defenders said.
His death spawned world headlines, and the U.S. Congress passed the Magnitsky Act, which calls for visa and banking restrictions to be placed on Russian officials involved in human-rights abuses.
A recent Armenian prison-abuse case also gained international attention because there was a twist to it. It involved inmates instead of prison staff roughing up a dissident.
The victim was Vardges Gaspari, a 59-year-old political and human-rights activist.
On February 19 of this year he spent a week in Nubarashen Prison in Armenia's capital of Yerevan on allegations that he failed to show up to face a charge of interfering with an election commission's work.
When he began a hunger strike to protest his detention, prison officials responded by transferring him to another cell.
Three of the four inmates in the cell received cellphone calls that Gaspari was able to overhear. In each case the caller ordered the inmates to force Gaspari to stop his hunger strike, he said.
Jasper concluded that the calls came from prison officials offering the inmates leniency, less time in confinement or other rewards for try to intimidate him into ending his protest.
The three who received the phone calls began kicking him as he lay in bed, demanding that he begin eating, he said.
He yelled to guards for help, but was ignored.
When a guard finally did show up, his cellmates told the guard nothing was wrong -- and the guard left.
Prison officials whitewashed an investigation into Gaspari's abuse complaint by finding that no abuse had occurred.
Mistreatment of prisoners of conscience such as Vadim Kuramshin, Sergei Magnitsky and Vardges Gaspari is widespread across the former Soviet Union, according to political dissidents, human-rights defenders, journalists and others.
For every case that gets news coverage, however, many more do not, critics of the practice say.
Penitentiaries in a number of developed countries separate prisoners of conscience from hard-core criminals to prevent prisoners of conscience from being abused -- but this is not the case in the former Soviet Union.
Likewise, nothing is done to protect prisoners of conscience from prison-staff brutality.
This makes the stakes for imprisoned dissidents, whistleblowers or journalists in the former Soviet Union very high: They face continual risk of injury, deteriorating health stemming from lack of medical care, and death.
Unfortunately, there are no signs that this is going to change.
In a part of the world that routinely tramples on human rights, those least likely to have their rights protected include prisoners, including prisoners of conscience.
Armine Sahakyan is a human rights activist based in Armenia. A columnist with the Kyiv Post and a blogger with The Huffington Post, she writes on human rights and democracy in Russia and the former Soviet Union. Follow her on Twitter at: www.twitter.com/ArmineSahakyann
Calling all HuffPost superfans!
Sign up for membership to become a founding member and help shape HuffPost's next chapter