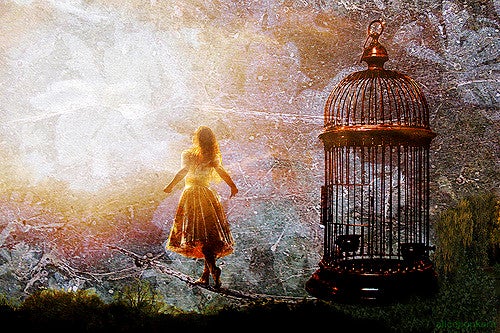 Ever had a victim-blamer claim you were "codependent?" That you in some way deserved the abuse, or that it was your fault? Let them know: Codependency was a term historically used to describe interactions between addicts and their loved ones, not victims and abusers. Dr. Clare Murphy asserts that abuse victims can actually exhibit codependent traits as a result of trauma, not because they are, in fact, codependent.
Contrary to popular myth, anyone can be victimized by an abuser - even one with strong boundaries initially, because covert abuse is insidious and unbelievably traumatic, resulting in symptoms of PTSD, Complex PTSD or, if they were abused by a malignant narcissist, what is known as Narcissistic Victim Syndrome. Remember that abuse involves a slow erosion of boundaries over time. The abuser first idealizes the victim, then begins to test and push the boundaries of the victim once he or she has already been conned into the sham of a relationship. Meanwhile, the survivor of abuse is like a frog in slowly boiling water, gaslit into believing that it is all their fault, not knowing the danger they're in until it's too late.
What if you believe you are truly codependent in some way? It's important to keep in mind that the the lines can be blurred between our own traits versus the psychological reliance that arises from having to survive an abusive, unpredictable and tumultuous environment. I don't think it's a problem for a survivor of their own accord to say, "I have codependent traits" and work on healing those - especially if they had them before the abusive relationship, but for society to see codependency as the sole reason why abuse has occurred, and use it to blame the abuse victim when there are plenty of victims who were never codependent prior to the experience, is where the harm comes in.
We need to stop stereotyping all abuse victims as codependent and start refocusing on the traumatic bond that forms between abuser and survivor, regardless of the victim's traits. In some contexts, it may be helpful to pinpoint codependent traits and behaviors during the healing journey, but when the label codependent is used to shame, stigmatize or blame abuse survivors, it becomes very problematic and harmful. We need to be able to take into account the idea that emotional and psychological abuse, much like assault or any other form of physical violence, is not our fault. We can own our agency and heal without having to blame ourselves in the process. The fault lies with the perpetrator, not with the victim.
It is not the victim's fault for 'choosing' the abuser either, because victims rarely consciously choose an abuser. They choose someone who appears rather kind, caring and compassionate at the onset. The victim falls in love and invests in the false mask an abuser portrays, and rarely the true self. It is only when they are invested in the relationship that the mask begins to slip and the terror begins.
Once someone has been traumatized, again and again by someone who claimed to love them, once an abuser has warped the victim's reality and caused him or to mistrust their perceptions through gaslighting, once a victim has been made to believe he or she is worthless, they are already traumatically bonded to their abusers. It takes a great deal of professional support, validation and resources in order for victims to detach from their abusers and begin to heal.
There is only one person who can "control" the abuse, and that is the abuser alone. There is a great deal of variety within the survivor group and we have to acknowledge that there are many survivors who come into the abusive relationship very independent, strong-willed, and empathic, but their strengths are exploited, manipulated and slowly broken down by the abuser over time. It doesn't matter how codependent or how independent we are, because abusers will abuse their victims regardless - that is their nature. In fact, they would probably enjoy the challenge if a victim was independent, as sick as they are.
When it comes to living in a perpetual war zone of intermittent kindness and chronic cruelty, there is no 'enabling' of the abuse, merely a need to survive in a hostile environment. There is a clear power imbalance between abuser and victim as the abuser 'manages down' the victim's expectations, threatens, controls, coerces, blameshifts and projects onto the victim his or her own vile attributes. As the victim is verbally abused, psychologically terrorized and emotionally assaulted, he or she has to find ways to minimize, rationalize, deny and 'bond' with the abuser in an effort to survive.
This is a survival mechanism known as 'trauma bonding,' and victim-blamers ought to educate themselves on it, because anyone can be made to 'act' or 'appear' codependent simply by being traumatized in the first place. As I describe in my article, Your Brain on Love, Sex and the Narcissist as well as my book, Becoming the Narcissist's Nightmare, abuse has traumatic effects on the brain, tying us psychologically, biochemically and psychologically with our abusers. This bond has very little to do with codependency, and everything to do with the traumatic effects of abuse. Even a highly independent victim who is strong-willed at the beginning of the relationship can begin to demonstrate symptoms of the trauma bond, PTSD or Complex PTSD - because it doesn't have anything to do with the traits of the victim when it comes to trauma. No one is immune to the effects of severe, life-changing trauma and chronic abuse - no one.
Even if you feel you have codependent traits or were 'primed' by childhood abuse, the abuse you've experienced in any stage of your life is still not your fault. You are not an "enabler" of the abuser. You are a victim who has been traumatically bonded to an abuser as an effort to survive. Understand the trauma bond, and you will understand how it is different from your actual feelings of disgust, anger and pain towards your abuser. Your authentic feelings about your abuser are buried beneath the apparently inextricable bond. In order to extricate yourself, you must develop a separation between the bond and your actual reality of the abuse. Write about the abuse when you feel safe to do so; consult a trauma-informed, validating mental health professional; speak with other survivors to validate the manipulation and mistreatment you've endured.
Holding onto the reality of the abuse, as well as your true feelings about it, is one of the most important things you can do in order to resist the gaslighting effect, release self-blame and begin to break the chains of the trauma bond. The bond may keep you attached to your abuser, but it is possible to sever it and regain your power.
Copyright © 2016 by Shahida Arabi.
Support HuffPost
The Stakes Have Never Been Higher
Related
Popular in the Community