This pup has been through a lot, but luckily she's on a path to new beginnings.
An anonymous call came in to the San Antonio Animal Care Services, a municipal animal shelter in Texas, last week about a dog who had been abused, Officer Audra Houghton, the shelter's field operations supervisor, told The Huffington Post. When the shelter's cruelty investigators arrived, they found the animal in awful shape.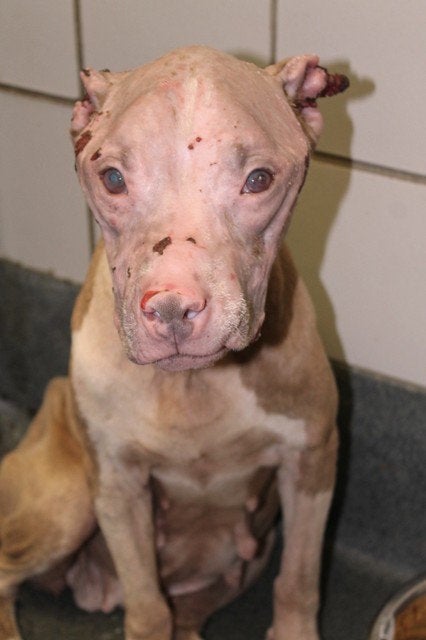 "She looks pretty horrific," Houghton told BuzzFeed News. "Her entire head is burnt. There isn't any skin untouched. Her eyes are burnt. She's lost all of one ear that was essentially melted off."
The pooch, who was named Rosie, was brought back to the shelter and it was later determined that hydrochloric acid had been thrown on her face, Houghton told HuffPost. Thankfully, Rosie is now on the road to recovery and has been receiving the medical care and TLC that she's always deserved.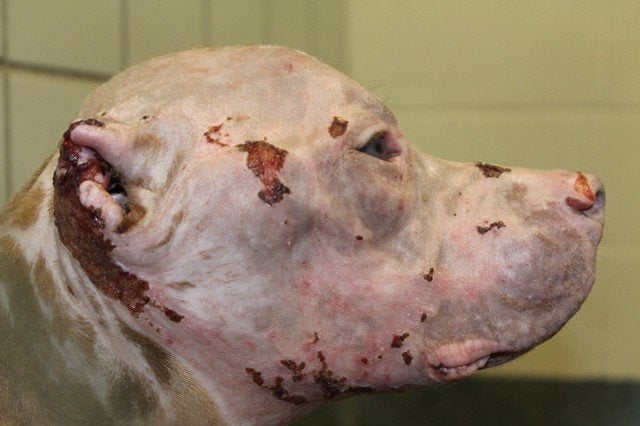 The pup has even begun to show positive changes in mood.
"The first few days that she was here, she appeared really glum. It was pretty clear she didn't know ... what had happened to her, where she was," Lisa Norwood, public relations and outreach manager, told HuffPost. "[Wednesday], we went in to check on her and we found her wagging her tail. [The day] was filled with tail-wagging and kisses."
Rosie came to the shelter with a host of health issues.
She was underweight and most of the hair on her face had been burned off. The pup, who is also heartworm positive, is blind because of the burns. Her injuries indicate that she likely went weeks without any type of medical care. Houghton hopes the blindness will be temporary, as next week the pup is set to undergo surgery that could potentially restore her vision.
Rosie has been making strides though, and gaining weight as well. The animal, who Norwood describes as "gentle and sweet," has a long way to go before she's completely healthy and will need to spend some time rehabilitating. When she's healthy enough, she'll be up for adoption and ready to find a forever home.
"Our greatest hope for her is that she can heal and she can find a happy home," Norwood told HuffPost.
An investigation regarding Rosie's abuse is currently underway, according to Norwood.
To learn more about Rosie, or the San Antonio Animal Care Services Department, visit their Facebook page here.