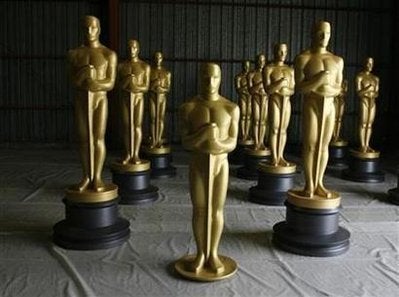 This was not the best of years for foreign language entries. There were a lot of good films, but so many of them were bleak and depressing, a reflection no doubt of the downturn in the global economy. As for the nominees, the group is tainted by the inclusion of one film that is really, really bad.
Biutiful (Mexico)
Javier Bardem won a best actor nomination for his role in Biutiful. The last time an actor in a non-English-language film gained an acting nomination was in 1998 when Roberto Benigni won for Life is Beautiful. . Bardem is excellent in his role as Uxbal, a man with a lot of problems. To begin with, he's separated from his unstable bipolar wife and is trying to raise his 10-year-old daughter and 7-year-old son in the midst of the urban poverty of Barcelona. He makes his living as a low-level criminal, an agent and protector for African immigrants who illegally sell bags and watches on the street and for Chinese immigrants who work in a sweat shop. Did I mention that he is also addicted to drugs and on the short end of terminal cancer? Yes, Bardem is impressive, but before you settle in to see Biutiful, keep in mind that it is 2 ½ hours of bleak and depressing. Director Alejandro González Iñárritu previously earned best picture and best director nominations for Babel.

In a Better World (Denmark)
In a Better World (Hævnen) deals with many familiar cinematic themes -- violence, revenge, divorce, grief -- but it approaches them in a manner unlike what one comes to expect from an American film. Christian and Elias are 10-year-old boys brought together by being bullied at school and by their difficult family situations. Christian, the new kid, has just lost his mother to cancer and has turned his anger at his father. Elias' parents have separated, but are still jointly involved in his upbringing. Elias' father, Anton, is a doctor who regularly flies off to Africa to work in a refugee camp in an area that is being terrorized by a cruel warlord. Christian decides to teach the bully a lesson by bashing him brutally with a bicycle pump. When I saw In a Better World, some people in the audience cheered at this scene. Not so fast. Anton tries to teach the boys about pacifism, but it doesn't take and Christian, with Elias trailing along, plots another act of revenge, this time against an adult bully. It may sound like director Susanne Bier and writer Anders Thomas Jensen are setting us up for a simple battle between revenge and forgiveness, but when Anton is forced to treat the awful warlord, his moral dilemma seems more like real life.
Outside the Law (Algeria)
Outside the Law (Hors-la-loi) opens with not one, but two prologues. First, in 1925, an Algerian family is evicted from their ancestral home by French colonialists. Then, in 1945, the same family is involved when French troops open fire on Algerians marching for independence, killing, among many others, the father. The main action begins in 1954 as we follow three brothers -- the intellectual revolutionary, the soldier turned enforcer, and the hustler, as they settle into a new life with their mother in a slum outside Paris. Like The Battle of Algiers, Outside the Law tells the story of the Algerian struggle for independence from the Algerian point of view. Of course we root for the three brothers in their battle for a righteous cause, but this isn't just good guys versus bad guys. The revolutionaries don't hesitate to kill people who don't deserve to die, and we even get to see the point-of-view of police fighting the Algerians. Riot police had to be brought out when Outside the Law opened at the Cannes Film Festival because of demonstrations by right-wing activists and French veterans of the Algerian War. The protests centered on the film's portrayal of the 1945 massacre. For all the controversy surrounding Outside the Law, it's really an action movie, and action movie fans will enjoy it whether they care about the politics or not.
Incendies (Canada)
Unfortunately, I have not yet seen Incendies because I was in the wrong city at the wrong time every time there was a screening. From what friends tell me, it is worth seeing, so here, at least, is the basic plot. At the reading of their mother's will, twins Jeanne and Simon are given two letters to deliver, one to a brother they didn't know they had and one to the father they thought was dead. They travel to Lebanon and enter into their mother's complex past and the Lebanese Civil War they didn't know about.
Dogtooth (Greece)
Dogtooth (Kynodontas) is such a bad film that it calls into question the Academy's nomination process. Its supporters praise it for being an offbeat movie that is maybe a metaphor for the damage parents do to their children. As someone who is more than most people a fan of offbeat movies, I would say that Dogtooth is actually a stupid film masquerading as an offbeat film. A factory owner and his wife keep their three children, a son and two daughters, completely isolated from the outside world and create false explanations for airplanes, words... just about everything. There are scenes of explicit sex, which might be why Dogtooth wormed its way to a nomination. I don't even want to waste my time going into further details. Suffice to say that at the end, nothing happens.
Here are a few films that didn't earn a nomination, but which I particularly liked.
Of Gods and Men (France)
In March 1996, seven French Trappist monks were kidnapped from their monastery in Algeria. Two months later their bodies were found... beheaded. Of Gods and Men (Des hommes et des dieux) deals with the period leading up their kidnapping. The monks get along well with the local Muslim community because they don't proselytize and they do try to help the people, particularly the eldest monk, who is a doctor. But when Islamist terrorists begin killing foreigners in the area, beginning with a Croatian construction crew, the monks are forced to decide whether to risk death by staying and continuing to help the villagers who depend on them or whether God would prefer them to play it safe by fleeing and doing His work elsewhere. The true story of the Monks of Tibhirine is well-known in France, but the circumstances of their deaths, which is not dealt with in Of Gods and Men, remains controversial. One theory is that they were not killed by the kidnappers, but by the Algerian army during a failed raid. Another popular theory is that that the Algerian government set up the whole affair to scare the French government into supporting the corrupt Algerian authorities as a bulwark against terrorism.
Besa (Serbia)
Just as World War I is about to break out, Filip, a Serbian school headmaster, moves into a border village with his beautiful Slovenian teacher wife, Lea. Filip is called away to serve in the army. He asks various locals to look out for Lea, but they don't know the difference between a Slovenian and an Austrian and think of her as an enemy. No one wants to take the responsibility, so Filip falls back on an Albanian servant, Azem. The title, Besa, refers to the solemn oath that Azem takes to protect Lea. To say that these two are from different worlds is an understatement. She listens to German opera; he grunts. Feeling like a prisoner, Lea sneaks out and is almost raped, but Azem saves her. To play it safe, Azem ties a rope around Lea's leg and holds onto the other end to make sure she doesn't try to escape again. Gradually, they come to appreciate one another, and their growing relationship is touching. At the end, we discover, rather surprisingly, that Besa is based on a true story and we learn what happened to the real people upon whom the fictional characters were based.
Life, Above All (South Africa)
In 2005, Yesterday, a South African film about the AIDS plague, earned an Academy Award nomination for best foreign language film. Maybe that's the reason why, six years later, Life, Above All didn't make the final five. The story opens with 12-year-old Chanda ordering a coffin for baby sister. Chanda does not understand that the baby died of AIDS, that her mother has AIDS, as does her siblings' absent father. The subject is just taboo. She also refuses to believe that her best friend is a child prostitute for truck drivers. Step by step, Chanda awakens to the harsh reality around her. Khomotso Manyaka does a fine job as Chanda. In the United States, AIDS is openly discussed but rare, so it requires a cultural leap to appreciate that in South Africa it is a more widespread tragedy and people are ashamed to admit that a loved one died of the disease.
Simple Simon (Sweden)
Most countries choose films on serious subjects for their annual Academy Award entries, so it is always a refreshing break when a good comedy shows up. This year's comic relief is Simple Simon (I rymden finns inga känslor), starring Bill Skarsgård, son of Stellen, as Simon, a young man with Asperger syndrome. When we meet Simon, he is hiding inside a mockup of a lunar module and he will only respond if his older brother, Sam, speaks to him in English language astronaut talk. It is decided that Simon will move out of his parents' home and move in with Sam and his girlfriend. Simon and Sam are happy with this arrangement, but Sam's girlfriend is driven crazy by Simon's obsessions and eccentricities (i.e. he only eats round foods) and moves out. Simon, who is dependent on extreme order, realizes that he needs to find a new girlfriend for Sam. He creates a questionnaire based on all the things that Sam likes and proceeds to interview random women on the street until he finds some who meet all the requirements. But Sam explains to him that, in love, opposites attract. Thrown for a loop, Simon tries to understand the people who like the opposite of what he and Sam like. For example, the two brothers hate romantic comedies. So Simon goes to a video store and demands of the clerk, "Give me everything with Hugh Grant." You can tell pretty early where this story is going, but it doesn't matter because the characters are so appealing.
Calling all HuffPost superfans!
Sign up for membership to become a founding member and help shape HuffPost's next chapter