It was the first Oscars since Harvey Weinstein had been exposed, since things had supposedly changed. The first since the Golden Globes, when Hollywood's most famous and best-dressed wore pins, discussed legal funds and said that time was up, this time would be different, forget about all that other stuff ― so sorry about the past.
Host Jimmy Kimmel addressed the industry's harassment problem head-on in his monologue. Ashley Judd, Salma Hayek, and Annabella Sciorra ― three Weinstein accusers ― were allowed to stand together on stage and speak briefly and compactly about the Me Too movement, a polite nod to the changing world.
Yet, there they were, the accused rapist and the alleged wife beater. First, former NBA star Kobe Bryant accepted the award for Best Animated Short to raucous applause, while Mark Hamill, presenting the award, screamed "KOBEEEEEE" as if he'd just hit a game-winner in his backyard. Then, Gary Oldman, whose now ex-wife once accused him of hitting her with a phone, stood before the Academy with the award for Best Actor in hand. Bryant and Oldman had won for two projects so typical of the industry, so consonant with the basic corporate desires of powerful producers that they're not clichéd so much as intrinsic, like a strand of DNA.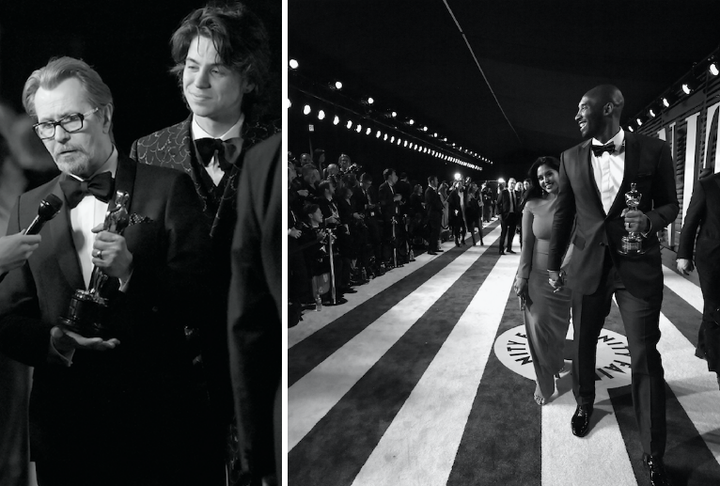 A John Williams-scored ode to the beauty of sports, and a World War II tale of perseverance in the face of the growing Nazi threat — it doesn't get more Hollywood than that.
But it does two things well. For one, it plays right into Hollywood's long-documented love of overly sentimental sports narratives meant to unveil something larger about life, or adversity, or acceptance, or something ("I gave you my heart / Because it came with so much more"). It also stars the most beloved sports star in the Los Angeles area. Take the two together and you have a film tailor-made for a middle-aged white man in Los Angeles, otherwise known as a typical Academy voter.
"Darkest Hour" was better, and Gary Oldman made for an impressive and impressively made-up WWII-era Winston Churchill. Films about the war have become so stupendously synonymous with the Academy Awards that Kate Winslet once joked about it in a 2005 episode of the HBO show "Extras." Dressed up like a nun who was sheltering Jews, she tells Ricky Gervais' character, "I'm doing it because I've noticed that if you do a film about the Holocaust, you're guaranteed an Oscar." And a few years later, Winslet would in fact win one for her role in the Holocaust film "The Reader."
"For all the various misdeeds of powerful men that have been unearthed in the months since Weinstein became known as the walking allegation that he is, the fundamental structures of power remain firmly in place in Hollywood."
That power imbalance was reflected in the auditorium on Sunday. After Frances McDormand asked the female nominees in the room to stand during her own acceptance speech for Best Actress, The New York Times' Jodi Kantor, who broke the Weinstein story wide open with Megan Twohey, wrote, "The most striking thing, here in the room, about watching the female nominees stand? There were so few of them."
Maybe men will be a bit more careful now, but the thrust of the night's biggest moment, Frances McDormand's Best Actress acceptance speech, was that actual power would have to be wrested away from the lords of our status quo.
Until then, until the way that movies are concocted, greenlit, produced and pushed out is changed, Hollywood will continue to have nights like Sunday — nights when people who have been accused of terrible things can win with recycled or terrible ideas amid an apparent general enwokening.
Navigating new moral imperatives in a fundamentally unchanging industry is a messy business. It is the kind of thing that causes Aziz Ansari to skip out on the SAG Awards while Ryan Seacrest ends up on air interviewing stars on the red carpet Sunday night. Arbitrary barometers end up deciding which accused bad men are fine now, and which are not. Was the accusation a while ago? How many were there? Well, he does seem a bit better now, more mature, doesn't he? And I did love that one movie.
It's been a year since the Academy awkwardly handed a Best Actor award to Casey Affleck, accused sexual harasser, for his performance in "Manchester by the Sea," and quite obviously, no one has figured out anything resembling a road map for these sort of things.
The same could be said of Oldman, whose now-ex wife said this of Hollywood's favorite Churchill near the start of the century:
As I picked up the phone to call the police, Gary put his hand on my neck and squeezed. I backed away, with the phone receiver in my hand. I tried to dial 911. Gary grabbed the phone receiver from my hand, and hit me in the face with the telephone receiver three or four times. Both of the children were crying.
After Sunday's Oscars, Oldman's ex-wife told TMZ, "Congratulations, Gary and congratulations to the Academy for awarding not one but two abusers with Oscars. I thought we had evolved. What happened to the #MeToo movement?"
That both men won, that the Academy deemed Bryant and Oldman acceptable enough to honor with an award, speaks to the essential traditionalism of Hollywood. The alleged bad men got their Oscars because they made movies so in the vein of what Hollywood has always done that their baggage could easily be dismissed. Pander to the industry's immutable tastes — a fight for love and glory, a case of do or die — and whatever new critical faculties it seems to have acquired all fall apart.
For all the talk of Hollywood remaking itself, Sunday's show was a backward-looking and deeply conservative affair, down to its very interstices. There were Glenn Miller songs throughout, the last an old wartime standard made famous by the Andrews Sisters. "Don't sit under that apple tree with anyone else but me," goes the lyric, a soldier pleading for fidelity from an old flame.
Before You Go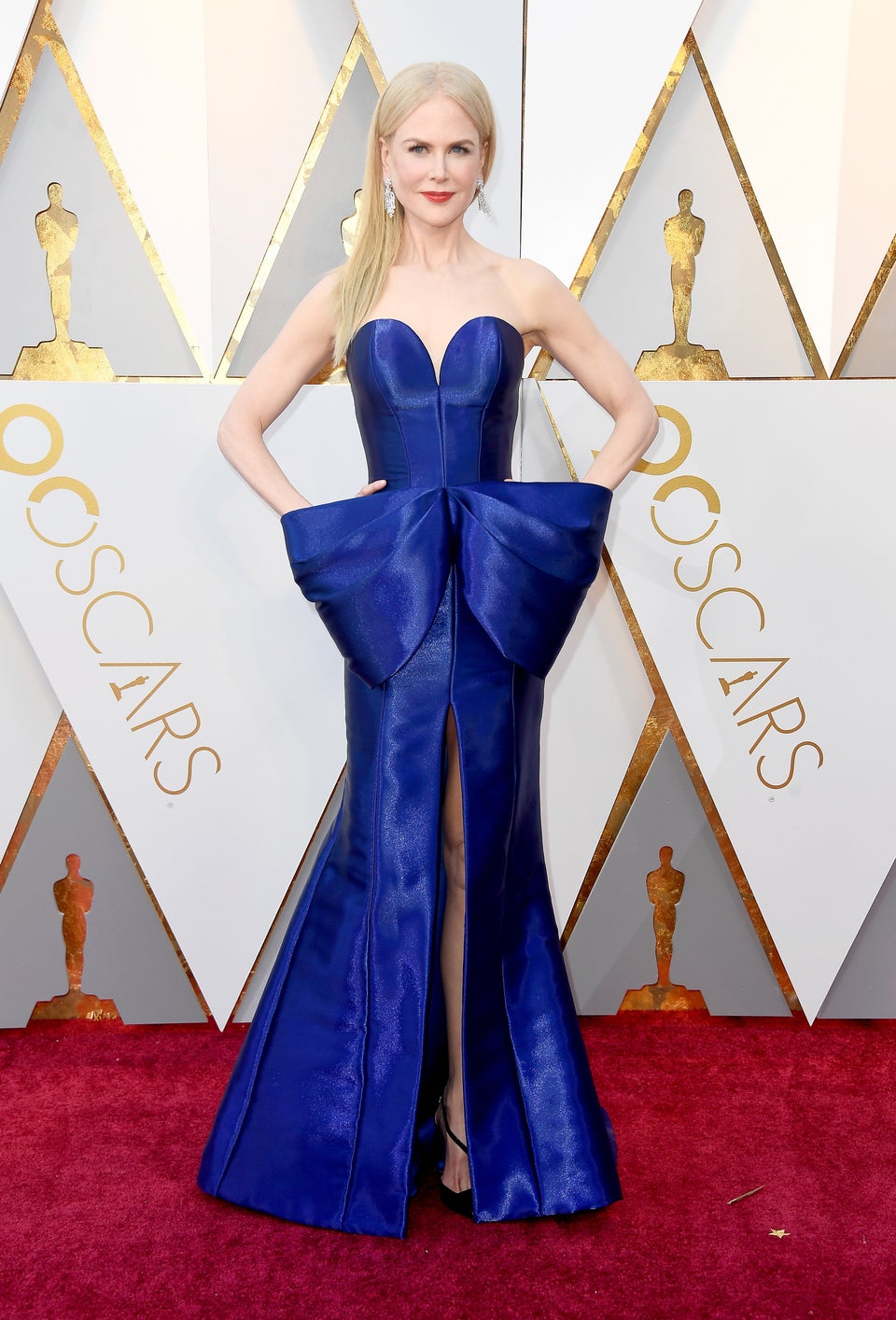 Oscars 2018 Red Carpet Looks
Popular in the Community