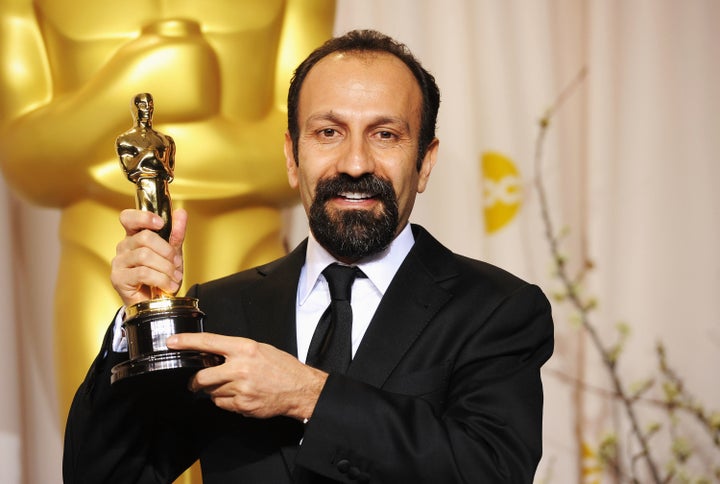 Farhadi, who won an Oscar in 2012 for his film "A Separation," was born and lives in Iran, one of seven nations from which Trump has barred immigrants and visitors to the U.S. for at least 90 days. The Academy Awards air Feb. 26. 
In a statement provided to The Huffington Post on Saturday, an Academy spokesperson said that the group stands for the "human rights of all people" regardless of borders or religion. Farhadi, meanwhile, has yet to comment on the matter.
"The Academy celebrates achievement in the art of filmmaking, which seeks to transcend borders and speak to audiences around the world, regardless of national, ethnic, or religious differences," the statement reads. "As supporters of filmmakers ― and the human rights of all people ― around the globe, we find it extremely troubling that Asghar Farhadi, the director of the Oscar-winning film from Iran 'A Separation,' along with the cast and crew of this year's Oscar-nominated film 'The Salesman,' could be barred from entering the country because of their religion or country of origin."
Farhadi is nominated again this year in the best foreign language film category for "The Salesman," which follows an Iranian couple starring in a local production of Arthur Miller's "Death of a Salesman."
Trita Parsi, the president of the National Iranian American Council, a nonprofit that promotes diplomatic relations between the U.S. and Iran, was the first to speak out on Farhadi's possible banning. The Tribeca Film Festival, which awarded Farhadi Best Narrative Feature in 2009 for his film "About Elly," issued a similar statement, calling the situation "heartbreaking and unacceptable."
One of the stars of "The Salesman," Iranian actress Taraneh Alidoosti, spoke out earlier this week in anticipation of Trump's executive order about boycotting this year's ceremony.
"Trump's visa ban for Iranians and others is a racist move and unacceptable," she wrote on social media in Persian and English. "Whether this will include a cultural event or not, I won't attend the #AcademyAwards 2017 in protest."
In his 2012 Oscar acceptance speech for "A Separation," Farhadi emphasized that the divide between the U.S. and Iran is fueled by politicians, not the people. He spoke about what the Academy's recognition meant to Iranians watching at home. 
"At this time, many Iranians all over the world are watching us and I imagine them to be very happy," he said. "They are happy not just because of an important award or a film or a filmmaker, but because at the time when talk of war, intimidation and aggression is exchanged between politicians, the name of their country Iran is spoken here through her glorious culture, a rich and ancient culture that has been hidden under the heavy dust of politics."
"I proudly offer this award to the people of my country," he went on, "a people who respect all cultures and civilizations despite hostility and resentment."
In response to Trump's executive order, the Iranian Foreign Ministry released a statement on Saturday that prohibits U.S. citizens from entering the country. Calling Trump's ban an "open affront against the Muslim world and the Iranian nation in particular," the action signals a further deterioration of ties between the two nations. 
The Huffington Post has reached out to Farhadi's representatives and will update this post accordingly. 
Correction: An earlier version of this post misstated that Alidoosti's tweet was in Arabic and English.
REAL LIFE. REAL NEWS. REAL VOICES.
Help us tell more of the stories that matter from voices that too often remain unheard.
BEFORE YOU GO
PHOTO GALLERY
Evolution Of Trump's Muslim Ban