Viewership of the 90th Oscars, broadcast Sunday evening on ABC, hit a record low at just 26.5 million, according to data from Nielsen. That was down 19.5 percent from 32.9 million viewers who watched the show last year, and fell beneath the previous low of 32 million in 2008.
Producers were wary of a potential drop in viewership leading up to the Oscars, saying they hoped the award show would focus on films ― and not on politics ― even amid a months-long conversation about sexual misconduct in the movie industry.
"The Oscars should be a spectacle. Fun and funny and great performances," Jennifer Todd, a producer of the Academy Awards, told The New York Times in February. "It should also be a giant commercial for the movie business, which we all need to keep going." 
Come Sunday night, host Jimmy Kimmel and a number of other stars paid tribute to the Me Too, Time's Up, and Never Again movements. Some touched on gender inequality, immigration and gun control, though those topics rarely took center stage.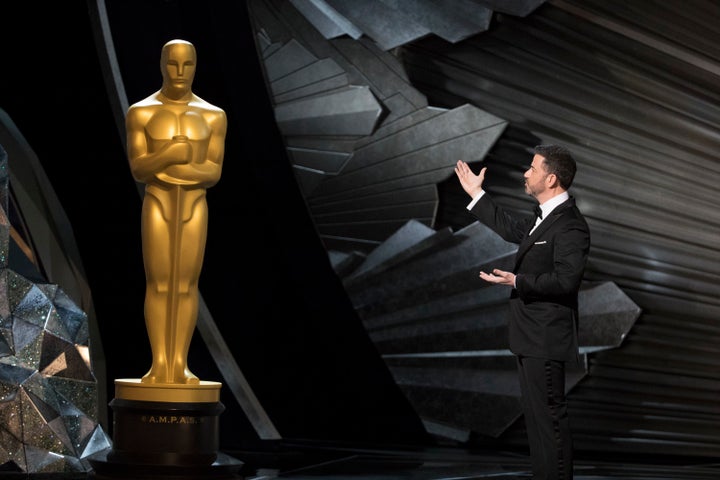 Others say the Oscars seem increasingly trivial in a world wrought by violence and inequality.
"This year's awards come amid rising oceans, sexual abuse scandals and slain schoolchildren. Our country is divided; our president is a Twitter fiend. Our immigrants feel unwelcome and our working poor can't afford healthcare. We face nuclear threats from multiple sides. We are sinking deeper into debt and have stumbled badly in the eyes of the world," wrote film writer Jeffrey Fleishman in an op-ed for the Los Angeles Times. "The Oscars seem insignificant amid the clamor."
A representative for ABC did not immediately respond to a request for comment on Monday.
Television viewership has declined in recent years, affecting other large, live events in addition to the Oscars. The Grammy Awards, which aired in January, attracted just over 26 million viewers, marking its smallest audience in over a decade. The following month, roughly 103.4 million viewers tuned in to watched the Super Bowl ― a decline of 7 percent from the previous year.
REAL LIFE. REAL NEWS. REAL VOICES.
Help us tell more of the stories that matter from voices that too often remain unheard.