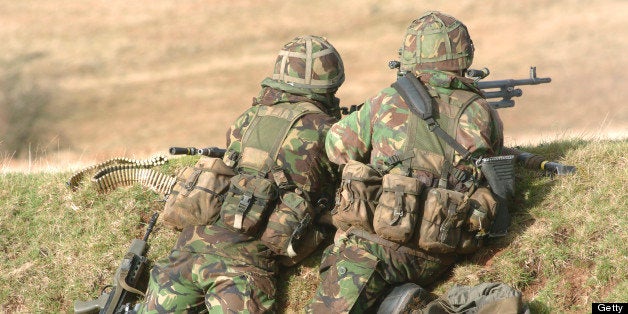 Sixty graduates of the U.S. Military Academy at West Point and the US Naval Academy at Annapolis recently signed this letter to Navy Secretary Ray Mabus, in response to the Marine Corps's requests to keep some of their units closed to women.
Secretary Ray Mabus
Office of the Secretary of the Navy
1000 Navy Pentagon, Room 4D652
Washington, DC 20350
We fully support your drive to open all career fields and units to qualified service members based on their competence, character, and commitment rather than gender. By doing so, we believe America will capture the full potential of members, making our Armed Forces more agile, more innovative, and ultimately stronger.
As you make your decisions, we encourage you to look to the future of our Armed Forces. Undoubtedly you are receiving counsel and input from senior leaders and retired generals and admirals recycling the same old arguments that women will weaken the force. No doubt they have the wisdom of experience, but too many of their experiences excluded women. They were already in senior positions at headquarters while women troops on the ground in OIF and OEF fought valiantly and saved lives. They refuse to credit the experience of the Army Rangers of Class 8-15 and their instructors, who noted that the women Rangers not only met the standard, but led their classmates in extraordinary ways. These cadre members can verify that physical strength, mental toughness, a relentless commitment to mission accomplishment, leadership and the ability to inspire others at their lowest and weakest moments are not gender specific.
We stand with you in challenging the recently-published Marine Corps "study." Its multiple flaws include inadequate screening and training of the women; failure to control for the variability in experience of participants; and evaluating groups rather than individuals. The Marine Corps Times also hinted at the cultural issues growing out of the USMC's separate basic training by noting that NCOs were hesitant in correcting women Marines -- no doubt contributing to poor training.
For too long, the Marine Corps has demanded and expected too little from women Marines -- leaving talent on the table. We hope that the Marine Corps will finally be willing to learn from the other services. Set high standards and demand that women meet them as well as men. Screen for highly-qualified women for Infantry roles, rather than setting a low baseline. Hold leaders accountable to expect and demand adherence to these high standards.
When women (51 percent of our population) are excluded from combat units and positions, we are squandering immeasurable resources and contributions. There is more to our Nation's current fight than simply physical strength, and the winner will be the side that leverages talent most efficiently and effectively. Furthermore, diverse organizations and teams innovate and produce more optimal outcomes while homogeneous teams risk group-think and sub-optimal performance.
With gender-neutral occupational standards established, the best-qualified Marines operating in the right positions will not only maximize their individual potential, but optimize the total fighting force in defense of our great Nation.
Thank you for your ongoing service, and for demanding nothing less than the best from our Naval and Marines forces.
Donna McAleer, Army Veteran, USMA '87
Hae-Sue Park, Lt. Col. (ret) US Army, USMA '87
Brenda Sue Fulton, Army Veteran, USMA '80
John Macdonald, Maj. Gen. (ret) US Army, USMA '79
Lillian A. Pfluke, Major (ret), US Army, USMA 80
Carol Barkalow, Lt. Col. (ret) US Army, USMA '80
Deirdre Dixon, Lt. Col. (ret) US Army, USMA 84.
Margaret M. Gordon, Army Veteran, USMA '84
Lucian K Truscott IV, Army Veteran, USMA '69
Kevin V. Arata, Col (ret), US Army, USMA '87
Bridget Altenburg, Army veteran, USMA '95
Stephanie Cook, Army Veteran, USMA '87
Ann Marie (Hughes) Collier, Army Veteran, USMA '80
Sonya Carter, Lt. Col. (ret), US Army, USMA '80
Chaplain (CPT) Andrea Baker, US Army Reserve, USMA 1984
Michael Pratt, Army Veteran, USMA '87
Emily Miller, Army Veteran, USMA '08
Bruce Shuttleworth, Navy Veteran, USNA '87
Brynn Tannehill, Navy Veteran, USNA '97
Carlys L. Lemler, Army Veteran, USMA '01
Paula M. Neira, Navy Veteran, USNA '85
Kristin M. Barnes, CDR (ret), US Navy, USNA '92
Jason Torpy, Army Veteran, USMA '00
Glen A. Carroll, Lt. Col. (ret) US Army Reserve, USMA '80
Donna Alesch White, Lt. Col. (ret) US Army, USMA '80
Barbara A. Wujciak, Lt. Col, US Air Force Reserve, USNA '84
Dan Manning, Army Veteran, USMA '04
Marty J Eaton, Maj. (ret), US Army, USMA '80
John A. Hazel, Lt. Col. (ret), US Army, USMA '73
Mike Crumlin, Army Veteran, USMA '83
Kiko Morillo, Army Veteran, USMA '87
Rebecca Kanis Margiotta, Army Veteran, USMA '91
Marene Allison, Army Veteran USMA '80
Magdaline Caradimitropoulo, Army Veteran, USMA '81
Paula Broadwell, Maj. (P), US Army Reserve, '95
April Moncrief, Army Veteran, USMA '01
Elizabeth A. Dzwonczyk, Army Veteran, USMA '07
Marianne Malizia, Army Veteran, USMA '81
Cheryl M. Connors, Army Veteran, USMA '83
Dawn E. Conniff, Maj. (ret), U.S. Army, USMA 1994.
Dean C. Stodter, Col. (ret), U.S. Army, USMA 1982
Kate J. Mitchell, Maj. US Army Reserve, USMA '03
CPT Emily Sfeir, USMA '09
Kate Mitchell, Maj. US Army Reserve, USMA '03
Allyson Dylan Robinson, Army Veteran, USMA '94
Susan P. Kellett-Forsyth, MAJ (ret), US Army, USMA '80
Jolie Erickson, Army Veteran, USMA 98
Caroline Nalepa Phipps, Army Veteran, USMA '89
Michele M. Putko, COL (ret), US Army USMA '83
Martha Bowman, Army Veteran, USMA '87
Amberle Kurkowski, Army Veteran, USMA '07
Michelle Olson, Army Veteran, USMA '91
Maria Netherland, Army Veteran, USMA '94
Julie Murray, Army Veteran, USMA '02.
Suzanne Hickey Lt. Col. (ret) US Army, USMA '84
Meg O'Grady, Army Veteran, USMA 90
Jason Dempsey, Army Veteran, USMA '93
Rev. Dr. Cynthia R. Lindenmeyer, Army Veteran, USMA '90
Ellen Mearsheimer McDonald, Army veteran, USMA '84
Vicki Martin Lundquist, Army Veteran, USMA '80
Lorelei E.W. Coplen, Col (ret), US Army, USMA '85
Popular in the Community