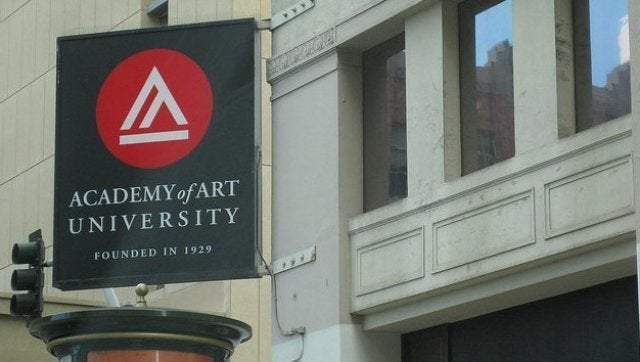 One of the schools could have a significant impact on San Francisco students: Academy of Art University.
The Cal Grant program, California's largest source of state-funded financial aid, provides funds to undergraduates, vocation training students and individuals in teacher certification programs.
"The Commission has argued for years that the best way to protect students, parents and taxpayers is to make sure Cal Grants help students get into solid programs that deliver proven educational and career value," said California Student Aid Commission Chair Barry Keene in a statement. "Eliminating schools with high loan default rates and low graduation rates is a sensible way to do that."
The new guidelines require that institutions have a student loan default rate of 15.5 percent or less and a graduation rate of 30 percent or higher.
Academy of Art's figures were stronger than many of the other schools deemed ineligible, but unfortunately not strong enough to meet the new standards.
Keene noted that all California Community Colleges, CSUs and UCs, as well as most private nonprofit schools, would remain eligible for Cal Grants. But many for-profit institutions including Academy of Art, Devry University, Heald College, ITT Technical Institute and Expression College for Digital Arts will lose the coveted funding.
In the release about the new standards, CSAC noted that the graduation rate for students enrolled at the ten largest for-profit schools in the country hovers around 20 percent, remarkably lower than the national 55.5 percent average for all schools.
The recent Cal Grant news is just the latest struggle for Academy of Art.
The former employees claim that the school illegally raised and lowered employee pay based on enrollment success and dangled Hawaiian vacations for top sellers.
The university argues that it did nothing illegal and its practices were allowed under the "safe harbor" loophole that allowed institutions to make up to two performance-based adjustments to a recruiter's salary in a 12-month period as long as the number of students signed up wasn't the sole criteria by which they were evaluated. The "safe harbor" provisions were eliminated last year; however, Academy of Art representatives say the incidents mentioned in the suit all occurred during the time period in which the loopholes existed.
Popular in the Community