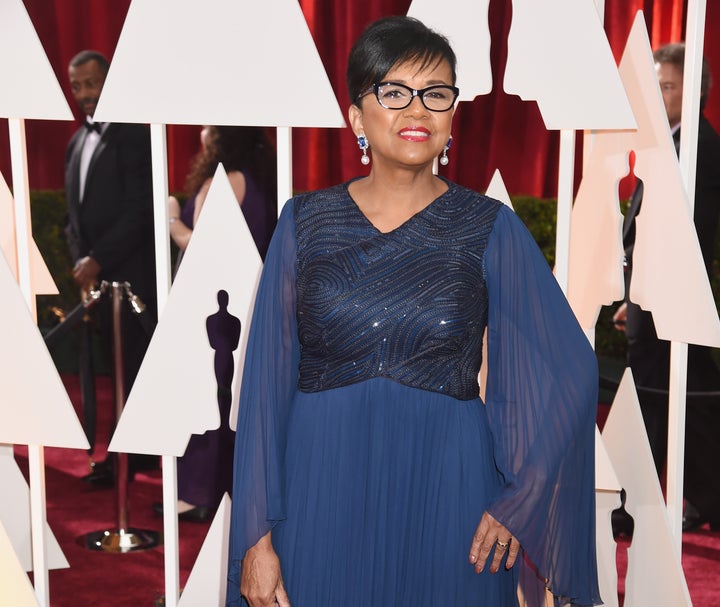 Seven months after the hashtag #OscarsSoWhite defined the lack of diversity among this year's Academy Award nominees, the head of the Hollywood voting body that hands out the prizes could be anticipating a similar drought. Cheryl Boone Isaacs, who has served as Academy of Motion Picture Arts and Sciences president since 2013, said during a Los Angeles luncheon on Tuesday that it is the responsibility of studios and agencies to enhance diversity.
"The Academy has no power over Hollywood," she said, according to Variety, citing what she sees as frequent misperceptions among non-industry folks. "We have nothing to do with hiring."
Boone Isaacs, who is the Academy's first black president, said that what the organization can do is encourage its members to pay more mind to diversity within the business. She said the breakdown often happens at entry levels, as "an issue for most film schools is lack of diversity." But without the power to greenlight films or lord over the hiring process, the Academy can only mentor filmmakers in hopes of spurring a broader palate on sets.
Whether the #OscarsSoWhite theme will come into play again this year is in question. It's too early to declare definitive front-runners, which makes it hard to tell whether Idris Elba will score a Best Supporting Actor nod for playing a ferocious African war lord in next month's "Beasts of No Nation." At this point, Elba appears to be the likeliest person of color to make the shortlist when nominations are announced in January. Other contenders include Samuel L. Jackson for Quentin Tarantino's "The Hateful Eight," Michael B. Jordan for the boxing movie "Creed" and Will Smith for the NFL medical drama "Concussion" -- and that's pretty much where the list ends, at least in terms of the acting categories. (On the directing side, where women are frequently ignored, Angelina Jolie could slip in for "By the Sea" and Sarah Gavron will see her name mentioned as a contender for "Suffragette." Both face stacked competition among the stable of men in the running.)
A different type of diversity battle is happening with regard to the slate of films that register with the Academy. The term "Oscar bait" is used, at times pejoratively, to describe movies that are aware of their appeal to voters seeking so-called prestige. When asked why the Academy's tastes don't reflect those of average moviegoers who would rather see, for example, the new "Hunger Games" installment than an art-house drama, Boone Isaacs teased that one of this year's blockbusters could cross over. "How [Academy members] view the talent on the screen is in many places different," she said. "But this has been the year of the blockbuster ... and the big daddy of them all is coming: 'Star Wars.'"
PHOTO GALLERY
Fall Movie Preview 2015
For a constant stream of entertainment news and discussion, follow HuffPost Entertainment on Viber.
Calling all HuffPost superfans!
Sign up for membership to become a founding member and help shape HuffPost's next chapter