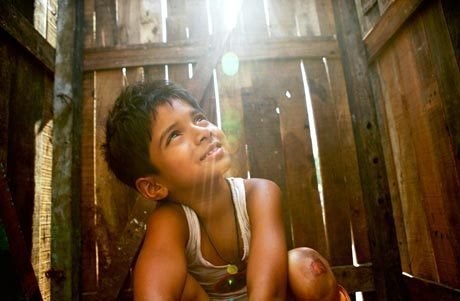 From the desk of:
Harold P. Stuffedsuit
Publicist
The Academy of Motion Picture Arts and Sciences
We at the Academy would like to congratulate Slumdog Millionaire on its history-making 10 nominations. In acknowledging the grand collective effort that made this film a reality, and in keeping with the Academy's longstanding tradition of recognizing Indian contributions to the film industry, we pay tribute to Slumdog Millionaire by excluding it from our acting categories.
We are aware that the film's lead, Dev Patel, was nominated for Best Actor awards by both the Screen Actors Guild and the British Academy of Film and Television Arts. We are also aware that Slumdog Millionaire's actors won the Screen Actors Guild award for Outstanding Performance by a Cast in a Motion Picture. Sadly, we don't know any of these people.
Had their characters been impersonated by other, better-known actors, the situation may have been different. We are, after all, the same people who gave Ben Kingsley a Best Actor award for his portrayal of Mahatma Gandhi. Thankfully, director Danny Boyle's commitment to authenticity spared his cast from inclusion among the Frank Caliendo-like impersonators nominated this year.
We realize that an Indian film industry that produces nearly 1,000 movies a year has only received three Oscar nominations (Mother India in 1957, Salaam Bombay in 1988 and Lagaan in 2001) in its history. We also realize that Bollywood is kicking the U.S. film industry around the globe to the tune of a billion more moviegoers each year and a growth rate double that of Hollywood's. However, the Academy will not be accused of xenophobia. If 2005 nominee Water wasn't filmed in Sri Lanka, India would have four nominations all to itself. It would still have no wins, mind you, but that would have narrowed the odds a bit.
Besides, we were honoring actors from other countries before it was even a thing to do. Back in 1964, we gave all our acting awards to Rex Harrison (England), Julie Andrews (England), Peter Ustinov (England) and Lila Kedrova (France via Russia). Last year, our best actors were Javier Bardem (Spain), Marion Cotillard (France), Tilda Swinton (Scotland) and Daniel Day-Lewis (an Irish Brit, whodathunkit?). What more do you people want?
Nominees from somewhere other than Western countries, Japan or China? We gave one to Charlize Theron and she's from South Africa. That totally counts! What about Cambodia's Haing Ngor for The Killing Fields in 1985? Sidney Poitier is from the Bahamas. You need a passport to go there, right? In some cases, it's an honor just to be nominated. Isn't that right, Djimon Hounsou?
For foreign films, however, the Academy feels the greatest honor for actors is not to be nominated at all. We gave Roberto Benigni a Best Actor award for Life is Beautiful and look what happened: Damaged upholstery, ruptured eardrums and uncontrolled gesturing. Never again. Two years later, Crouching Tiger, Hidden Dragon took home four awards. You didn't hear Chow Yun-Fat, Michelle Yeoh or Zhang Ziyi complaining about being shut out for acting nods, did you? It's because we wouldn't let them.
We hope that the cast of Slumdog Millionaire will appreciate this honor and appreciate the delicate balance that the Academy is trying to maintain. After all, if we nominated actors such as Patel, Toshiro Mifune or Catherine Deneuve, how would Art Carney, Tommy Lee Jones or Marisa Tomei ever get the recognition they so richly deserve?
Calling all HuffPost superfans!
Sign up for membership to become a founding member and help shape HuffPost's next chapter