If you're looking for my appetite, you can find it in Mexico: on a spoon sitting in a big empty red bowl once filled with pozole rojo.
I slurped my way to the end of that goodness brimming with zest from guajillo chile and ancient origins in a mere fifteen minutes: fishing for the perfect brothy spoonful of hominy, shredded chicken and pork smothered in oregano, with tiny slivers of lettuce and subtle hints of lime.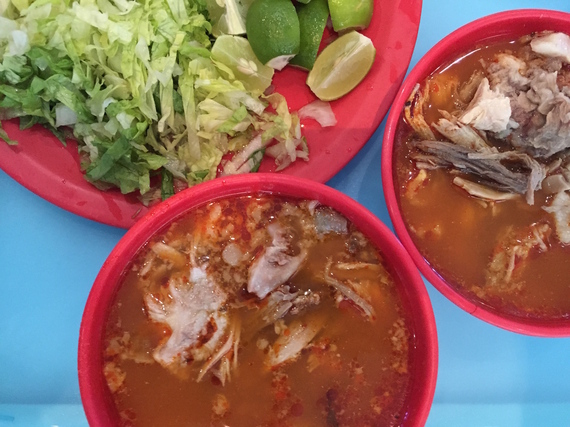 Más por favor! (More please!)
There was no más. Not even the last drizzle you find puddled in the corner waiting to be chased around the bowl. Nope. My love affair with the traditional Mexican soup ended before I could get comfortable in my chair.
But, because pozole is so heavily rooted in the culture of Acapulco, it has its very own day. On Thursdays--"pozole day"--consumption is as high as the city's heat index. And if you're really feeling the spirit, you'll pair it with a shot glass filled with smoky mezcal accompanied with a side of oranges coated in a grainy mixture of chile piquin. Although I wasn't that bold, in Acapulco tradition is everything.
I went to the resort city with an original mission of exploring the culture and having plenty of beach time in between, because summers are made for lazy days along the Pacific Coast in a bikini, right? But after just one mouthful of the Mexican gastronomy, I forgot all about my tan deprived skin and only wanted to do what was best for my taste buds: eat my way through the culture every minute I possibly could.
Here's how I came, ate and then conquered every last thing I ate in Acapulco: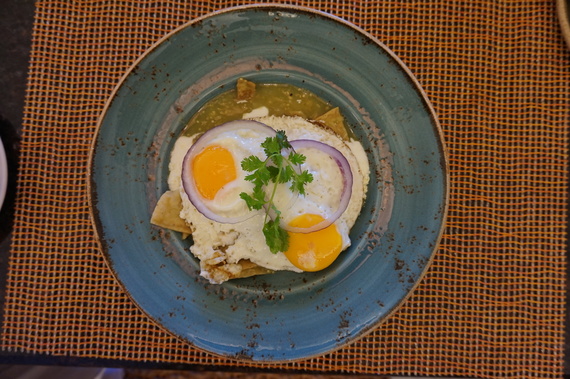 I'd be doing a disservice to my life if I didn't start my day with some chilaquiles cooked to order at Resort Mundo Imperial: a hodgepodge of nachos bathed in green tomatillo sauce and sour cream topped with the perfect pair of eggs on the sunny side, onions and a few leafy twigs of cilantro. Actually, anyone who doesn't start their day with this is doing themselves a disservice. And that's never okay.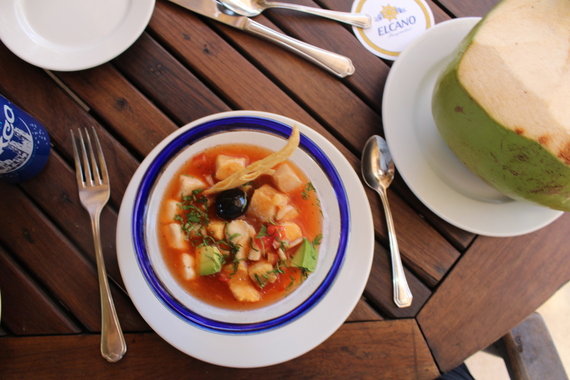 I don't know what you say, but I ceviche. And I'll say it every single time when the dorado tastes as fresh as the kind served up at Elcano Diamante Restaurant. The coolness from the chilled citrus juices was the perfect respite from the heat.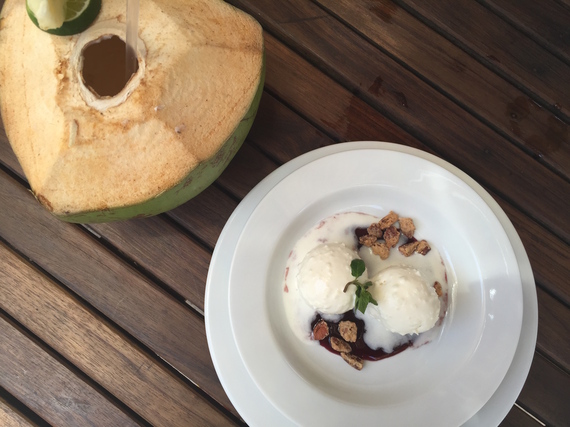 The good news is Guerrero (the state which the city of Acapulco resides) is a producer of coconuts. The better news is these coconuts are used in the production of shampoos, oils and this delicious bowl of coconut ice cream that I had the pleasure of devouring many times during my edible adventure in Mexico.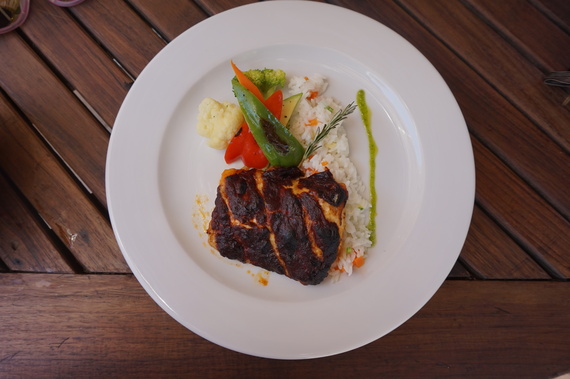 Pescado a la talla is what Mexican culinary adventures are made of--freshly roasted red snapper fillets from Acapulco's Tres Palos Lagoon, guajillo chilli sauce and all.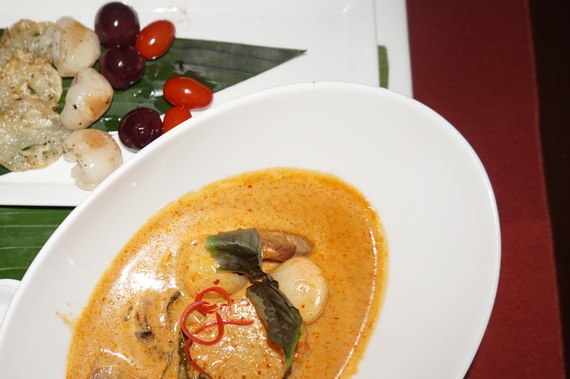 Is there a way to eat your way through Acapulco without taking bites out of Asia too? I'm not sure I want to find out because the fusion food party my taste buds attended was too good to pass up. Because of the cultural exchange between the two regions during the colonial period, you'll find Asian elements sprinkled throughout Mexican gastronomy everywhere. Case in point is Saffron's grilled duck breast swimming in red curry and the tamarind ketchup that comes with Zibu's crispy won ton rolls stuffed with yellow fin ahi tuna. Mexicasian on my plate now please!
I'm just gonna' leave this delicious picture of the enfrijolades I ate right here: because when you find a photo of a plate that looks as good as it tastes, there are really no more words needed.
Have you ever visited Acapulco? What was the best thing you ate?
This post originally appeared on Jaimee's travel and inspirational blog, This Way North.