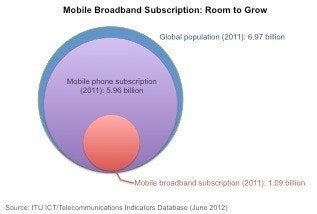 We've all experienced how the Internet has changed our lives in the way we work, play and communicate with family and friends. We see how institutions are becoming more productive, offering new services and helping transform education, health care and the places we live.
This new report builds on the growing body of economic analysis linking information and communications technologies (ICTs) to national growth by analyzing the economic impact of various mobile technologies:
A doubling of mobile data use leads to an increase of 0.5 percentage points in GDP per capita growth rates;
Countries characterised by a higher level of data usage per 3G connection have seen an increase in their GDP per capita growth of up to 1.4 percentage points;
A 10 per cent rise from 2G to 3G penetration increases GDP per capita growth by 0.15 percentage points; and
In developing markets, a 10 per cent expansion in mobile penetration increases productivity by 4.2 percentage points.
The study highlights the importance of mobile broadband just as we are seeing a clear shift in how people around the world access high speed Internet. There are approximately 1.1 billion mobile broadband subscriptions worldwide, nearly double that of fixed wired broadband subscriptions (588 million), according to the International Telecommunications Union. This transition to wireless broadband is occurring in hyper-connected advanced economies as well as in emerging countries where mobile broadband subscriptions account for 486 million subscriptions. That is nearly half the global total, and two-thirds more than the number of fixed wired broadband subscriptions in the emerging world.

But there is still much room for growth. Mobile broadband subscriptions amount to only a fraction of the 6 billion mobile phone subscriptions in the world. This gap between mobile phones and mobile broadband highlights the opportunity to connect more people to the Internet. Closing the gap will require a collaborative approach between government policy leadership and private sector investment.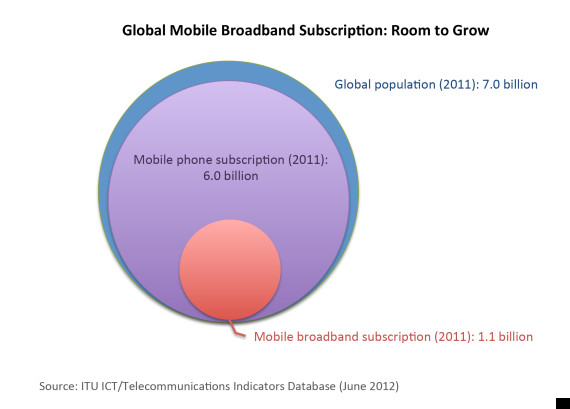 From the public policy perspective, governments need to foster an environment to encourage private sector investment and competition. For example, increasing the amount radio spectrum allocated to mobile broadband and setting clear rules in place for competition ensures mobile data traffic can grow without supply constraints. Public policy can also spur use of mobile broadband through government online tools to engage citizens, helping to develop digital literacy skills, and promote online and local content.
At the same time, the private sector can drive infrastructure development, device development and adoption and service delivery in a competitive and innovation-driven environment where consumer benefits are the priority.

At the end of 2011, 119 countries had developed national policies to encourage broadband deployment and adoption, according to the United Nations Broadband Commission. Recognizing the positive impacts of high-speed connectivity, these countries (as well as others still in the process of developing national broadband plans) are taking concrete steps toward increasing high speed broadband. Armed with the new Deloitte-GSMA-Cisco study, governments, businesses and individuals can take greater steps in advancing mobile broadband, secure with the knowledge that mobile broadband accelerates economic activity, growing nations and benefitting individuals.
Calling all HuffPost superfans!
Sign up for membership to become a founding member and help shape HuffPost's next chapter