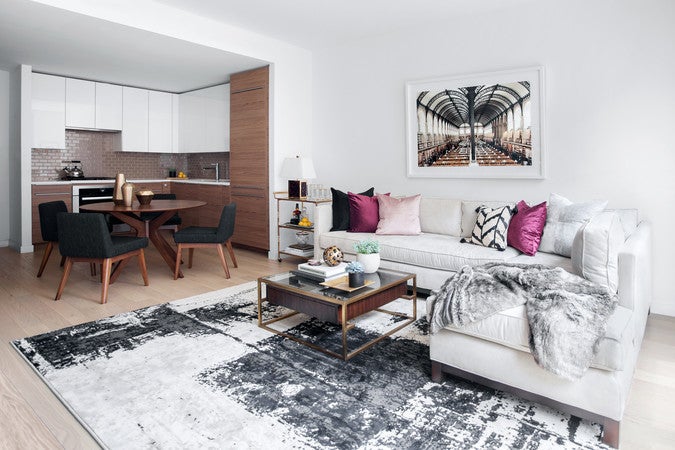 Every room in your house should have one object with a "wow" factor. But if you're a city dweller living in a small apartment, then you might find it difficult to source accent pieces that don't take over your whole home. Our senior designers are on the case, and have these tips for accent pieces that make a grand statement in small spaces.
Wallpaper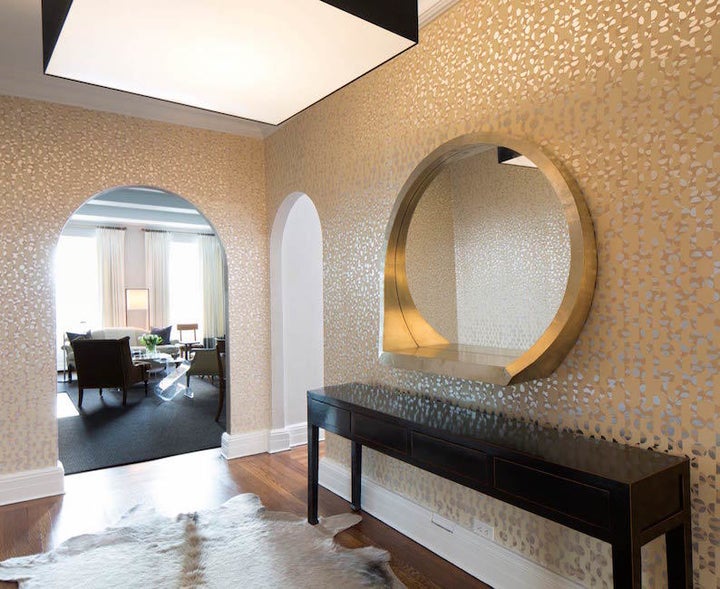 If you're trying to add an accent to a dark or windowless room, then consider a new set of wallpaper. The foyer in this Upper East Side apartment is a prime example. The gold, geometric pattern makes the space feel bright and fluorescent, even though there isn't a window in sight.
Mirrors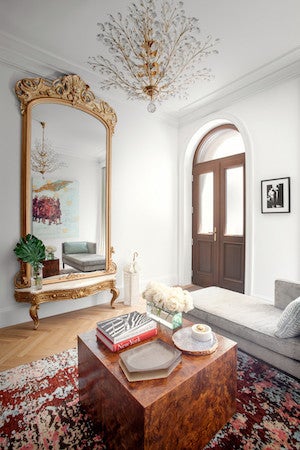 If you're trying to give your small space a luxurious statement piece, then consider adding a floor-length mirror. Not only will it open up the space, but it'll also give you the opportunity to pick out a luxurious and opulent frame. The art-deco mirror in this Upper East Side townhouse makes the foyer feel more expansive, and creates a grand entry for this mid-century home.
Storage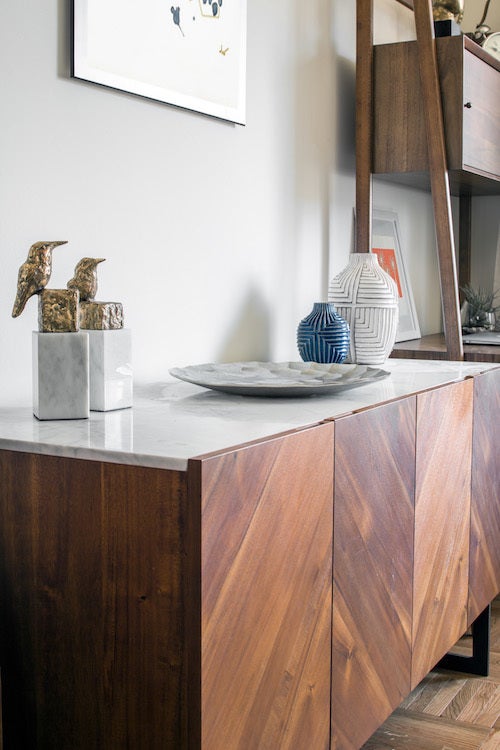 Who says that accent pieces can't be functional? We love the solid teak wood console in this Upper East Side luxury condo. Not only does it give this family of four some extra storage space, but it also adds a luxurious accent to their mid-century living room.
Area Rug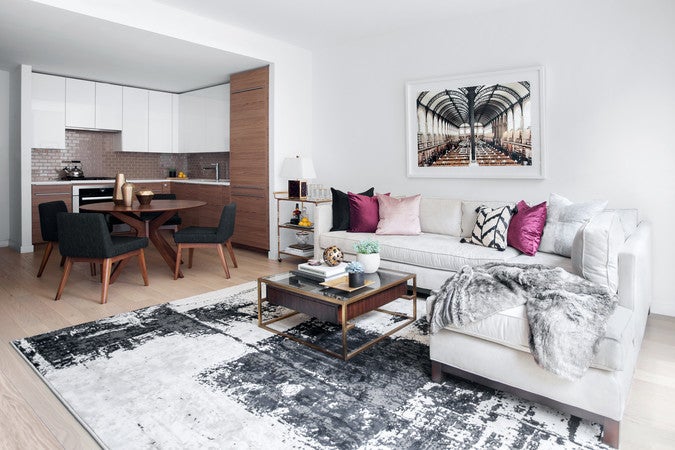 If you're trying to add a dramatic statement without taking up any room, then consider swapping out your area rug. A high-sheen option with a dramatic pattern, like the one we placed in this Upper East Side apartment, is great for adding an grand accent to your small space.
Sculptures as Accent Pieces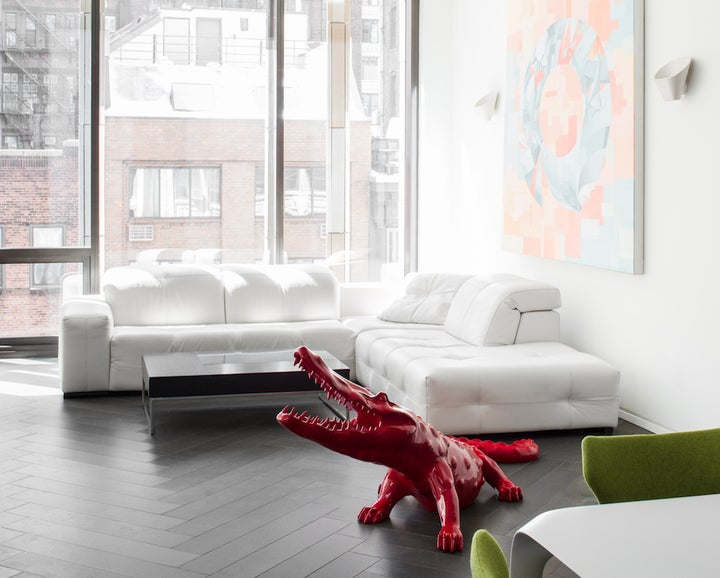 Have you ever seen a sculpture in a museum or gallery and wondered how it could fit into your home? Sculptural objects are not only decorative, but great for open-layout spaces. In this radiant townhouse, we placed one of our client's sculptures, a red alligator, in between the sitting area and the dining room. It distinguishes the two seperate spaces and highlights the artwork's dramatic color.
Lighting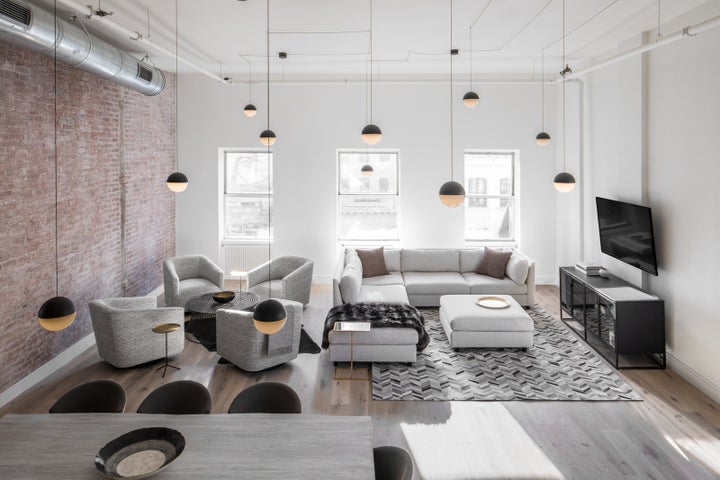 When placing accent pieces throughout your home, think vertically. The hanging light fixtures in this TriBeCa loft are an incredible accent because they match the space's rustic-chic look and have an eye-popping effect.
Custom-Made Furniture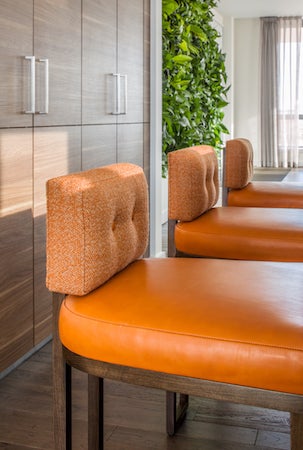 If you want to splurge on an accent piece for the home, consider a custom-fabricated furniture piece. Custom-made pieces can be shaped to the exact specifications of your home, and allow you to show off your personal design style. In this Central Park Penthouse, we custom-fabricated these barstools with Edelman leather and fabrics from Pollack.
Ceiling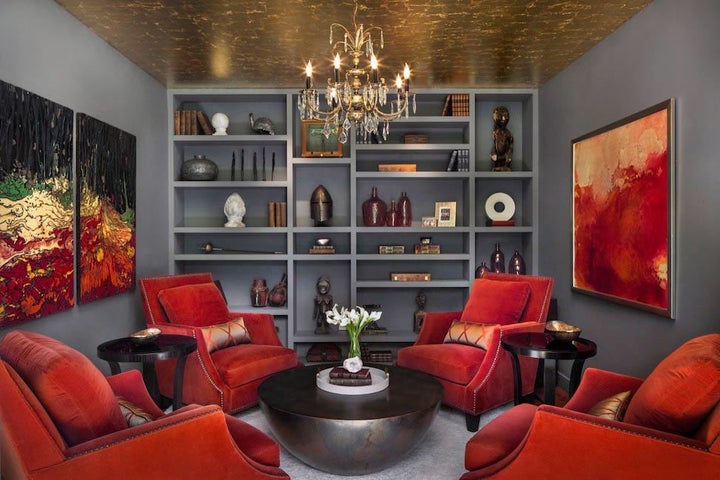 And if you're completely out of space to add an accent piece, then consider giving your ceiling a touch-up. In this Greenwich country estate, we added a gold ceiling to the library. It brightens the space and adds a dramatic accent without taking up any extra space.
Popular in the Community