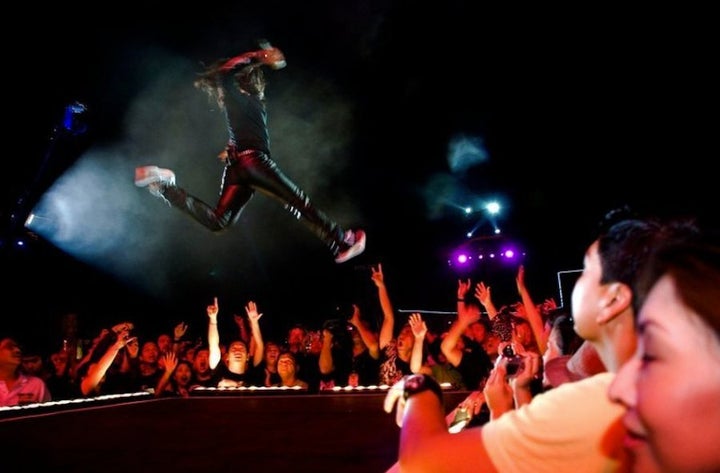 A 1944 Johnny Mercer lyric (sung to Harold Arlen's bouncy melody) advises people that:
"You got to ac-cent-tchu-ate the positive
E-lim-i-nate the negative
And latch on to the affirmative
Don't mess with Mister In-between

You got to spread joy up to the maximum
Bring gloom down to the minimum
And have faith, or pandemonium
Liable to walk upon the scene."
In 1949, when Rodgers & Hammerstein's new musical, South Pacific, opened on Broadway, one of the most pleasant surprises in the score was Bloody Mary's solo, "Happy Talk." In the following clip, Loretta Ables Sayre sings "Happy Talk" to Andrew Samonsky and Li Jun Li in a recent revival.
Optimists come in every size and shape. Some know who they are, what they love, and squeeze every bit of enjoyment out of their lives. Consider the case of young Kyle Krichbaum, a proud member of the Vacuum Cleaner Collectors Club who is often referred to as "the vacuum savant."
A collection of shorts from this year's San Francisco International Film Festival demonstrates what can happen when people steer their thoughts in a positive, rather than negative direction.
In Eric Brownrout's METRO, the filmmaker asks strangers in the Los Angeles Metro's North Hollywood station a simple question: "If you could have any wish come true by the end of today, what would it be?"
In Paper Piano (Marianela Maldonado's delightful six-minute short), a Venezuelan girl must pass through frightening, rundown sections of Caracas every week in order to take part in the groundbreaking Youth Orchestra movement, El Sistema. When a young boy follows her and gets invited by the girl's music teacher to learn how to play piano, a previously-unknown talent suddenly discovers a new creative outlet. Here's the trailer:
In Tyler Kupferer's beautifully realized The Girl and the Fox, a girl tracks a mysterious fox through a foreboding snow-covered wilderness. After she shows mercy to the fox, her favor is returned in a startling way.
Can one really quantify a person's capacity to love? In Brent Hoff's The Love Competition, people of all ages help the staff at the Stanford Memory Lab to explore the neurochemistry of romance.
Unlike television's Family Feud game show, men and women of varying ages undergo brain scans while thinking about the people and objects they love. The results may surprise you!
REAL LIFE. REAL NEWS. REAL VOICES.
Help us tell more of the stories that matter from voices that too often remain unheard.