Digital transformation is changing the way we work and live, yet for many people the term digital transformation is still widely misunderstood. "As businesses transform by trying to understand how to deliver better products and services, digital steps in with the set of tools and techniques to get it done," says Mike Sutcliff, (Twitter: @MikeSutcliff) one of the top digital business thought leaders and group chief executive of Accenture Digital. Sutcliff says that digital transformation, defined by Altimeter Group as a "formal effort to renovate business vision, models and investments for a new digital economy", is all about restructuring industries and keeping up with blurring lines between businesses because even if you are not doing it, people in your industry are.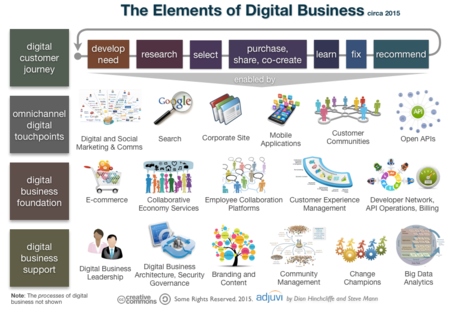 The Elements of a Digital Business 2015 - by Dion Hinchcliffe (Twitter: @dhinchcliffe)
Accenture Digital integrates digital assets, software and services across digital marketing, analytics and mobility to help clients drive growth and create new sources of value. In his role, Sutcliff helps all of Accenture across industries and geographies to think about how to combine digital technologies to solve problems for clients in new, unique and scalable ways.
Sutcliff provides us with an education on digital transformation and helps businesses discover how they can provide better outcomes and experiences by doing things differently using a combination of digital technologies, such as social collaboration, mobility, cloud computing, and analytics solutions.
7 digital business transformation lessons from Accenture Digital
1. Mobility is an element of all digital transformation initiatives - Sutcliff makes the case for designing for a mobile-first and even a mobile-only world by painting the following picture for us, "Today we have about 6 billion people on the planet, about 4 billion have mobile technology and 5-7 billion "things" are connected. All of these numbers will explode in next couple years. We think that we will add 9 billion new connections to the Internet next year." It's no wonder Accenture Digital is looking at mobility as one of the primary factors in the way people think about changing the way they are working. "We will see a massive shift in what the technology enables us to do in the next 12-18 months," predicts Sutcliff
2. Digital business transformation expand beyond marketing - Marketing has been one of the early users of digital technology, and digital has done a huge service for creating better customer engagement, but what we are seeing today, says Sutcliff, is an equally explosive opportunity for the way the enterprise is managed and how operations are executed. "We see digital customers continue to expand and explode beyond marketing. When we start looking at products, features and new services, we see the next generation of business being able to be fundamentally rethought because of digital," says Sutcliff.
3. Digital business transformation is a C-suite agenda - With the roles of the CIO, COO, CMO and CDO mixing and mingling, exactly who is leading the digital transformation revolution? Sutcliff says that ultimately it's a C-suite agenda where they come together and all work together. "Because businesses can now buy things as a service and buy things that enable them, digital is being seen not just as a technical issue but as an enabler to the whole business that encompasses operations at every level of the organization," says Sutcliff.
Sutcliff has huge respect for the role of the CIO and says they are continuing to lead digital transformation initiatives. But while he reports that organizations are starting to understand that technology can enable the business in terms of systems of engagement, the challenge for CIOs is that they must continue to maintain the legacy environments that have been built up over the past 20-30 years and keep track of systems of record while also being innovative. "We are starting to see the buyer move outside of the CIO suite to the CMO who is thinking about how to engage with customers and we also are seeing a lot of CDOs get announced to represent a broad coalition across the leadership team and to understand what the business units are trying to achieve," says Sutcliff.
4. Digital transformation is less about technology and more about business outcomes - Given the pervasive nature of digital transformation across so many parts of the organization, thinking about how to implement and measure success can be daunting. Digital analyst Brian Solis found that while 88% of companies report undergoing a digital transformation, only 25% have mapped the digital customer journey and have an understanding of new or underperforming digital touchpoints. To avoid investing in digital transformation without insight or purpose, Sutcliff recommends starting with a value map to determine what matters in your organization, the key drivers, and measure those out: "Try not to measure activity, but outcome. Focus on what matters and measure that." He also says it's important to separate what's possible and what you could do from what's important and what you should do, "It's very easy to do digital because it sounds interesting and makes you look good, but it takes more work and thinking to do it effectively. I don't think we should do innovation for innovation sake, but rather taking specific problems and thinking about how to solve those problems."
5. Data analytics is at the core of digital business transformation capabilities - Just as technology has to be core to designing a product, analytics is the core of digital transformation. Real time delivery of analytics speeds up the execution velocity and improves the service quality of an organization. "Analytics is the backbone of our ability to do digital transformation," says Sutcliff, "every single one of our client assignments includes mobility and some level of analytics." Using advanced analytic techniques, such as machine learning and cognitive engines, enable Accenture Digital to take very complex science and make it available in a way that is easy to understand. "We are looking at how to take analytics and make it available at all levels of the organization where people or machines are trying to make decisions," shares Sutcliff who also points out that when it comes to big data and analytics, humans must be inserted into the process. "We are trying to enable humans to do a better job of the things that they do well, like understanding context. If you try to take analytics and supersede as opposed to enable the human element is where we see analytics go wrong. When that happens, humans are resistant, so it's important to try to provide a balance."
6. Balance cultural change from both top-down and bottom-up directions - Sutcliff says that getting that top-down/bottom-up balance right is where organizations will see the most massive change occur. Ray Wang of Constellation Research agrees that organizations need to develop a culture of digital DNA. From the top, it's imperative (not optional) to set the context about being inclusive in leveraging all the different technologies that we call digital. If the leadership gives people the digital technologies to help them redefine their industry and the way they work this gives them the model to effectively make change happen. It is equally important to have bottom-up buy-in where the individuals being impacted believe it will give them the ability to do a better job and the ability to succeed at the things they think are important in doing their daily work. The leadership can help influence this by helping them to understand that it's not a new tool that is disruptive to what they are doing, but enables them in what they are doing.
7. Business, products and services innovation is a team sport (the eco-system) - Innovation and digital transformation efforts are inextricably linked. Sutcliff feels that CEOs need to grasp the concept that technology is not something that happens under the covers of the business and that CEOs need to adopt a mindset of working in an eco-system and taking advantage of new technologies that can rapidly redefine how they create and deliver products and services. He sees start-ups as an extension of corporate innovation efforts, but also advises those charged with leading the digital transformation efforts for their companied to listen to the eco-system that they are already a part of - lots of customers, employees and business partners with great ideas and energy to make a change.
You can watch the full interview with Mike Sutcliff here. Please join me and Michael Krigsman every Friday at 3PM EST as we host CXOTalk - connecting with thought leaders and innovative executives who are pushing the boundaries within their companies and their fields.
Related