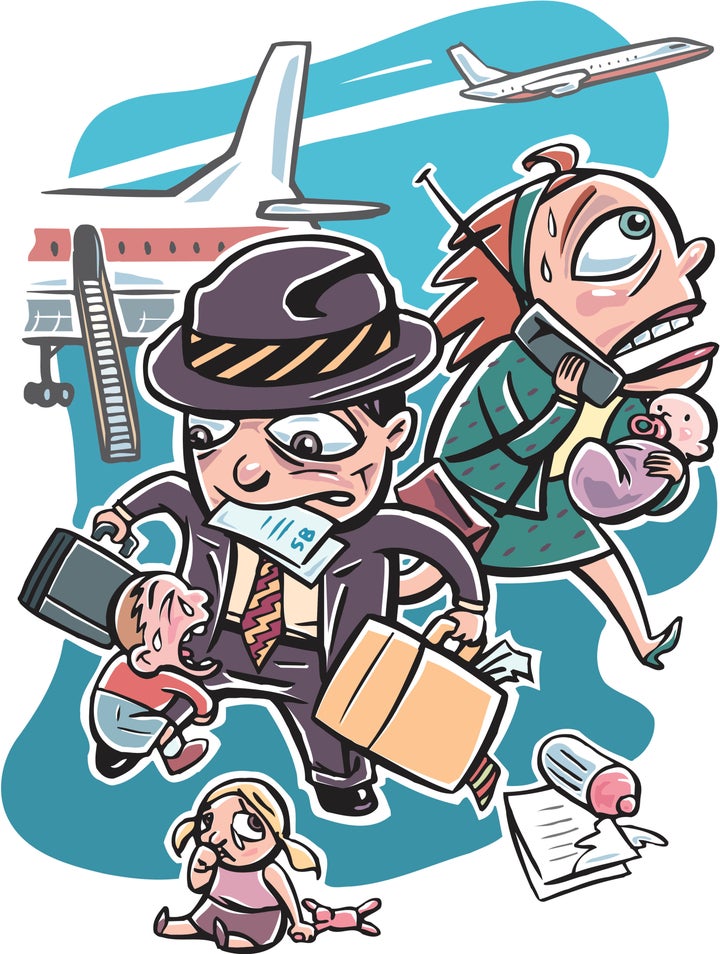 A management consultant's life typically involves a lot of travel to see clients. It can be a fun perk when you're young, just starting out and child-free, but more tricky for those with family responsibilities.
Accenture took a big step in acknowledging that predicament on Wednesday, announcing that new parents at the firm could work locally with no travel for up to a year after the arrival of a child. Should a new mother wish to keep traveling during that year, the firm will pay for her to ship her breast milk home. IBM launched a similar breast milk-shipping program last month, and Accenture's program was created after a mother of a newborn asked for it.
"What we're trying to do is create an environment where it's easy for people to say what it is they need," Ellyn Shook, Accenture's chief human resource officer, told The Huffington Post last month. Shook said that sometimes parents who come back to work from leave want to do more local work or make sure they can leave at a certain time each day. Accenture wants to make them feel comfortable asking for flexibility.
"We've worked hard to make it very open for men and women to ask," Shook said. "Work-life balance is an issue for everybody."
There is a benefits war at the top of the economic pyramid right now. Companies competing for highly educated workers -- and trying to retain women -- are falling over themselves to accommodate working parents. These workers are already very well-compensated. Starting pay for consultants at Accenture hovers around $90,000 per year.
Earlier in the year, Accenture doubled the amount of maternity leave it offers workers to 16 weeks. Netflix recently advertised its move to offer some workers up to 12 months leave. Nestle, Vodafone, Johnson & Johnson and Blackstone all recently upped the amount of time off given to new parents. Even in the super-male, hard-charging, ultra-competitive world of private equity, there's a growing acknowledgement that employers should lend a hand to new parents. Old-line private equity shop KKR said that it would pay for nannies and babies to travel with female employees at the firm.
Meanwhile, low-income parents -- particularly those working hourly jobs -- are getting left behind. Nearly one-quarter of new mothers go back to work after only two weeks of giving birth, according to a new report. The less money you make and the less education you have, the more likely you are to get no kind of parental leave.
The United States and Papua New Guinea are the only two countries out of 185 tracked by the International Labour Organization that offer no paid benefits to new mothers. The U.S. only provides 12 weeks unpaid leave to some citizens who work at large companies. Meanwhile, Afghanistan offers 13 weeks paid leave at 100 percent income replacement for new mothers, HuffPost's Dana Liebelson recently reported.
Accenture also announced it would beef up its backup care program, which offers heavily subsidized emergency day care and nursing care for the children or family members of employees. The company will now help pay for 80 hours a year, up from 40. On top of that, Accenture will also provide an additional 40 hours of backup care within the first year of a child's birth or adoption.
The firm also plans to start offering hospital-grade breast pumps to women in the U.S., and online one-on-one support for U.S. employs who need help dealing with their kid's attention deficit hyperactivity disorder or other developmental disabilities.
Accenture aims to increase the percentage of women it hires to at least 40 percent by 2017 and is hoping these new benefits help.
"The enhancements that we have made for working parents are all part of our broader commitment to an inclusive and diverse work environment," Shook said in a statement. Women currently make up 36 percent of the company's overall workforce.
Consultants at firms like Accenture, EY, Deloitte and KPMG were putting in brutal hours under pressurized work conditions long before the advent of tech companies like Amazon, which came under fire earlier this month for the way it treats its workers.
The difference for major consulting firms is that they've been active and vocal about figuring out ways to manage the stress of their workforce and help with work-life balance. The four firms named above offer generous parental leave. EY (formerly Ernst & Young) has been out front on offering paternity leave to fathers. Amazon offers no leave to new dads, and The New York Times reported that there are no women on its leadership team.
Clarification: An earlier reference to "the Big Four" consulting firms has been removed to avoid the implication that Accenture is considered part of that group.