Having waited 42 years to "come out" to close family and friends, the experience of finally taking the full plunge and publicly coming out couldn't have been more incredible.
My early story is somewhat like other people of my age, I was well and truly closeted, afraid of revealing the truth and hiding behind a fake persona of myself. I dated guys, I even married and had children but underneath I knew I was not being my true self and it hurt deeply, even to the point of depression.
But then came a huge life-changing event, after separating from my husband I met the most amazing woman, Laurie, who changed my life, I credit her with actually saving my life, she let me be myself and I called her my "American Angel" inspired by the George Michael song. There I was in West Sussex in England and she was in Massachusetts all the way across the pond in America but despite the distance we had an instant bond.
Soon I jumped on a plane to Boston and we met physically for the first time, spending a whole 8 days falling head over heels in love and making a commitment to each other. We moved heaven and earth to be together literally.
Then came the next stage, being an out couple. There I was in a quiet English village, walking my boys to school, chatting with other mums who all knew me as a straight mum. I wasn't sure what to do, how do I say after years of hiding behind my veil of normalcy (not) that I had changed teams or in reality I was now actually batting for the right team!
Well my opportunity came on New Year's Eve, it was the highlight of the festive season, the community center's New Year's Eve village party, and of course everyone would be there. My closest friends were all going and I wanted to take Laurie and my boys to join in the celebrations, but it was an enormous step. There's a big difference being with close friends and being yourself to revealing you're the token village lesbian who has not only come out of the closet but brought her American beauty along to the party!
We arranged with my friends to all go to the party together, so initially we walked in as a crowd, laughing and chatting and we didn't really stand out too much, people were eyeing up Laurie just because she was new but otherwise nothing was different. That was until one of my best friends asked me if she could tell people we were a couple. I talked to Laurie and she was all for it, she had never been a shy and retiring person and wasn't about to start now.
So Laurie and I got up to dance and as we danced we saw my friend going around from table to table talking to different people, as she did they were looking at us and before long we had a huge crowd dancing with us. People were coming up and hugging us and kissing us, some were laughing, which was fine, they weren't being unkind it was just a shock. They would say things like "You were always so quiet, who knew!" It actually got to the point that we almost felt like the entertainment for the night but in a good way as people kept talking to us and wanting to know all the details.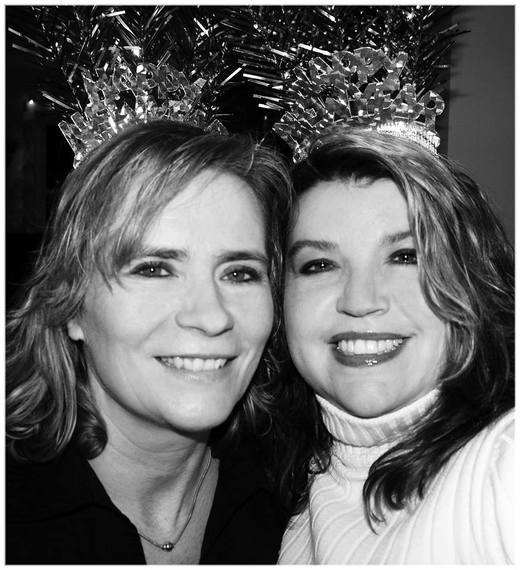 When midnight came and we kissed I have no doubt that there were a lot of eyes on us but we were in the moment and the moment felt incredible, after all the years of being afraid I wasn't afraid anymore and that was the biggest weight lifted from my shoulders.

That was 10 years ago and since that time Laurie and I have moved full time to Massachusetts, we married in both England and America and we fought for marriage equality and my green card. We hear from different people from around the world who share their stories and fears with us and we continue to fight for acceptance, we want to help others to know that they are not alone, that there are people who care, who will stand with you and be PROUD of exactly who YOU are.
Now we are in the process of making a film, STATUS UNKNOWN, about our fight for love and equality and for more details of how you can help promote LGBT acceptance please visit our website www.hart2hartproductions.com and together we can change hearts and minds.
Calling all HuffPost superfans!
Sign up for membership to become a founding member and help shape HuffPost's next chapter