It is 25 years since the United States signed and ratified a treaty recognizing climate change as a major threat to human well-being, committing the nation to reducing emissions of greenhouse gases (GHGs).
In the hot summer of 1992, responding to growing public concern about the global environment, President George Bush reversed an earlier decision and announced he would join more than 100 other heads of state at the Earth Summit in Rio.
One of the agreements that emerged from that gathering was the United Nations Framework Convention on Climate Change, which called for stabilizing the concentration of GHGs in the atmosphere at a "level that would prevent dangerous anthropogenic interference with the climate system." The US Senate ratified the UN Framework by a vote of 92-0 (196 other countries also ratified it). But since that time Congress has never enacted legislation to reduce US emissions, and the failure of the United States to act led other global leaders to resist pressure for climate action.
Until the Paris Climate Accord. The accord was an important milestone for the United States and for the world. It signaled the shared intentions of almost 200 nations to reduce emissions and begin to slow the buildup of greenhouse gases, which are rapidly warming our world, disrupting weather, melting polar ice, raising sea levels, and altering biological processes. The accord is made up of voluntary national commitments, but the breadth of participation gives it tremendous force — and makes the defection of the United States, announced this year by President Trump, profoundly dangerous to its success.
The most technologically advanced nation, the second-largest emitter, and, cumulatively, the greatest source of the emissions that have already warmed the climate seemed to be saying it doesn't care.
But many in the United States do care, and care deeply. Now, nearly 2,600 cities, states, companies, and campuses have pledged to take action to reduce greenhouse-gas emissions and to demonstrate to the world a continued commitment to the accord. This "We Are Still In" coalition reflects the reality that in the absence of federal leadership, much of the action on climate change is coming from states, communities, organizations, and individuals. From rooftop solar to hybrid-vehicle fleets, these actions are having an impact and, in many cases, building community.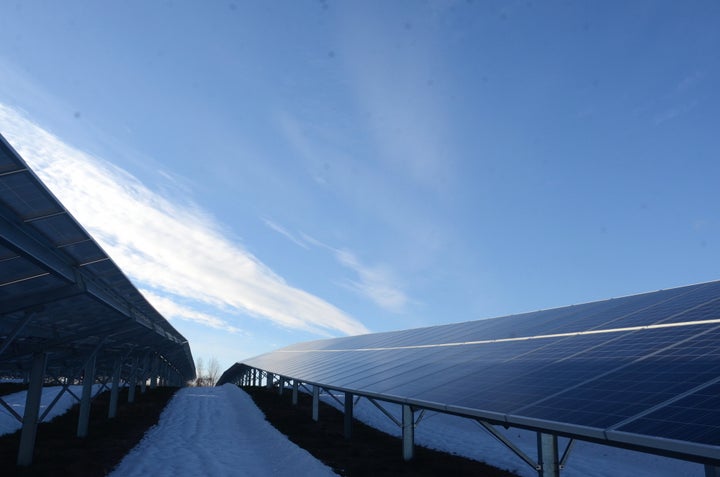 In fact, local action has been leading the way for years. Many states provide incentives for homeowners to install solar panels and more efficient heating and cooling systems. Since 2009, a group of nine Northeastern states have required reduction of emissions from power plants. The California legislature recently extended that state's established GHG-reduction program in a bipartisan vote, with a newly aggressive goal of reducing emissions statewide to 40 percent below 1990 levels by the year 2030. Connecticut, Rhode Island, Hawaii, New York, and California have created "Green Banks" to leverage investment in sustainable projects and the creation of green jobs.
The Institute for Sustainable Communities, a small nonprofit organization in Vermont, of which I serve as chair, is working with the Partnership for Resilient Communities to help low-income neighborhoods become "energy resilient." An example is the institute's work with the Living Classrooms Foundation to bring solar energy and battery storage to neighborhoods affected by frequent power outages and expensive electricity. The institute has worked with Palm Beach, Broward, Miami-Dade, and Monroe Counties in Florida — communities acutely aware of the impact of rising seas and worsening storms — to foster climate resilience and preparedness.
Key Florida stakeholders are taking a stand. Since the White House announced the US withdrawal from the Paris Accord, the Southeast Florida Regional Climate Compact pledged to continue action begun in 2010 to address a problem that threatens its communities.
Companies ranging from GE to Walmart have begun to implement voluntary emissions-reductions initiatives. GE has reduced emissions by 42 percent, guided by its Ecomagination campaign launched in 2005. Walmart has set a goal to increase its energy from renewable sources from the current 25 percent to 100 percent, and announced Project Gigaton to eliminate a gigaton of emissions from its global supply chain by 2030, using Science-Based Targets. Many top US business are publicly backing climate campaigns including those by We Are Still In, Low-Carbon USA, the Climate Leadership Council, and the Center for Climate and Energy Solutions.
In higher education, some 600 college and university presidents have signed commitments to reduce emissions by at least 80 percent in the coming decades. One is Hampshire College, a small liberal arts school in snow country, of which I serve as president. We have installed 19 acres of solar arrays on campus to become 100 percent solar for electricity, avoiding 3,000 metric tons of GHG emissions per year and enjoying annual savings of some $500,000. We converted 12 acres of mowed lawns back to meadows, avoiding more emissions and costs and restoring habitat for meadowlarks and bobolinks. And we built a net-zero-energy, net-zero-waste building, featured this year by American Institute of Architects and National Geographic as one of the Top 10 Green Buildings of 2017.
The involvement of students in school climate-action efforts is both highly encouraging and necessary. Who else will build the zero-carbon economy of the future but the generation who will inherit it?
Can local action for climate entirely offset the absence of national leadership? Not likely. Decarbonizing the national transportation system, rebuilding the national grid, creating and rapidly deploying advanced energy-storage and management technologies, and rewarding companies that make investments to reduce emissions — these acts require national policy, including putting a price on carbon that accurately reflects the cost of global warming on our future.
But leadership at every level not only sends a signal; it also makes a difference. It speaks powerfully about what is possible, and signals to the world that many of us in the United States are taking responsibility for the effects of our actions.
First published in the current edition of WorldView magazine, the quarterly publication of the National Peace Corps Association. After earning his bachelor's degree, Jonathan Lash served in the Peace Corps starting in the Dominican Republic for the "Oficina de Desarollo de la Comunidad," the national Community Development Office, where he helped plan projects across the country ranging from digging wells to building schools. There he met and married Eleanor Scattergood, a fellow volunteer. They completed their service in Santo Domingo providing leadership-training courses for community leaders, followed by a year working at a Peace Corps training center in Puerto Rico.
Related
Popular in the Community