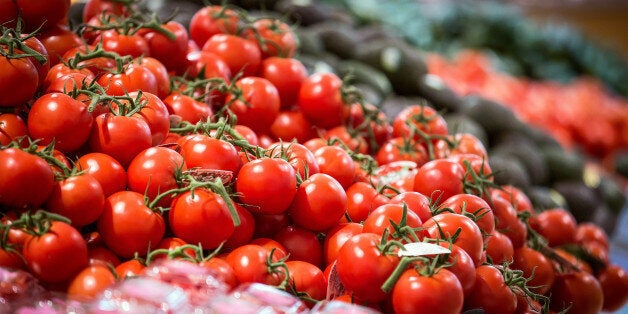 Access to healthy food can bring triple bottom-line benefits to communities -- better health, new jobs, and a revitalized economy. But nearly 30 million Americans still live in low-income areas with limited access to supermarkets. The problem is particularly acute in low-income communities of color.
The good news is Congress took steps to expand access to healthy food last week, including a $125 million authorization for the national Healthy Food Financing Initiative (HFFI) in the nearly $1 trillion farm bill. To improve access, the program invests in the development and expansion of food retail businesses and food hubs that in return can bring much-needed jobs and spur economic revitalization in low-income neighborhoods.
Bringing healthy food retail into neighborhoods that have historically lacked access is a key strategy within a multifaceted approach to improve the food environment and advance community well-being. PolicyLink, The Food Trust, and The Reinvestment Fund have been working with local, state, and national healthy food advocates for years to expand fresh food access in underserved areas throughout the U.S.
Research shows that access to fresh and healthy foods is one of several factors that can contribute to better eating habits and positive health outcomes, including decreased risk for obesity and diet-related diseases. Over the past 20 years -- with more than 300 studies completed -- most researchers have found that people who live in neighborhoods with better access to healthy food also have better nutrition and better health. Without access to healthy food, a nutritious diet is out of reach.
As one example, a study in the American Journal of Preventive Medicine found that neighborhood access to healthy food and safe places for physical activity matters for children's weight. The study showed that children living in neighborhoods with healthy food and safe play spaces are 56 percent less likely to be obese than children in neighborhoods without these features.
Childhood obesity, in particular, is a major crisis in low-income areas and communities of color that lack access to healthy food. Obesity and overweight affects two in every three adults and one-third of children ages 6 to 19. More than half of Latino and African American children are overweight or obese.
The benefits from access go beyond health. Decades of public and private disinvestment have left low-income neighborhoods to contend with abandoned supermarket buildings and a glut of fast food and convenience stores, cutting them off from all the economic benefits that accompany a local grocery store: the creation of steady jobs at decent wages. Healthy food retail can serve as economic anchors in a community, generating new income while attracting complementary stores and services like banks, pharmacies, and restaurants.
Thanks to similar efforts in more than 10 states and localities including New York, Illinois, New Orleans, California, and New Jersey, hundreds of millions in public and private sector resources -- grants, loans, and tax credits -- have already been brought to healthy food access projects across the country. These efforts are making a real difference for children and families. The inclusion of HFFI in the farm bill will support and expand these projects.
These efforts also demonstrate that expanding HFFI will bring similar improvements in access, health, and economic stability to the rest of the country. For instance, The Reinvestment Fund used HFFI dollars to finance Bottino's ShopRite in Vineland, NJ, an outlet of the family-run grocery chain that includes a community health clinic. The 74,000 square foot supermarket added 100 new jobs, with more than half filled by Vineland residents.
Expansion of healthy food retail in Philadelphia financed by the state initiative complemented multiple interventions, including healthier school foods, physical fitness, and nutrition education programs, to improve children's health. Philadelphia's health department recently reported a reduction in childhood obesity rates for the first time in 30 years. While a supermarket alone may not singularly reduce obesity, healthy food retail is an important part of the equation.
As states and cities recognize the critical role of healthy food retail in revitalizing communities, new partners emerge from philanthropy, and private sector engagement grows, HFFI can spark innovation by local community and business leaders to make sure low-income communities and communities of color across the country have access to healthier food options along with the economic opportunities such investments can bring.
Donald Hinkle-Brown is CEO of The Reinvestment Fund, a community development financial institution that invests in distressed markets and conducts research on policy issues that influence neighborhood revitalization and economic growth. Yael Lehmann is Executive Director of The Food Trust, a nationally recognized nonprofit dedicated to ensuring that everyone has access to affordable, nutritious food and information to make healthy decisions. Judith Bell is President of PolicyLink, a national research and action institute advancing economic and social equity by Lifting Up What Works®.
Related