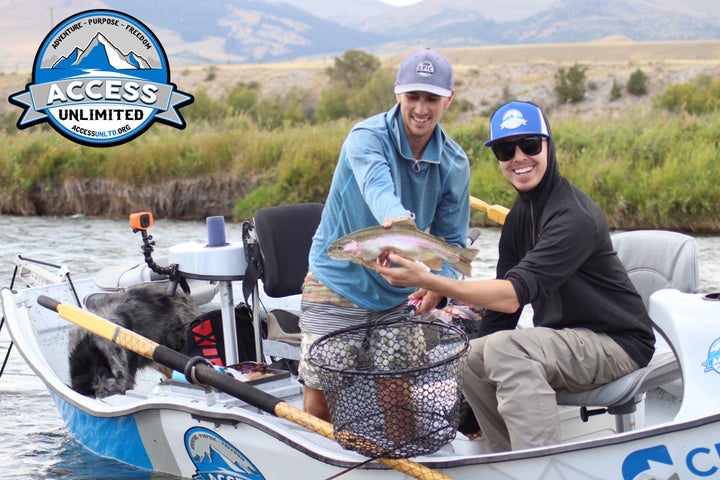 I closed my eyes for a moment to listen… Softly, under a pillow filled sky in Montana, a subtle ripple of the Madison River whispered to me. I could hear a bald eagle cry out in the distance and the joyous laughter of friends floating in row boats amidst me. Suddenly my serenity was interrupted by an intense tug on my fishing rod. The handmade fly fishing lure I had just cast to the bank of the river was ferociously snatched up by a hefty rainbow trout. With a tight line, I began a tug-o war with the fish. His energy bent my fishing rod and nearly snapped my line as he darted up and down the stream. My adrenalin was pumping - he tested my strength and balance, endurance and hand-eye coordination. In the end, I prevailed and reeled him into the boat. He had fought valiantly, earned my respect and proved to me why he had grown to be his size. After a quick photo together and a high five from my friends, I returned him to the cold, fast flowing water of the Madison… A place I thought I would never be.
It had been 20 years since I last felt the fight of a fish on the end of a fly-fishing rod. Fishing had always been a special activity my grandfather and I shared before my spinal cord injury and was something I had missed dearly over the years. I sometimes wondered if I would ever fly fish again… That was until the phone rang.
My friend Steve recently reached out to me with an invitation I could not refuse. He explained that there is special group of guys in Bozeman, Montana that formed an organization called Access Unlimited and they were helping injured or chronically ill individuals access a variety of great outdoor activities - Fly fishing being one of them.
With an immediate YES, I was booked for an adventure I would never forget!
My initial pre-trip anxiety was tempered by frequent phone calls, emails and text messages from the group. They gathered thorough information about my health history, current physical condition and overall attitude towards adventure. We developed a solid rapport prior to my plane ever touching down on the tar mack in Montana.
I was met at the airport curbside with smiles and fist bumps, as if we were old friends, and then quickly whisked off to a river-front lodge that served as my comfortable and accessible home base. The warm, family-run accommodations were homey and well appointed with supple brown leather couches, a long, hand carved wood dining table and a rugged stone fire place. The reclaimed wood home was lovingly tended to by Julie and her husband, Jason. Every morning, Julie had fresh coffee brewing and a smorgasbord of breakfast treats in the kitchen that sent us off into the tundra fat & happy.
My outdoor adventure began by sitting passenger in a modified, hand-controlled Polaris 1000 buggy with Access Unlimited Co-founder, Jesse Alberi at the wheel. Our buddies, Shearer and Wes, rode backseat as we shredded up a mountain road, laughing and yelling stories of local lore and good times past. We soon drove into a beautiful wide-open yellow-grass meadow, flanked by dense, dark green pine trees. We were stopped in our tracks by the sight of a massive bull moose no more than 100 yards in front of us. He was casually grazing the ground, with what looked like brush remnants dangling on his huge 5 pointed rack. He was clearly the alpha male of the mountain and obviously unfazed by our arrival. Wow! What a sight… What a stud! Jesse assured us that we had just witnessed a very rare encounter with an extremely elusive animal.
With the vibe high, we met up with the rest of our crew - AU Co-founders, Steve Miller and Steve Winkels, who brought with them an arsenal of firearms for us to target practice with. (No animals were harmed by our sharpshooting).
As the sun began to set into the smokey skyline and the echo faded from the last shot fired, we grew hungry. We loaded up into the buggy and cruised back down the mountain into town to one of the oldest steak houses in the state.
The old red brick exterior was adorned with a weathered neon sign that read "Old Faithful BAR" marking the watering hole for many a weary traveler. The worn, unstained wood-slat floors creaked under my wheelchair wheels and the low, yellow lighting lit the faded photography, fishing rods and taxidermy relics on the walls. It was the perfect Montana setting for us to toast to our gathering, celebrate the day and share a local appetizer - Rocky Mountain Oysters (bull testicles), personally an acquired taste… When in Rome, right!
I woke up early the next day eager to go fishing. It had been so many years since I last cast a proper rod that I was anxious to see how well I would mange with my impaired arms and hands.
From the moment the boat went buoyant on the Yellowstone River I felt at ease, familiar with the float and ready to cast. I strapped my hand to the fishing rod with a special glove called "Active Hands" and waited for instruction. Steve "Winkels" was my master fishing guide and rowed us into the sweet spots on the river. "Cast left to the bank, right into that little ripple of dark water," Winkels said. "Mend your line and wait. 3, 2, 1…"
Bam! Fish on! My rod flexed immediately, dipped down towards the water and caught me off guard. I attempted to set the hook, strip off some line and reel the fish in. I fumbled with the reel for a moment, lost my balance and released the tension on the line. Whoops, I lost that fish.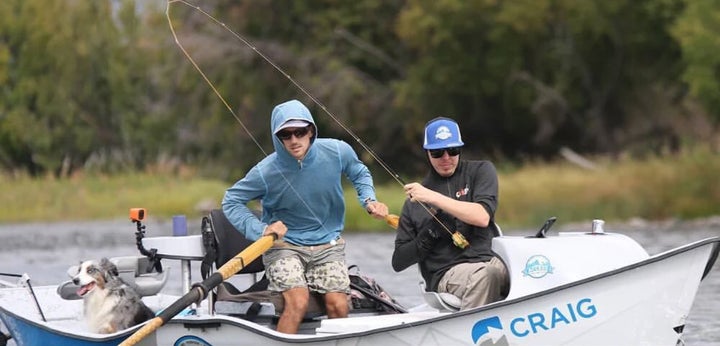 Not to worry though, that's fishing! It did not matter because I was living a dream - I was floating in a boat down a postcard piece of water in south west Montana… Pure bliss. In the big picture, catching the fish was not the point to my trip. It was that I was there, with my friends in a beautiful place, experiencing something I once thought impossible.
But just as I pondered that thought and gazed off into the big sky, Winkles patted me on the shoulder and said, "Get ready to cast right, under that branch and into that choice spot around the bend." Bam - Fish on, again!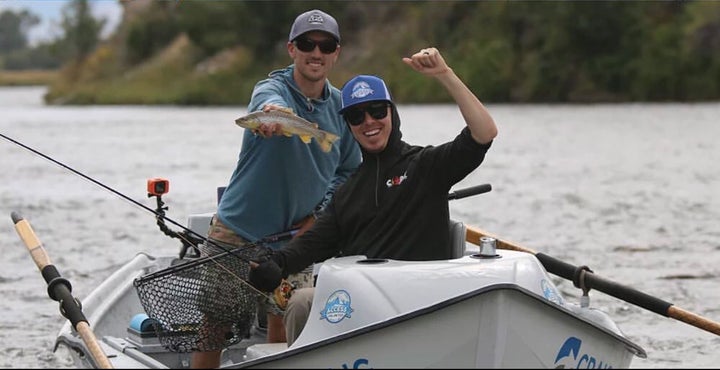 From beginning to end, the trip was a total adventure and a ton of fun. Even on my last day, instead of meandering to the airport in a car, Jesse suggested that I drive the buggy down the back roads to the airport. I took my time driving the dirt as we chatted about country living and caught fish. I kept only one eye on the road as I soaked up the surrounding beauty. I was in no hurry to get on a plane back to L.A. and my bumper to bumper lifestyle. And although my time there was short but sweet, I made new friends and memories that will last a lifetime.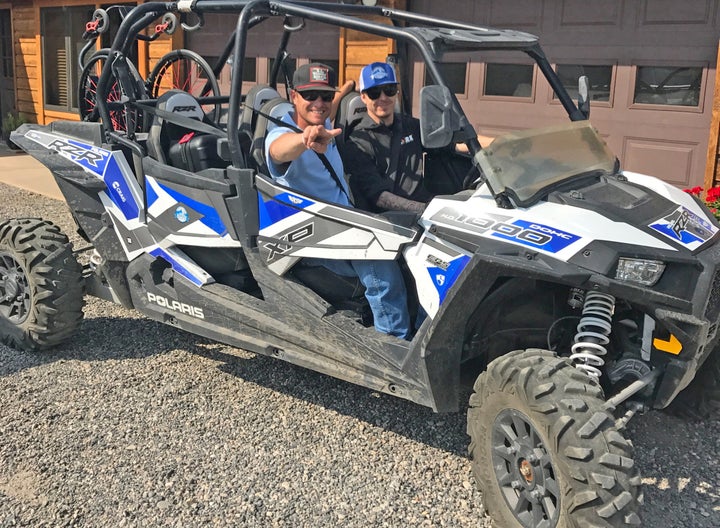 In Winkels words: "Let's send it to the bank and get bent again real soon!"
Cheers fellas, thank you.
Support HuffPost
The Stakes Have Never Been Higher
Related
Popular in the Community