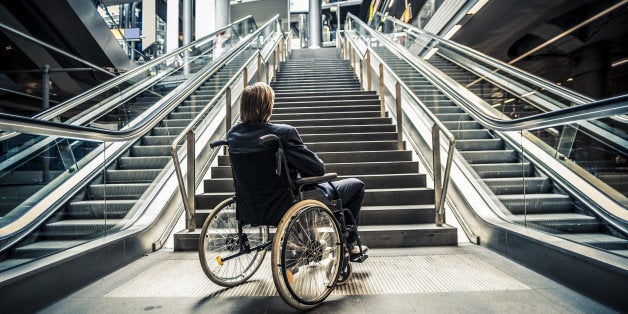 Making cities accessible and inclusive for all people, including persons with disabilities, is an essential component of the New Urban Agenda, adopted at the recent Habitat III Conference in Quito, Ecuador on October 17-20. Why? Because 15 percent of the world population live with some form of disability. If the New Urban Agenda is going to successfully promote sustainable urban growth and inclusive cities around the world, then accessibility and disability-inclusiveness must be part of the picture. Accessibility in the "built environment" is particularly important, as by 2050, it is expected that 1 billion new dwellings will be built and 66 percent of the world population will be living in cities.
In developed countries, building regulation has been the primary vehicle for implementing accessibility standards. However, in many low and middle-income countries, regulating institutions lack the capacity to enforce the rules. As a result, buildings are neither designed nor constructed to accommodate people with disabilities.
The Building Regulation for Resilience initiative, launched by the Global Facility for Disaster Reduction and Recovery at the World Bank, seeks to change this. I interviewed Dr. Frederick Krimgold, co-author of the initiative's flagship report, and Charlotte McClain-Nhlapo, Global Disability Advisor for the World Bank Group, to find out more about this issue:
Question 1: What are the main barriers to accessibility in the built environment for persons with disabilities, specifically in low and middle-income countries?
Answer: The first things that come to mind when thinking about accessibility barriers are stairs, narrow doors, inaccessible toilets or low turning radius for wheelchairs. But even in cases where these architectural features are taken into account, many buildings still lack communications and orientation systems, such as visual and audio support for the deaf and blind.
This poses great challenges for persons with disabilities worldwide and can not only cause deep social and economic marginalization, but also lead to devastating outcomes during natural and chronic disasters such as earthquakes, floods or spontaneous building collapses and fires.
As Ede Ijjasz-Vasquez, Senior Director for the World Bank's Social, Urban, Rural and Resilience Global Practice, stated: "If you look at earthquakes alone...The human cost is tremendous and is very much linked to the issue of whether buildings are resilient."
Question2: In developed countries building regulations sometimes impose added costs for accessibility. Clearly, low and middle-income cities have more constrained budgets. So how can they afford to impose building accessibility requirements to benefit persons with disabilities?
Answer: True. Permits, inspections and code compliance add to the cost of construction. Many developed countries have been able to reduce costs, mainly because institutions function more efficiently and transparently. In low-and-middle-income countries, however, the cost of administrative inefficiencies, lack of institutional capacity and corruption account for a substantial portion of the cost. Improving governance and accountability, as well as reforming institutional procedures is, therefore, a first key step.
There will always be some cost for complying with building codes. Nevertheless, complying today can be much cheaper than retrofitting tomorrow. Safe and accessible planning and construction from the start is far less expensive than integrating accessibility features in existing buildings, which may require structural alterations.
Moreover, accessibility and disability-inclusion are social and moral values that can be achieved within a developing country's economic constraints. There is a strong economic argument in favor: greater inclusion of any marginalized population can positively impact literacy, education levels and labor productivity and, in turn, generate revenue for society at large.
Question 3: How does the Building Regulation for Resilience initiative achieve actual implementation of accessibility goals?
One of the preconditions for achieving accessibility goals is a functioning regulatory framework that ensures codes and standards are disability-inclusive and effectively implemented on the ground. To this end, the Building Regulation for Resilience initiative supports both national and local institutions through capacity-strengthening efforts.
At the national level, the initiative seeks to create an enabling environment for the adoption and implementation of accessibility measures. It promotes the idea that building codes and standards must be developed and updated through inclusive and participatory processes that are both transparent and resource-efficient. At the local level, it encourages compliance and greater quality control at each stage of the building life cycle to minimize risks, from design and planning review to on-site inspections.
From the international perspective, the initiative also recognizes the importance of the UN Convention on the Rights of Persons with Disabilities. The convention was ratified by 167 countries and entrenches accessibility as both a principle and right, representing an important pivot for ensuring implementation at the country level.
Question 4: What are the key design principles of this initiative, and how is it going to achieve compliance where other approaches have failed?
Answer: We know that simply replicating what has been done in high-income countries can be extremely costly and has not always been successful. This does not preclude good practices to be adopted across different contexts. The Building Regulation for Resilience initiative recognizes that social, cultural and economic conditions must be taken into account in order to develop feasible accessibility solutions that work and are attainable for the poor.
Another important feature is the promotion of a culture of compliance rather than solely relying on enforcement. This is done by assisting client countries in creating enabling legislation, effective participatory systems of code development and maintenance and effective plan review and inspection processes.
This also requires a combination of supporting factors and activities, which include training for building professionals, access to technology, policies for construction finance, private sector involvement (e.g. insurance companies), as well as broad understanding and support from the general public. Charlotte McLain-Nhlapo points out that, in this context, active participation of the disability community in the development and execution of accessibility measures is essential.
Question 5: What do you hope to accomplish now that the New Urban Agenda has been adopted to move this initiative forward? After the conference, what's the next step?
Answer: The adoption of the New Urban Agenda provides us with an opportunity to focus on how we can bring about change and generate a wide range of social, environmental and economic benefits by addressing vulnerabilities in the built environment. The Building Regulation for Resilience initiative, launched primarily in response to the growing need to reduce natural and chronic risks, not only highlights an opportunity for disaster risk reduction, but also represents an entry point for achieving broader goals such accessibility and public health, resource efficiency, municipal finance and cultural heritage protection.
The initiative is currently carrying out diagnostics and workshops in Ethiopia and Jamaica and it will continue to test and implement operational tools through pilot projects around the world. One of these tools is a building regulatory capacity assessment methodology to assess and document building regulatory practices in low and middle-income countries. The goal is to identify priority areas for intervention and design targeted technical assistance for capacity building to support the development of safer, healthier and more accessible cities in the developing world.
Dr. Frederick Krimgold is a Senior Consultant for the Global Facility for Disaster Reduction and Recovery (GFDRR) at the World Bank. He is the former director of the Disaster Risk Reduction Program at the Advanced Research Institute of Virginia Tech.
Charlotte McClain-Nhlapo is the Global Disability Advisor for the World Bank Group. She is leading the work at the Bank to mainstream disability inclusion into its operations, technical assistance and analytics.
Tim Ward is the co-owner of Intermedia Communications Training and co-author of The Master Communicator's Handbook - a resource for experts and thought leaders seeking to create meaningful change.
Related
Popular in the Community