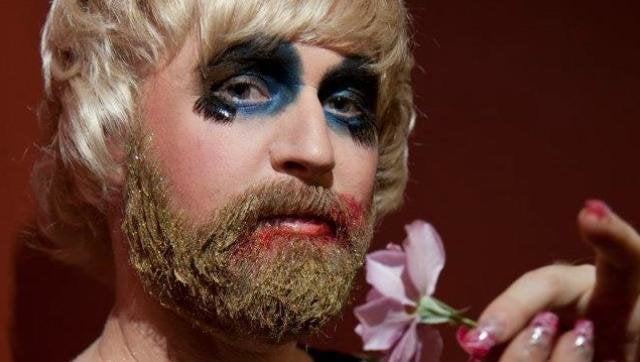 The worlds of drag and masculinity have collided. Modern drag now includes drag queen bears, butch drag, scary drag and bearded drag. Deal with it.
As owner and founder of the website Accidental Bear, I am quite familiar with embracing the differences and diversity of the gay community. Accidental Bear covers queer news, art, culture and discussion. We like to play with gender and cover content from all points along the spectrum, from masculine to feminine and everything that falls in between. We have also realized that there is an abundance of overlap between these stereotypes, so there is no need to pick one or the other; you can be all at once. This is why we favor the word "queer," because it is all-encompassing and does not refer exclusively to the gay community but to all that lies outside the "norm."
When the opportunity arose to have a fun play date with Los Angeles photographer Dusti Cunningham, I knew that I was in for a real treat, and that it might just be the queerest day ever. Dusti's work has been carved into my memory thanks to its unusual (in all the best ways possible) styling choices, its gender fucking and its occasional eroticism. He always produces an amazing, stunning photo that leaves some people confused.
In L.A. Dusti and I chatted about getting me into some high heels, ladies' clothes and makeup, or what I like to call "war paint." Most images of me that are floating around the Internet these days could be classified as "typical gay guy posturing": shirtless, exposed armpits and bedroom eyes glaring straight into the camera -- stereotypical "macho" poses. Dusti and I wanted to mix it up and play with gender in an artful manner. There is still so much emphasis on what a "real" man is supposed to be or act like, or, more importantly, how he is supposed to express himself to the world. I thought this would be a great opportunity to play with others' perceptions of me as being "hunky" or "masculine." What would they think of me in thigh-high stiletto boots and a wig?
I have a beard, I'm super-hairy and husky, I have tattoos, and I like to go camping and get my hands dirty in the garden. On the flip side, I watch America's Next Top Model and Project Runway and love to pamper my face with high-end skin products. In my mind this is having the best of all worlds. I defy labels of "butch" or "fem" labels, instead embracing them both. Some people are angry that they cannot squeeze me into a category.
Now, I am saying this as someone who is not a drag queen, but I think my shoot with Dusti is part of a larger change in the face of drag. Look at the last few winners of RuPaul's Drag Race. Neither the stunning Raja nor the fierce Sharon Needles is the typical "pageant girl" drag queen that the world has become accustomed to. But to my surprise, after posting the photos that Dusti took of me on Accidental Bear, I received a large amount of hate mail from some of our "butch" readers expressing how disappointed and disgusted they were that I was now a drag queen and, further, what an ugly woman I make, and a lot of other comments expressing blatant internalized homophobia.
Personally, I do not see this shoot as a drag shoot but as art. I encourage the conversation around masculinity, drag and stereotyping to continue.