There are few things in life that will make your stomach drop faster than realizing you just sent a saucy, eggplant emoji-laden text message to the wrong person.
On Tuesday, writer Nicole Cliffe shared an embarrassing sexting-gone-wrong story in a now-deleted tweet that has since inspired others to recount their own texting nightmares.
Below, we've gathered some of the most cringeworthy replies and other sexting stories from around the Twitterverse.
one time, while arranging a threesome that never happened, I accidentally sent a text about said threesome plans to another guy that I had recently met online and....and did NOT like and was not planning to have sex with at all

— Sarah Hollowell 🐝 (@sarahhollowell) May 1, 2018
my (at the time closeted) step brother sent my mom a picture of a penis, she freaked out, he said the cell company must have crossed its wires bc he had sent a pic of a puppy. and then the genius part, he doubled down and re-sent the penis to prove something was wrong.

— endora bullshit (@collectdust) May 1, 2018
I once texted the guy who cleans our fishtank chiding him for not kissing me goodbye before he left.

— Elizabeth 🌎 Picciuto (@epicciuto) May 1, 2018
I sent a former pastor a long text w/the word p**sy auto corrected in & literally saw Jesus after I'd hit send.

— jada schiessl (@jadaschiessl) May 1, 2018
I told the guy that sold me my car that I loved him and I hate it when he works weekends. I told my wife thanks for dropping the paperwork in the mail.

— Nathaniel Slater of Louisville Kentucky. Formerly (@NathanielSlater) May 2, 2018
I once sexted my friend, Rachel (instead of my wife, Rachel) and she responded, "I think this was meant for a different Rachel, but am happy to know that two people I love so dearly still take this much pleasure in each other after all their time together."

— Kester Smith (@kestersmith76) May 1, 2018
FWIW my mom used to r e g u l a r l y sext me instead of her boyfriend (with emojis!) until i changed my name in her phone to "ARE YOU SURE THIS THE RIGHT PERSON?"

— Nicole (@nicolewdc) May 2, 2018
I remember that one Friday night when I drank too much wine and accidentally sexted my aunt ten minutes ago.

— Nayele18 (@nayele18maybe) November 18, 2017
My sister once accidentally sent me the least sexy sext (including a sentence about how nice it'd be to have some soup) and I couldn't stop laughing as she sent me like 5 apology texts

— andrea sinned-quist (@quindlisting) May 1, 2018
Accidentally sexted my mom.

Me: I've been a bad bad girl..
Mom: we all make mistakes honey but u r a good kid

— Ally Maynard (@missmayn) May 17, 2014
Husband accidentally sent our son a sext intended for me, so I'm on my way to a tropical island to my life start over.

— Annie (@anniemosity_) April 21, 2017
Related
Before You Go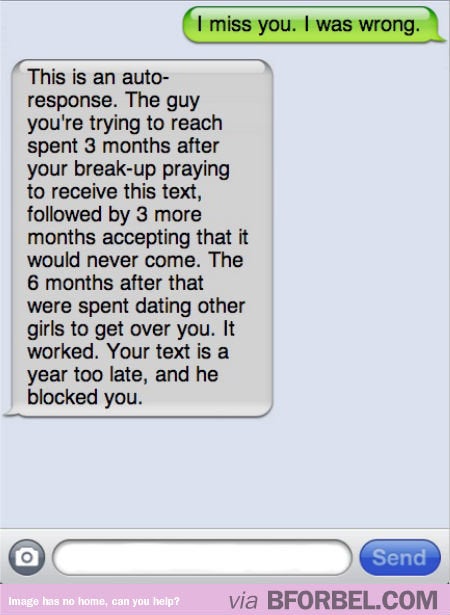 Awkward "I Want You Back" Texts