Currently based in San Francisco, Los Angeles native Jason Mecier is my Mosaic-Messiah. Taking the concept of our obsession with celebrity and pop culture made famous by artists like Andy Warhol, Mecier builds on that concept by revving it up to 11 -- incorporating "found" objects that his celebrity subjects personally give him (including my permanent girl-crush, Tura Satana!). Most recently, Jason's gotten a lot of media coverage for his decision to add a portrait of Whitney Houston to his "Pills" collection -- a work that some are calling ill-timed or tasteless, while just as many supporters (including yours truly) are lauding as a brilliant piece of work.
I recently had the honor of sitting down with Mecier to not only talk about the Whitney controversy, but more importantly, focus on his other incredible works.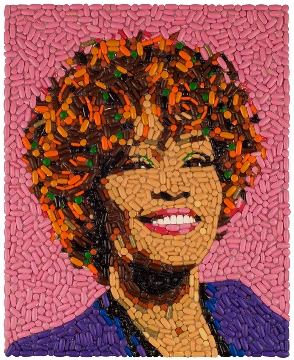 VB: Let's get the Celeb-Elephant out of the room: you've been getting some heat in the press for your most recent creation -- a beautiful mosaic of Whitney Houston -- done entirely out of pills. I'm sure you expected to get some criticism along with (much deserved) accolades, but were you expecting the piece to get picked up on such a national level?
JM: I've learned that if I could keep up with the weekly Pop culture events I usually get press about it. But I am often busy with other projects and don't have the spare time to make new works of art. Honestly the pill memorial pieces are fun and easy for me to make and only take a few days to complete, so I try to cram them in between other jobs if I can.
Let's move on, because I know you're probably tired of talking about one piece when you have so many others that deserve just as much attention -- do you have a favorite work that you've done, or would that be like choosing a favorite child?
Usually I like whatever I am working on at the moment best.
Phyllis Diller and Barbi Benton are frequent contributors for your art materials -- what's it like having these celebs reach out and interact with you personally? I get a lady-boner when Paul Reubens ("Pee Wee Herman") replies to one of my tweets; I can't imagine having celebs send me U-Haul's full of supplies like Benton has for you!
It feels great and somehow validates what I do as an artist.
I read that when you finish a food-piece, you take photos then toss it -- my fiancé created a piece out of wasabi and ketchup once, but in shellacking it found that it lost its rich color -- have you found a way yet to preserve these works? Or do you think your local trash collector is secretly hording some Jason Mecier treasures?
I use an acrylic sealant to help preserve the lifespan of mosaics made of beans, noodles, candy, dog food and junk food (like pretzels, chips, cookies and crackers.) I haven't found a solution to preserving fresh foods like lunchmeat, fruit, vegetables, soup, macaroni and cheese, hot dogs, pickle relish, or McDonald's, so after photographing the final art piece I quickly throw it in the trash before the ants and flies take over.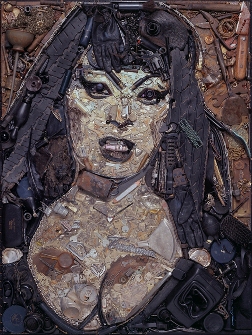 Okay -- totally selfish question right now -- I'm crazy about Tura Satana, I've written about her before in my column, and I'm in love with the piece you did of her. You've said that you like the materials to reflect the character of the subject -- Satana's mosaic is just breathtaking, and completely nails everything about her that fans love -- what materials did you use for that piece?
She gave me some amazing things like her jewelry, make-up and what looks like to be her black gloves from Faster, Pussycat! Kill! Kill!. Also a bag of rice she suggested I could use for eye lashes, but instead I made to rice portraits of her as Varla from Faster, Pussycat! Kill! Kill! I love Tura. She was so sweet to me and even came to my art opening in San Francisco.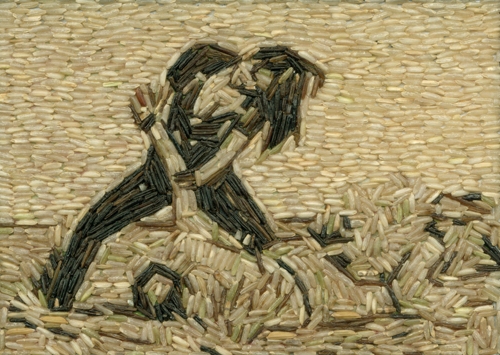 I just have to interject that I'm right now seething in good-natured jealousy -- Tura is a she-god to me!
You have one of the coolest websites I've ever seen -- can you give some advice to other artists for how to market themselves as successfully as you have?
No advice, I just do my best to send out a lot of press releases and pictures.
Keeping with this theme of showing me other artists the ropes (hey -- I said I was selfish, don't judge) what kind of advice can you offer for others? You've said before that you have no formal training -- I've also never had any formal instruction -- can you offer any tips you've learned along the way? Is there a preferred canvas? Sealant? Are there materials that you've learned to avoid along the way?
All kinds! I can wield two to three hot glue guns at a time! I also use Elmer's glue (for beans and noodles), bookbinding glue (for paper) Eileen's Tacky glue (for pencils and other small things) and E-6000 for hard-to-glue things like wine bottles, football helmets and steering wheels! Also Weldbond is good because it's not toxic. And I use KRYLON Triple Thick Clear Glaze for shellacking. I occasionally use a staple gun and screws.
Thank you so much for taking some time out to speak with me -- I can only imagine how much press you're getting right now in the wake of your latest portrait, and it means a lot to me that you're letting me pick your brain a little -- what can we expect from you next? I've read that you may be publishing a coffee table book of your Celebrity Junk Drawer series -- is that still something your fans can expect?
YES! It is my main goal to get a book published of these works! Keep an eye out and if you know any book publishers interested, please call me!
All Photos are copyrighted by Jason Mecier, and used with permission from the artist.
Popular in the Community