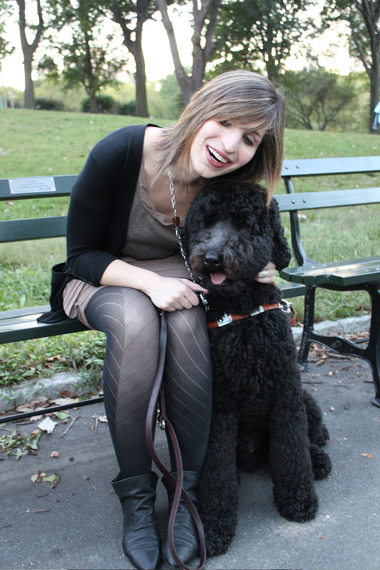 Laurie Rubin, who has been blind since birth, has had her share of challenges, and is no stranger to discrimination. This week, the internationally acclaimed opera singer debuts an inspiring new musical, which she has co-written, on September 18, at the Japanese Cultural Arts Center, Los Angeles.
The show, based on the real-life story of Sadako Sasaki, who would come to represent an international symbol for peace, features an all youth cast from the island of Oahu, Hawaii.
Q: When did you know you wanted to be a singer?
A: When I was 11, I started voice lessons. Then I saw "Phantom of the Opera" and I told my voice teacher I really wanted to play the role of Christina. That's when it became real for me, so vivid like a dream. When I was in high school I began meeting other kids my age who loved classical music, and I felt like it put me on an equal playing field with other students. And that's when I decided I wanted to devote my life to music.
Q: In your memoir, "Do You Dream in Color? Insights from a Girl Without Sight" you speak about the cruelty you suffered as a child. How do you think these experiences affected you as an adult?
A: I was the victim of passive aggressive bullying, often one of the few people not invited to parties, while other kids would not talk to me. Or I would be talking and they would walk away while I was in mid-sentence, so it would look like I was talking to myself.
That's why I think I feel really connected to certain operas. When I'm playing a character who is subjected to cruelty, I feel that I can relate to the character. When you realize how much of real life you can project into your character development, it's pretty amazing.
Q: Your musical, "Peace On your Wings" is a collaboration with your wife, composer Jenny Taira, who co-wrote the musical. What was it about this story that attracted you?
A: The show is based on the real-life story of Sadako Sasaki, a 12-year-old girl who died from Leukemia as a result of the atomic bomb dropped on Hiroshima. She became famous after she learned of an old Japanese legend that would grant one wish to anyone who would fold one thousand cranes. To this day she, is a reminder of innocent victims of war, and her story has inspired a movement of folding cranes for peace. The show, set in the 1950's, highlights many current issues, such as bullying, self-identity issues, and the show's message, "Ichigo Ichie" Today is the first and last day of your life. Cherish the people in your life."
Q: So how did a chance childhood encounter with singer, Kenny Loggins, result in a musical collaboration with him?
A: When I was four years old my mom met him at a supermarket, and said, "My four year old blind daughter has a crush on you," and he thought that was cute, and invited us to come back stage after one of his concerts. He also discovered that I had perfect pitch, when he sang one of his well-known songs, 1/2 step lower than normal and I called him on it. When I was twelve, he asked me and my brother to sing in a choir called "The Colors of Love Choir" comprised of kids from all over Los Angeles of different ethnic backgrounds. And for his album, "Leap of Faith" I sang in the chorus, and I had a little solo.
Q: You're billed as a blind, gay, Jewish, opera singer. How do you think being blind has affected your career?
A: Being blind has kept me from being hired lots times. My manager is really awesome, but when I was looking for managers early on, they were afraid of me. My manager said it was challenging because people would see the blindness thing and ask about other singers.
One of the most frustrating things is that I've always wanted to sing with orchestra, and I have, but conductors generally are terrified because they think that if I can't see their arms waving I won't be able to be able to follow them. What I've learned from working with conductors is that you really don't have to watch them. To me, is it's all about the synergy and listening to them and to the orchestra. If you're concentrating so much on following their arms moving, I wonder if you're missing out on the more intimate aspects of relationship between a conductor and musicians, because to me it's more auditory.
Q: Has being openly gay had an impact on your career?
A: I've never hidden my sexuality, it's in my book. There have been times that I have suspected that people who seem interested in me at first, are turned off by this. Not in major cities like New York, or big cosmopolitan areas. But sometimes when my manager has given someone my book, we don't hear from those presenters again. I'm suspicious that it has a lot to do with gay thing. A lot of presenters are in places like the Midwest, predominantly Christian and Bible Belt areas. I've done some concerts in places like Burley, Idaho, and they're eager to buy my book, but I don't really talk about being gay in those areas, because it can be a little scary. We've driven by signs that say "If you die tonight call this number to see if you are going to heaven or hell." There have been people who bought my book and have written reviews that say, "I loved reading the book, it's too bad she's gay." I don't blame anyone, but it makes me sad.
Q: What motivated you to write your 2012 memoir "Do You Dream in Color? Insights From a Girl Without Sight?"
A: I was getting frustrated because people would like my voice, but terrified to hire me, fearful of how I would get around, afraid for liability issues, or how would I read my music. One time I had just made the finals in this competition, and I was walking around New York with my guide dog, and I felt so liberated, and I remember thinking how independent I felt.
And one of the administrators of the competition came up to me and said, "I just wanted to tell you you're so brave for getting up in the morning, and for having the courage to walk around New York. I could never do that without being able to see."
Even though it was a well-intended compliment, I don't want people to think of me as miraculous for just doing my everyday functionality, but rather, for the things I worked hard for. And I want people to understand that my story is very universal. One of the best complements I received from someone who read my memoir was, "I started to read your book expecting to read about a blind person, and then I realized I was reading about myself."
The Musical, "Peace on Your Wings" will be at the Aratani Theatre, Los Angeles, September 18 at 8 pm and September 19 at 2pm and 8 pm. JACCC.ORG.
Calling all HuffPost superfans!
Sign up for membership to become a founding member and help shape HuffPost's next chapter