NEW YORK ― "It's not my place." "I might make it worse." "I have to go." "Someone else will do it."
One by one, people around the circle named the reasons why they might not step in if they saw someone being harassed on their commute.
"Solidarity is a verb. It's one thing to say you're an ally, and it's another to show it," Linda Sarsour, executive director of AAANY and co-chair of the Women's March, told The Huffington Post. "If you're going to be horrified at visible Muslims being attacked in public spaces, you have to be prepared to step in."
The Accompany Project has held about 20 bystander intervention trainings since December, and more than 500 New Yorkers have attended.
While the trainings were created in response to harassment of Arab and Muslim people specifically, the program seeks to address attacks on all vulnerable groups, from LGBTQ people and women to immigrants and people of color.
"The point is not to make anyone feel like a hero," Kayla Santosuosso, former deputy director at AAANY and current leader of the Accompany Project, told HuffPost. "It's to reduce harm." 
Check out the video above to see some tactics used in the bystander trainings.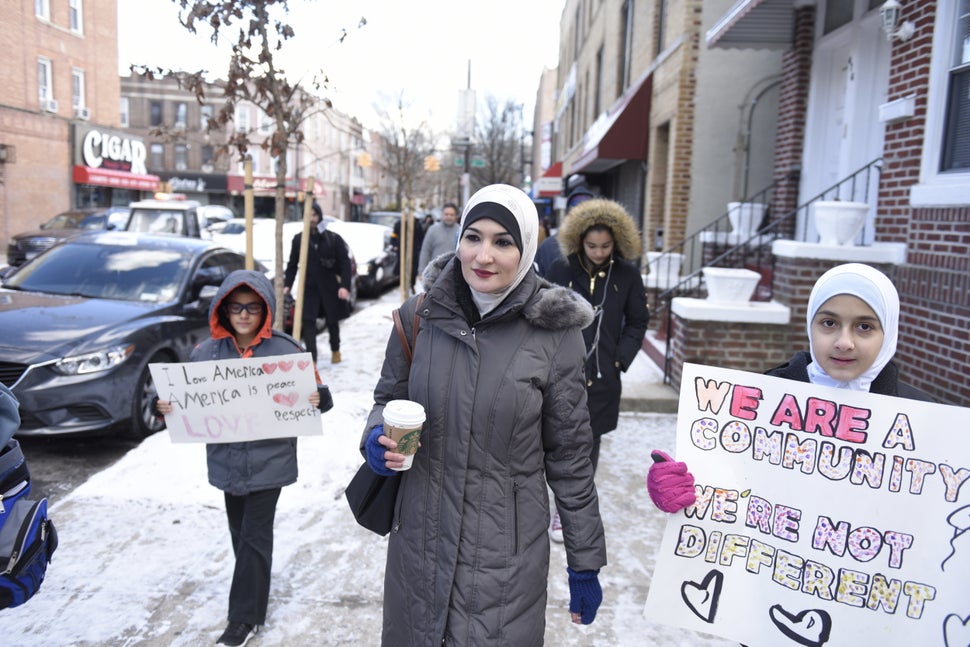 At the training HuffPost attended, in Brooklyn's Columbia Street Waterfront neighborhood, lead facilitator Rachel Blum Levy ― a social worker and expert in violence de-escalation ― ran through a number of threatening situations people might encounter in daily life. Blum Levy said she developed the program's curriculum with feedback from AAANY staff and other members of the Muslim and "allied" communities.
"Everybody has the same scenario in their head ― somebody harassing a woman in a hijab on the subway," Santosuosso told HuffPost. "But in the training we try to expand beyond that, as real-life situations may not be that clear."
This was one of the scenarios Blum Levy had attendees act out: You're at the Department of Motor Vehicles. Everyone is frustrated and on edge. A black woman gets called up next, and a white man ― who claims he was in line first ― starts to go on a tirade about how the DMV is racist. Do you intervene? And if so, how?
Here are some tactics the training teaches to disrupt violence.
1. Broken Record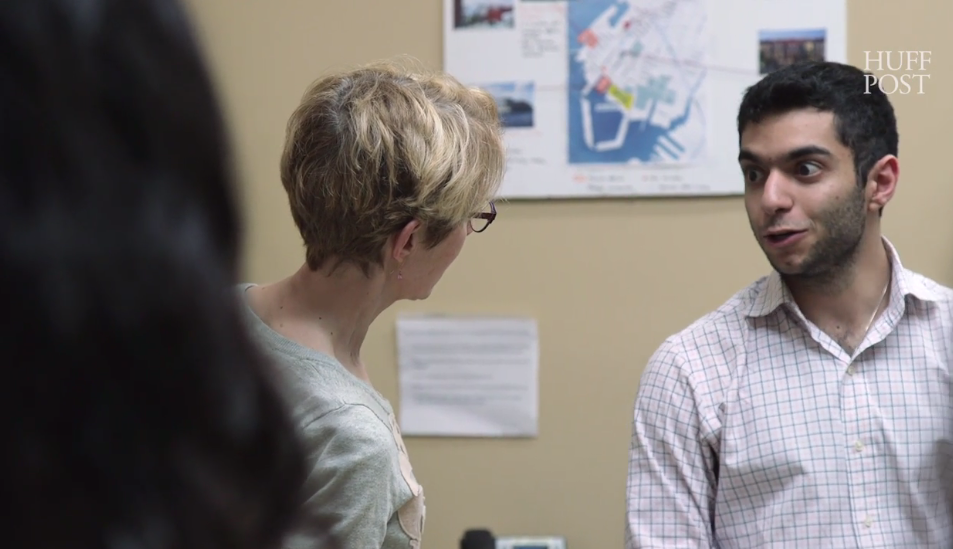 The bystander intervenes by stepping in and repeating the same statement over and over again to the aggressor until it gets through to them. This is often used in situations where emotions are running high and someone may not hear you the first time, Santosuosso said.
"Maybe it's saying: 'Give her space,'" Santosuosso told HuffPost. "So: 'Give her space, give her space, give her space.' Until they step back."
2. Name The Behavior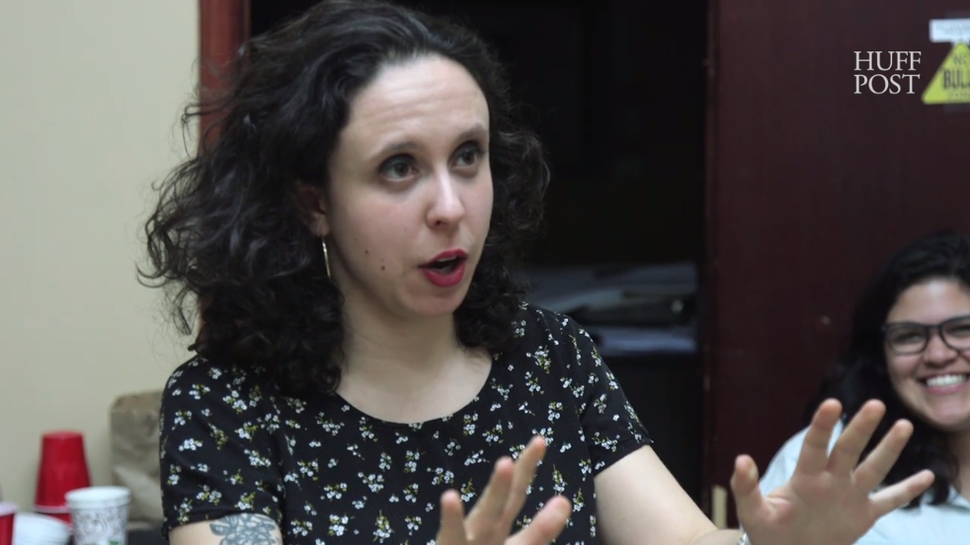 This tactic is meant to call out someone's harmful behavior without being explicitly judgmental, in order to make them more open to criticism and less likely to act defensively or aggressively.
"You don't say, 'You're racist.' You say, 'You need to lower your voice,'" Santosuosso said. "You lose the chance to be a hero, but the important thing is harm reduction."
3. 'I' Statements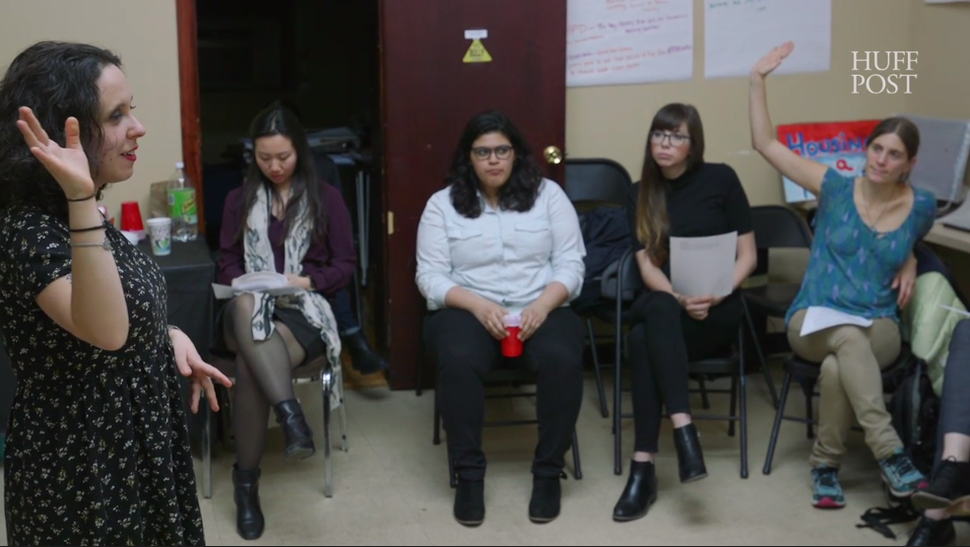 With this tactic, the bystander states how they feel about the threats, in order to shift the aggressor's focus away from the victim and toward the intervener.
"'I'm uncomfortable,' or 'I need you to stop,'" Santosuosso suggested. "This moves attention away from the victim ― but could also put you at risk." 
4. Direct To 'We'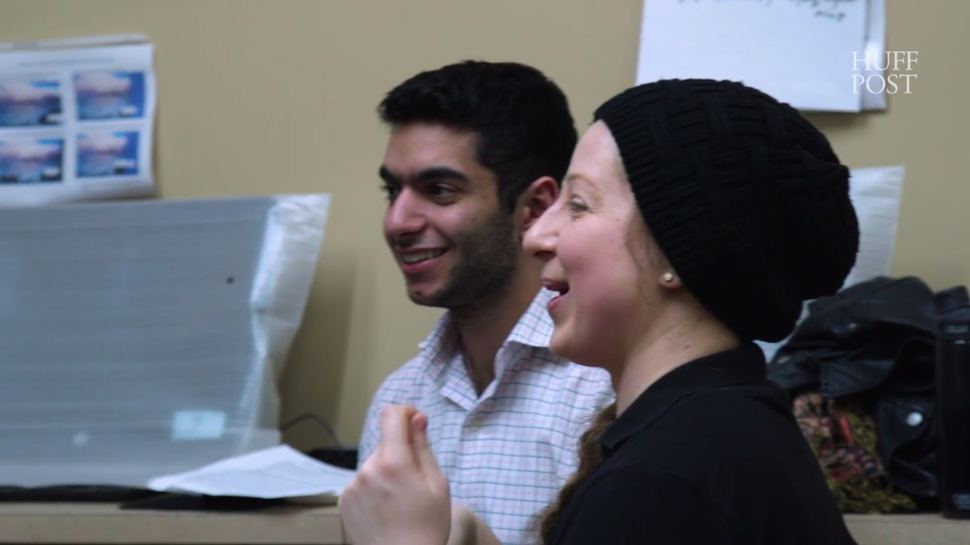 In this case, the bystander creates what Santosuosso calls a "false team" with the aggressor in order to de-escalate the situation.
"Say: 'Why don't we come over here?'" Santosuosso said. "Or: 'We don't talk to people that way.'"
"I've been a victim -- but I've also been a bystander not knowing what to do."

Reem Ramadan, AAANY staff member
"The first training I went to, it felt like everything [the facilitator] was telling us were things I myself have experienced as a Muslim immigrant," said Reem Ramadan, an AAANY staff member who attended the training. "I've lived through it, I've been a victim ― but I've also been a bystander not knowing what to do. Since the training, I've actually done some [intervention]."
While it's helpful to know a few tactics, people should attend a training to learn how to assess situations and use interventions accordingly, Santosuosso said.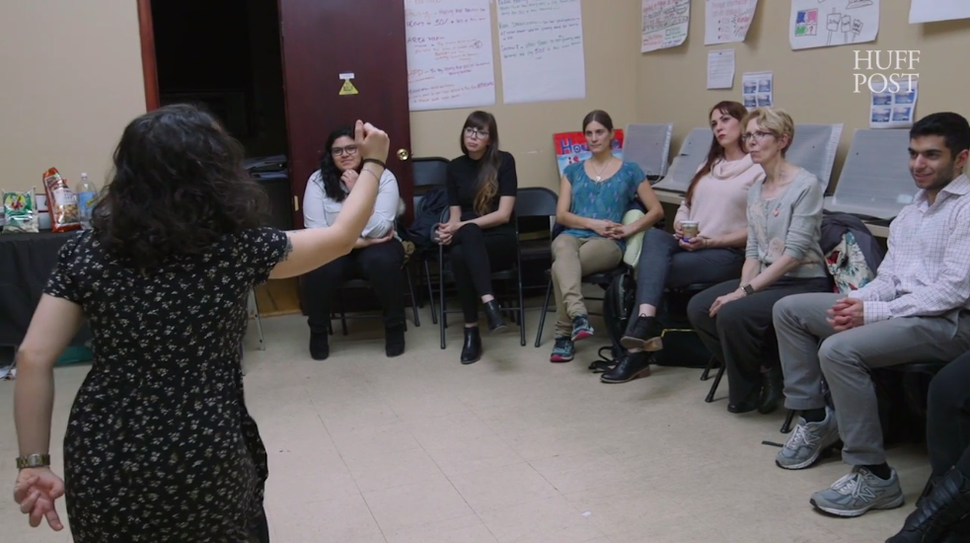 "A lot of groups teach bystander intervention," Santosuosso told HuffPost. "But this one is specifically around the rise in Islamophobia." 
More than 7,000 people signed up in the first four days, so Santosuosso decided to channel volunteers' energy toward another way to help: getting trained in violence interruption. 
About 80 percent of the people who've come to trainings are white, according to Santosuosso (who is herself white and non-Muslim). They are people who are largely new to activism and "certainly new to bystander intervention," she said.
"As a Muslim American and a Muslim who wears hijab, I was invested in Kayla taking on this project," Sarsour told HuffPost. "It's a tangible way for an ally to show solidarity in action."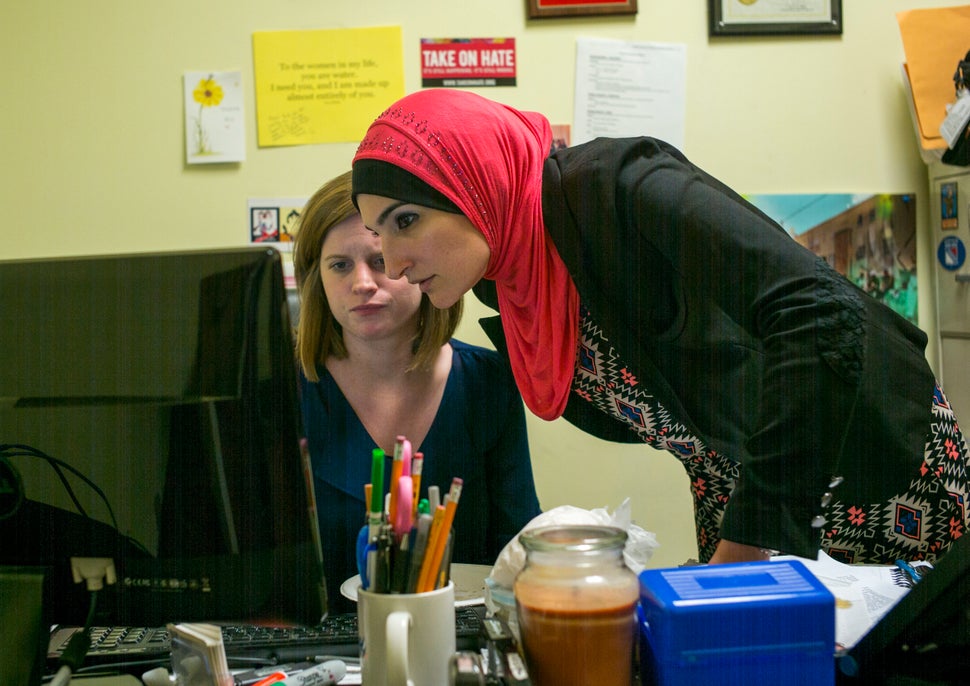 "Our training has people recognize that you are not intervening to become a hero," Santosuosso said. "Particularly if you are not directly affected by Trump's policies."
The trainings teach people to recognize the ways identity can play a part in how people are perceived, and to take that into account when deciding how to intervene.
"For example, choosing to call 911. Calling the police could be something that makes you feel safe ― but will it put others in danger?" Blum Levy said in the training. "Police treat people very differently based on the color of their skin. So ask yourself: Does the benefit outweigh the harm?"
"You are not intervening to become a hero ― particularly if you are not directly affected by Trump's policies."
The bystander trainings are the first part of a three-part training series the Accompany Project is developing. Part two, launching in March, will seek to teach people how to address microaggressions ― or, as Blum Levy put it, "how to call out your racist uncle." Part three will instruct people on how to get involved in local activism efforts. "It's community organizing 101," Blum Levy said. 
"A lot of people right now are feeling like they just don't know what to do. They're feeling helpless in the current political environment," Sarsour told HuffPost. "This is a one-time training to get skills that you can use forever. You can say, 'You know what? I did something.'"
For HuffPost's #LoveTakesAction series, we're telling stories of how people are standing up to hate and supporting those most threatened. Know a story from your community? Send news tips to lovetips@huffingtonpost.com.
Calling all HuffPost superfans!
Sign up for membership to become a founding member and help shape HuffPost's next chapter
BEFORE YOU GO
PHOTO GALLERY
Fighting Racism And Discrimination Everyday