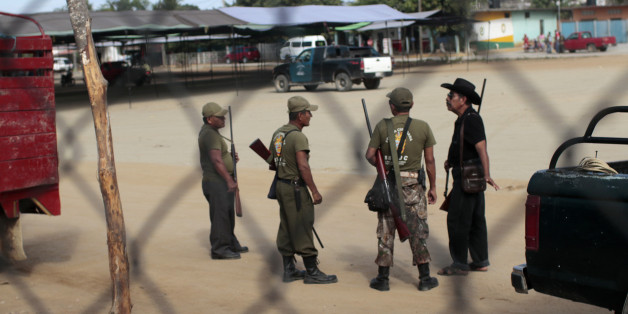 In late October, the United States decided to withhold $5 million, or 15 percent of its annual anti-narcotics funding to the Mexican government, over human rights abuses such as disappearances, extrajudicial killings and torture. It was a great step towards moral responsibility, but much more is needed.

The decision came within the context of a long history of U.S. support for governments in the region responsible for gross human rights violations. It also came amidst growing calls for accountability in how the U.S. supports and funds border enforcement efforts in Mexico and Central America, and evidence that these policies are violating migrants' rights to seek asylum and other forms of international protection.

The history of U.S. foreign policy in Central America, especially the Northern Triangle countries of Guatemala, El Salvador and Honduras, is a bloody one. It includes U.S. support during the Guatemalan civil war from 1960 to 1996 for security forces responsible for the vast majority of over 200,000 deaths, and the genocide against the Mayan indigenous population. From 1980 to 1992, the U.S. supported similar atrocities when it funded the Salvadoran government responsible for killing over 75,000 people and committing torture and mass rape. As recently as 2009 through today, the Obama administration has continued to fund Honduras, despite a '09 military coup that overthrew a democratically elected President and installed a government rife with corruption and repression.

At the very least, this violence has contributed to the factors that force people to flee the Northern Triangle, including the increase of child migrants who arrived in the U.S. during the summer of 2014. In response to this increase, the Obama administration escalated its support, through training and funding, for border enforcement by Mexico.

There's growing evidence that Mexico is violating the rights of migrants and preventing children from seeking asylum and other forms of protection. Mexico is increasingly detaining and deporting children, in violation of its domestic law and obligations under international human rights law. The U.S. is actively supporting these policies.

Like the U.S. and the majority of countries in the world, Mexico's laws provide migrants the affirmative right to request asylum. However, Mexico is falling well short of this obligation, causing concern among the United Nations, the Inter-American Commission on Human Rights, Mexico's human rights ombudsman, and civil society groups.

The Obama administration is effectively passing off to Mexico the decision whether to treat migrants compassionately or to treat them with abusive border enforcement tactics, detention, and deportation. And by doing so, the administration is encouraging policies that undermine domestic and international protections, including the Convention on the Rights of the Child.

The administration is also providing border enforcement training and funding to Honduras and Guatemala, despite evidence that those countries are also detaining migrants who are fleeing for their lives and have claims for international protection.

U.S. support for harmful border enforcement policies in Mexico and Central America violates the values of accountability and human rights, including the rights of children. One of these children is Alex, who the American Friends Service Committee represented. He fled Honduras after the Mara Salvatrucha gang attempted to kill him, in addition to years of his stepfather's physical and sexual abuse against him. Alex's story is, sadly, not unique. According to a United Nations High Commissioner for Refugees study of over 400 children who arrived in the U.S. from the Northern Triangle and Mexico, close to 70 percent of those children were forced to flee after suffering attacks by organized crime or abuse at home because there is no protection in their home countries.

A day after he survived the attempt on his life, Alex escaped and traveled through Guatemala and Mexico until he arrived in the U.S., where Border Patrol officers detained him in a frigid holding cell long criticized by advocates, in violation of federal standards for detaining children. Once he was released and reunited with his mother, he successfully applied for asylum. Alex, like nearly 60 percent of the children surveyed by the High Commissioner for Refugees, had a potential claim for international protection when he arrived in the U.S.

Despite his harrowing journey, Alex was fortunate because he was ultimately able to seek asylum. A growing number of children like Alex are being detained and deported by Mexico and Central American countries in violation of their right to seek asylum and other forms of protection. But this right should be upheld throughout the region, and the U.S. should not support policies that undermine it.

The U.S. has a moral responsibility to stop funding and training governments that fail to respect human rights, including the right to apply for asylum, and instead address the driving factors of migration. It should also protect the safety of asylum seekers and other migrants by expanding relief programs such as Temporary Protected Status and the Central American Minors Refugee/Parole Program, and by expanding its use of executive authority.

The Obama administration has the opportunity to introduce accountability and human rights into its policies relating to Mexico and Central America. It should take full advantage.
REAL LIFE. REAL NEWS. REAL VOICES.
Help us tell more of the stories that matter from voices that too often remain unheard.