Nathaniel Buck Harrison, 38, of Oracle, was collared on July 23 after police said he entered a home and accused a man of "being a rat" who sent his friend to prison, according to ABC15.com.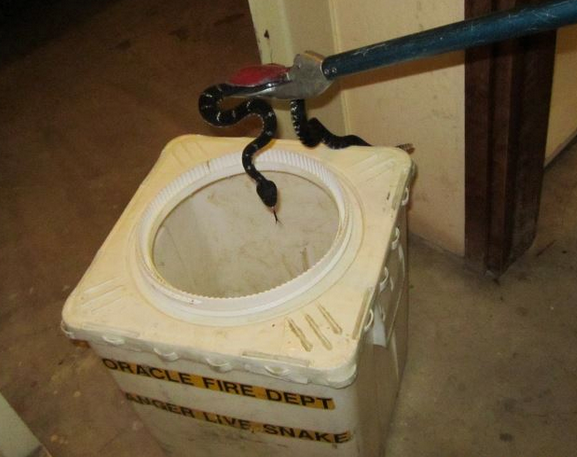 Despite repeated efforts to get the snake to attack, nothing worked, according to NBC12.com.
Police said Harrison made the victim kneel on the floor. Then he fired a handgun into a speaker on the floor near the victim's foot.
Deputies arrived after getting a 911 call about the shooting and set up a perimeter around the home, according to AZFamily.com.
Pinal County Sheriff Paul Babeu told media he believed Harrison's case is the first where a victim attempted to use a venomous snake to kill or injure his victim.
However, Harrison is no stranger attacking people with help of the animal kingdom, according to Suzi Riddell, the manager of the Justice Mobile Home Park, where the assault took place.
Harrison was arrested and charged with endangerment, aggravated assault, criminal trespassing, disorderly conduct with a weapon, possession of a deadly weapon during the commission of a felony offense, unlawful discharge of a firearm and threatening and intimidating.
He remains in custody on a $50,000 bond.
PHOTO GALLERY
Weapon Of Choice
REAL LIFE. REAL NEWS. REAL VOICES.
Help us tell more of the stories that matter from voices that too often remain unheard.