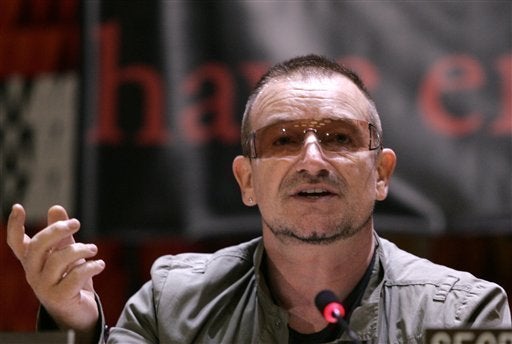 AC/DC frontman Brian Johnson is taking on Bono and Bob Geldof for their public displays of charity work.
"When I was a working man I didn't want to go to a concert for some bastard to talk down to me that I should be thinking of some kid in Africa," he told Melbourne's Herald Sun. "I'm sorry mate, do it yourself, spend some of your own money and get it done. It just makes me angry. I become all tyrannical."
Johnson said that his own band prefers to make their charitable contributions in private.
"Do a charity gig, fair enough, but not on worldwide television," he said.
AC/DC turned down a slot at Live Aid in 1985.
"I do it myself, I don't tell everybody I'm doing it," Johnson said. "I don't tell everybody they should give money - they can't afford it."
Bono has nominated three times for the Nobel Peace Prize. A 2005 New York Times op-ed accused him and other celebrity philanthropists like Angelina Jolie for being "mythomaniacs, people who wish to convince the world of their worth."
Calling all HuffPost superfans!
Sign up for membership to become a founding member and help shape HuffPost's next chapter