*Scroll down for photos.*
At a press conference on Tuesday, Acer unveiled two Android tablet devices. Both will go on sale in 2011, although neither have official names yet.
The larger tablet features a 10.1-inch multi-touch display and, according to Engadget, "a dual-core 1GHz processor, an HDMI output and a native 1280x800 (!) screen resolution." Consumers can also expect Flash support, front and rear-facing cameras (presumably for video calling) and a built-in Gyroscope for gaming.
The smaller, 7-inch device is built around a dual-core 1.2GHz Qualcomm CPU, boasts a native resolution of 1280x800 pixels, and supports Adobe Flash 10.1. Boy Genius Report writes that the device will also feature dual cameras and HDMI-output. Like its larger counterpart, the 7-inch version will come equipped with Wi-Fi and 3G connectivity.
Acer representatives said the devices would be available in April 2011 but withheld specifics about operating systems and price tags. PCWorld suggests that Acer may be waiting for Google to release its Android 3.0 (aka Honeycomb) operating system.
IntoMobile reports that Acer also teased a "4.8-inch beast of a smartphone." Again, this device has no name, though IntoMobile was able to secure details about its "1024 x 480 resolution, 1GHz processor, 8MP rear camera and 2MP front-facing camera, HSPA+ 14.4 [capabilities]," plus a 21:9 aspect ratio. This handheld device is slotted for a 2011 release, too.
In addition, Acer shook things up with a unique device called the Iconia, a dual-screen laptop that operates on Windows 7, Engadget writes. Yahoo calls the twin 14.1-inch touch screens "dazzling."
According to WSJ.com, Acer is planning to open its own app store, which will carry software for the new devices.
Take a look at the slideshow (below) to see photographs of Acer's upcoming mobile collection.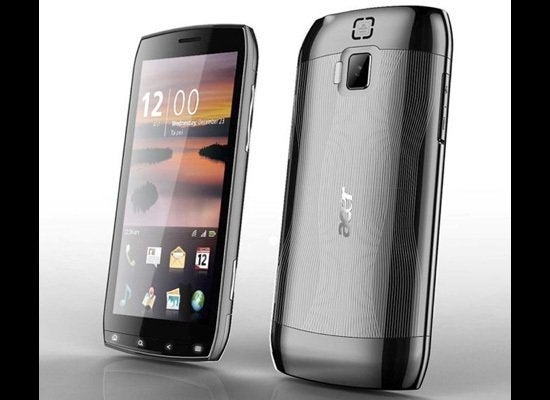 Acer Unveils Android Devices
Popular in the Community