The word guru is derived from the Sanskrit gu meaning "darkness" and ru meaning "the remover of." A religious guru is a role model, a manifestation of what is possible, dispelling spiritual ignorance (darkness) and offering us a roadmap of how to attain that pinnacle of contentment. My guru Acharya Mahapragyaji, the tenth Acharya (spiritual leader) of the Jain Shwetambar Terapanth sect, passed away this Sunday, May 9, 2010 in the town of Sardarsahar, Rajasthan in India, the same town where he entered Jain monkhood in 1931.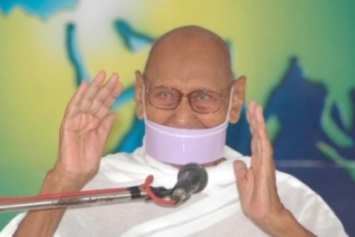 Born on June 14, 1920 in the village of Tamkor, Gurudev, as he is known amongst followers, renounced the material world and entered monkhood at the age of ten. He received his education under the guidance of Acharya Shree Tulsi, the ninth Acharya. An erudite scholar, he spent the early years of his monastic life studying the scriptures of Jainism and other traditions, and was struck by a common component of all religions -- the search for the self. Gurudev believed that religion was a way of life and that this quest for self-realization could be answered through reflection and self-discipline.
When I first heard the news about Gurudev, I did not know how to react or even what an appropriate response would be. Though he has played an important role in my spiritual journey, my interactions with Gurudev have been few and, for the most part, short.
My earliest memories of Gurudev are hazy. I recall attending talks given by him and paying my respects during summer visits to India, but as a child I lacked the attention span to process his words. During the summer of 2008, however, both Gurudev and I overlapped in Jaipur for an extended period of time. Gurudev's health did not permit him to travel to a nearby town as originally scheduled, and a medical emergency in the family required us to change our travel plans to stay in Jaipur. It was during this time that I attended many of Gurudev's talks and spent some time in his seva (service).
That summer Gurudev spoke about the interactions between science and religion in many of his talks. Gurudev believed that the two are not mutually exclusive and regarded science as a major source for spiritual renewal and moral sensibility. He stressed that in Jainism many theories find their groundings in science. As an engineering student in a "liberal arts" institute, I had often found myself in strongly-worded discussions with my peers who regarded religion as detrimental to science or vice-versa. Gurudev's words affirmed my conviction that my career and faith could walk hand-in-hand without contradicting each other.
Being in India that summer meant a great deal more to me than any of my previous summers. I was returning to India after three years, having just finished college where I had spent the better part of my undergrad years rethinking my approach to faith, spirituality, and culture. Gurudev's personality resonated tranquility, and words cannot describe the reassurance and peace I felt in his presence. That summer my siblings and I also had the great fortune of being able to take our Guru Dharna, a rite that can be equated to a confirmation of faith, directly in the presence of Acharya Mahapragyaji and his successor Yuvacharya Mahashramanji.
Acharya Mahapragyaji was a revolutionary for the faith and took Jainism to new global heights. A writer, poet, philosopher, and social reformer, he led the Ahimsa Yatra (Journey of Nonviolence) and travelled more than 100,000 km on foot, visiting over 10,000 villages in India to spread the message of nonviolence and compassion. Together with President of India Dr. A.P.J. Abdul Kalam, he launched the Foundation for Unity of Religious and Enlightened Citizenship, a non-profit organization advocating value-based education in schools and encouraging interfaith dialogue among religious and spiritual leaders. His messages of peace and interfaith harmony inspired Terapanths, Jains, and non-Jains throughout the world.
The loss of a spiritual leader is often described as the loss of a parent for the faith. When I woke up on Mother's Day to the news about Gurudev's death, that was not a comparison I wanted to think about. Yet, honoring Gurudev on Mother's Day is extremely apt. On this day in which we remember our mothers for their love, care, and nurturing, it is more than fitting to remember a figure who demonstrated that love, care, and nurturing not just for his faith but for all of humanity.

Calling all HuffPost superfans!
Sign up for membership to become a founding member and help shape HuffPost's next chapter