In 1974 I was old enough to know about, but too young to understand, court-ordered busing and the battles that rocked Boston and surrounding communities.
Achievement Gap: Persistent & Puzzling
In 1954, the U.S. Supreme Court overturned Plessy v. Ferguson -- an 1896 decision allowing states to segregate public schools. The case, commonly known as Brown v. Board of Education, declared unconstitutional separate but equal public education facilities for black and white students. Twenty years later, Judge W. Arthur Garrity Jr., enforced implementation of the Racial Imbalance Law (of the state of Massachusetts) requiring Boston public schools to redress a recurring pattern of racial discrimination.
Achievement gaps occur when one group of students outperforms another group and the difference in average scores for the two groups is statistically significant -
National Assessment of Educational Progress (NAEP)
Despite over five decades of effort to rectify imbalances, significant differences in achievement persist. White students continually outperform their African American and Latino counterparts on standardized tests, high school graduation rates, and college completion. Education researchers can measure but cannot explain the underlying causes for continued achievement gaps. To some degree, the hard work of educators has paid off; NEAP reading and mathematics scores for all students have improved over the last 20 years. Yet gaps persist, causing many to puzzle about their tenacious hold on the U.S. education system.
Approaches to closing the achievement gap exist beyond physically busing students to schools outside their neighborhoods. Head Start (1965-present) provides education, nutrition, and a variety of additional services to low-income families with children ages 3-5. Systemic change initiatives, implemented in 1990's targeted rural and urban school districts. Systemic change sought comprehensive reform of education communities taking a "whole-district" view rather than addressing individual inadequacies. More recently, efforts to understand and define effective teaching have come to the fore. Research shows, and most teachers will tell you, that effective teaching rests upon three solid legs: content knowledge, use of effective instructional strategies, and strong student rapport.
Today, national demographics are changing rapidly. Between 2000 and 2050 the White population will decrease from 68 percet to 49 percent while the Latino population will grow from 13 percent to a high of possibly 40 percent. In the same timeframe the African American population will increase by 1 percent and the Asian population by 4 percent. These numbers suggest that the achievement gap will remain a significant conversation that educators must join.
Narrowing the Gaps
According to NAEP there are several ways that achievement gaps narrow: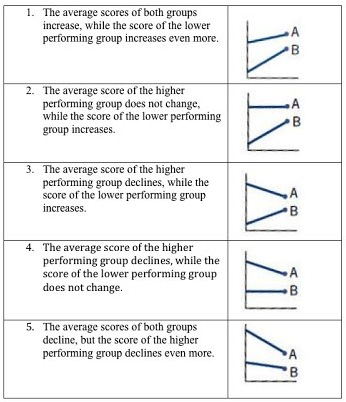 Recently, in a presentation entitled,
Engaging Latinos in Informal STEM
, Dr. Robert Russell, Program Director in the Division of Research on Learning at the National Science Foundation discussed the importance of reaching out to traditionally underrepresented populations through community valued resources and events. In addition he recommended the following framework designed for long-term success *
Engagement: activities, events, media that promote interest in science and motivation to get involved
Capacity: programs and resources that develop knowledge and intellectual discipline (self-regulation)
Continuity: a support system, that provides information, guidance, and access to the continual involvement further development in science.
Dr. Russell demonstrated that through community resources and events such as Spanish language media and festivals, STEM educators were able to attract and engage Latinos. The use of Spanish language media provides opportunities to both educate and involve Latinos in events. Like public service announcements, some STEM education organizations have embedded content in programming to educate as well as invite the public to participate. Increasing attendance begins the effort. To solidify interest and involvement, STEM organizations recruit community volunteers with STEM interest and expertise to facilitate and support learning by Latinos at events.
Additional Resources