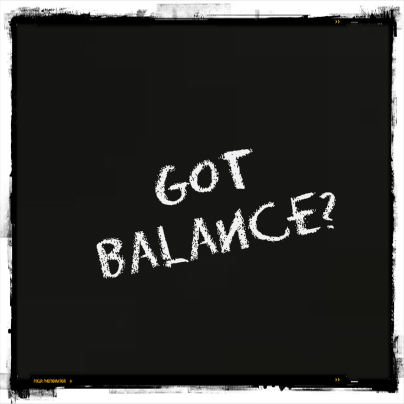 I often think of the arrival of September as being like the New Year. With the start of the school year and the tangible shift from August's slower pace to the ramp up of fall's activities, September often feels more like a new beginning than January. It also feels worthy of a similar type of new year reflection: How do I want to approach these next months? What are my intentions? What do I want to remember?
While such questions can feel daunting, they're also useful in keeping us awake in life -- ensuring that we don't passively fall asleep within the familiar demands and routines of the everyday. I find it most helpful to choose just one question to reflect on, or I should say, one particular phrasing of a question that really speaks to where I am. Right now, the question is "How can I keep a sense of balance as I move into the fall?"
This question reminds me of Goldilocks' predicament: not wanting things to be too much or too little, but rather, seeking that middle ground, sweet-spot choice that feels just right. I can relate to her pickiness. I don't want an autumn with so many balls in the air that I'm constantly off-center, racing around, and cringing at the thought of a dropped object. I certainly don't want that for my family either.
At the same time, I want there to be enough: enough excitement so that we have things to look forward to, enough activities that we're engaged and learning new things, enough goals and priorities that we feel like we're moving forward in life, and enough opportunities for meaningful service and creative expression in the world. Oh yes, and some time to take care of ourselves via good eating and exercising and resting and pausing enough to remember why we're doing all that we're doing!
Keeping a sense of balance -- even if it's a swirling, ever-in-motion, chaotic sort of balance-- requires an ongoing check-in as opposed to a one-time figuring out. I imagine this is true with whatever intention or question we have at the beginning of a season. It helps to write it down and put it somewhere where we'll see it. By doing this, we can let it stare back at us from its sticky note on the refrigerator door or its white letters on the chalk board and re-ask us our question-- reminding us of what we most want to remember.
For more by Karen Horneffer-Ginter, Ph.D., click here.