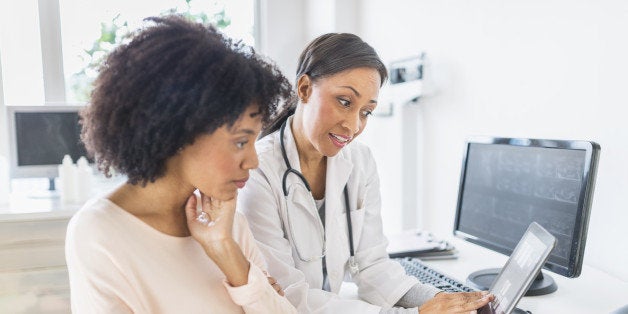 Imagine that you are struggling daily with diabetes that you couldn't get under control.
Your blood sugar levels are fluctuating radically, making it impossible to participate in your usual work and family obligations. You would do anything to get your symptoms under control so that you could feel healthy again.
Your GP decides that you require a specialist...and refers you to a psychiatrist.
Of course this wouldn't actually happen. Psychiatrists do not treat diabetes.
But what if your GP insisted that the symptoms you thought were related to your blood sugar levels, were actually related to your mental health? You would probably accept the referral. Your symptoms have become so severe that you are desperate to find relief.
What if we changed the word diabetes to depression? Would you still eagerly accept the referral? Or, would you refuse, due to the stigma attached to needing a psychiatrist?
I recently spoke with Dr. Helen Farrell, Psychiatrist & Forensic Psychiatrist, to talk about her work as both a practitioner and teacher of psychiatry. She currently teaches at Harvard Medical School and and is also a practicing psychiatrist at Beth Israel Deaconess Medical Center.
Dr. Farrell has chosen to tell a story of hope amidst a mountain of challenges in the mental health field, most notably in her TEDx talk, "Creating Hope for Mental Health."
The challenge of diagnosing and treating mental illness.
It's fairly easy to diagnose diabetes: you take a blood test.
Mental illness is much more elusive, and most will wait until their symptoms are unmanageable to seek medical help.
Dr. Farrell explains, "When people start to experience symptoms, they don't realize how pervasive it is."
Despite the fact that 1 in 4 Americans struggle with mental health issues, there is, "Still a lot of cultural shame and stigma."
We hide it, instead of reaching out for help.
Dr. Farrell talked about the push in the medical community to proactively ask about their patients' mental health. However, this requires a paradigm shift.
"Mental illness is so intangible...no blood test or X-ray can diagnose it."
Advocating for yourself when you decide to seek medical help.
It can be difficult to convey your symptoms when you are in front of a medical professional.
Keeping a daily or weekly log to track your feelings, emotions and behaviors can be a very useful tool for articulating the intangible, according to Dr. Farrell. This then becomes something physical you can take to your doctor appointment.
Additionally, some people find it helpful to take a trusted person with them. This trusted person can help to voice your struggles, as many of us will tend to downplay our struggles.
Addressing workplace challenges.
If you are diagnosed with cancer, most workplaces will quickly liaise with the insurance company to ensure that proper recovery time is given.
The Mental Health Parity Act has made it illegal for insurance companies to discriminate against employees suffering from a mental illness, but there is still much room for improvement.
When I asked what reforms she would like to see in the workplace regarding mental health, Dr. Farrell suggested programs that, "Can help employees take respite and take care of themselves...such as flexible vacation times and work schedules."
Additionally, she would like to see managers and employees educated about the impact of mental health warning signs and taking proper care of themselves. The dialogue needs to be started in the workplace so that we bring attention to the problem.
The hope that opportunity brings.
Dr. Farrell insists that there is much opportunity and hope for modern day psychiatry. So much so, that she is hoping to eventually give another TED talk about why it is such a great time to practice psychiatry.
Research has been providing us better medication with few side effects.
We continue to uncover new ways to use genetics to treat and target mental illnesses.
Treatment programs are continually being expanded, especially when it comes to transitioning recovered patients back into the community.
Dr. Farrell refers to her current clinical work in at in-patient psych hospital, telling me that there is, "A lot of significant recovery...we are seeing renewed hope and spirit when they come out."
Most significantly, Dr. Farrell has been working closely with Beth Israel Deaconess Medical Center to increase transparency between doctors and patients. Due to the success of an "open file" collaborative approach in primary care and outpatient psychiatry, Dr. Farrell is now assisting in the expansion of the project to inpatient psychiatry.
Dr. Farrell is committed to being part of the bright future for those struggling with mental illness.
Follow Dr. Helen Farrell on Twitter for more insights regarding mental health and to catch her most current articles.