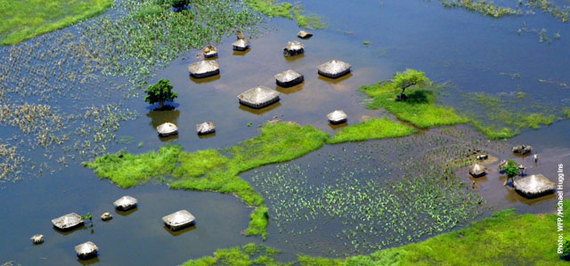 When disaster hits, when war strikes, and when hunger stalks, the World Food Programme not only provides immediate life-saving assistance, but helps people with the process of recovery so they can begin to rebuild their lives.
For more than 50 years, WFP has worked with our world's most vulnerable men, women, and children who are living in some of the planet's most fragile environments. In these marginal places, the poor must continually battle hunger, search for refuge - while facing the daily effects of climate change. It is no coincidence that most of the world's hungry - more than 80 per cent of the 795 million hungry people - live in countries which are increasingly prone to floods, droughts and storms that can trap them in a cycle of chronic hunger and poverty. For these people even a small weather event can quickly escalate into a food crisis. When the United Nations' 193 member States agreed to 17 Sustainable Development Goals last September, including achieving Zero Hunger, their concurrence confirmed this goal is not only urgent, it is achievable.
Climate change directly clashes with the World's bold goal of ending hunger by 2030. Weather-related climate change effects pose significant threats to global food availability and accessibility as a result diminishing if not eliminating any ability to achieve global food security. Any possibility of ending hunger requires leaders gathering in Paris to not just settle upon what is doable but deliver a global climate agreement which truly gets it right. An effective climate agreement will provide the tools, metrics and resources required for the global community to adapt and build our collective requisite resilience to climate related disruptions by offering sufficient and predictable funding, while simultaneously investing in a low carbon future. So, when the leaders agree where do we start? We start with the most vulnerable and the recognition that truly reaching all the world's hungry poor requires a fundamental transformation in how we collectively work to address hunger's causes and consequences. We know that business as usual is an insufficient response. In fact, if we continue responding in the same way as usual, evidence suggests by 2030 some 650 million people will remain left behind, trapped in hunger's vicious cycle. And if we fail to address the causes of climate change, by 2050 a further 200 million people will join the ranks of hungry poor. Achieving food security through adaptation and resilience building for those furthest behind requires immediately addressing three significant blind spots.
We must invest in and give priority to supporting smallholder, mostly family farmers, who manage over 90 percent of the world's farms. They stand at the frontline of food security and stability. Equipping smallholders to manage climate risks, means providing the opportunity for smarter and more productive agriculture using the right seeds and tools, with adequate infrastructure as well as investments across the entire agriculture value chain, including reducing post-harvest waste and developing sustainably durable markets. This way forward offers a clear path to enabling farmers to achieve resilient and sustainable livelihoods.
Second, in low income countries we must invest in and quickly scale-up social protection systems, which deliver a multitude of beneficial outcomes. In contexts as diverse as Brazil, Malawi and China social protection schemes have effectively reduced hunger and poverty. Social protection schemes come in many forms, including cash transfers, school meals, as well as public work and insurance programs. Implementing social protection activities for the world's most hungry poor people may seem like a pipe-dream, it is not. Adequate, well designed social protection would enable the people in this category to quickly overcome poverty, hunger and undernutrition. The third, and perhaps most important blind spot to address of all, is the need to both recognize and end women's disempowerment, a fundamental barrier to the achievement of Zero Hunger, and an equal and peaceful world. Evidence shows women in community leadership unite the disenfranchised and promote agendas for the common good, for example improving safe water points, health services and education. When women have equal community status as men child nutrition improves. Also when women have equitable access to smart agriculture tools including seeds, tools and credit agricultural production improves. We will not solve the challenges presented by hunger and climate change, without directly engaging, targeting and investing in women. Overcoming each of these blind spots will solidify our global ability to achieve zero hunger. The historic United Nations Charter begins with the phrase: "We the peoples"..Today, this means that we, the peoples, can close the gap between our Global Goals and action, and between theory and practice, seizing every tool at our disposal. This includes the COP 21 negotiations in Paris to overcome the challenges of climate change and conflict, to build a world of Zero Hunger, where every woman, man and child, lives life to their fullest potential.
This post is part of a series produced by The Huffington Post, in conjunction with the U.N.'s 21st Conference of the Parties (COP21) in Paris (Nov. 30-Dec. 11), aka the climate-change conference. The series will put a spotlight on climate-change issues and the conference itself. To view the entire series, visit here.
Popular in the Community