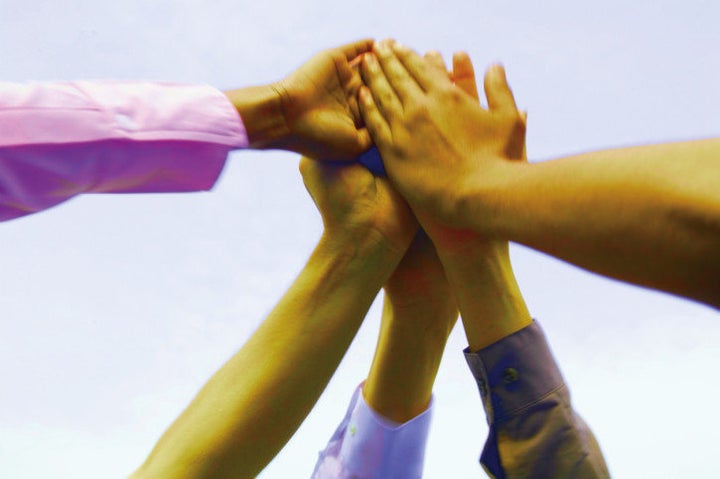 Welcome to the ongoing discussion about living your best life after 50. Each week, I post an article to ignite a discussion about the challenges and joys of midlife. Please read, share, comment and engage! The more people involved in the conversation, the more we'll all connect and learn from each other. If there's something specific you'd like to discuss, I'd love to hear from you.
Last week, I posted an article ("Afraid of Aging? Five Ways to Fight the Fear") that generated a lot of discussion here and on Facebook. In the article I suggested a few ideas that could help fight the fear, allowing us to be less stuck and more productive. Of the five tips I offered, the one that generated the most interest was this:
Create Your Own Board of Directors Club

Starting a new business can be daunting and scary. It brings out every single insecurity you can imagine: Will they buy it? Can I get the financing? Is this crazy? Will I lose all my savings? It's also frightening to consider leaving a marriage or starting a new one in midlife, or thinking about retiring. Any change can make us want to put the proverbial blanket over our heads and simply do nothing. I'm in the throes of thinking through a business idea right now, and so decided to start my own Board of Directors Club (which I also refer to as my "Kitchen Cabinet"). Here's how it works: The four of us (but any number of people will do) get together every Tuesday morning, without fail, at the same diner. Each one of us gets 15 minutes to discuss everything and anything that needs to be discussed. Usually it pertains to our blossoming businesses -- or, as in one member's case, getting a new job -- but not always. Sometimes we talk about exercise, or men, or kids, or whatever is most pressing. But the real goal of this club is to get input, to brainstorm and to create a level of accountability that is often hard to do on your own. We leave the meeting each week with our own personal "To Do" lists, and the items must be checked off the list by the next meeting, or there's a lot of explaining to do.
This is a very simple, but extremely powerful tool, and one which I wholeheartedly endorse and encourage you to embrace, especially if you are considering making changes in your life, and aren't quite sure how to begin. This can be particularly useful for those of us who are over 50, unemployed and trying to figure out a way to get back into the workforce, or start a new venture.
As with many great ideas I've incorporated into my life, this one came from an incredible woman. Cozy Friedman is a successful and smart entrepreneur who saw the need for a new kind of hair salon for kids: fun, not just utilitarian. Almost 20 years ago, she started Cozy's Cuts for Kids in New York City, where she now has three salons, and followed up with So Cozy Hair Care for Children products, which is sold in stores nation-wide and online. Most recently, Cozy came out with a best-selling book, "Cozy's Complete Guide to Girls' Hair." Both my daughters had their very first hair cuts at Cozy's Salon -- a NYC ritual -- when they were each about one year old, way before I even realized that Cozy was a real person and that, yes, her name is actually Cozy.)
At some point, Cozy realized that if she was going to push aside her fears of failing and grow her business, she would have to take some risks. But even though she understood this intellectually, emotionally, she couldn't get herself to make the moves she needed to make alone. That's when this simple but powerful idea came to her: She would create her own personal Board of Directors who would hold her accountable, help her with key decisions and be there to support and encourage her when she was in the throes of self-doubt.
This turned out to be one of the best business and personal decisions Cozy has made. The group -- the members jokingly refer to themselves as "The Diner Gals," since they always meet at the same diner -- consists of four women. They get together every other week at 7:45 a.m., and the meetings rarely go longer than 90 minutes. Each person gets 15 minutes or so to talk through her agenda, and then the group discusses and debates solutions and strategies for each person. According to Cozy, it's "priceless." The main topic of discussion is usually business, but it occasionally veers off to more personal areas like relationships, children, exercise, diet and fashion before getting back to business again.
While they may cover some non-business subjects from time to time, Cozy made it clear that this is not the morning version of a "girls' night out." On the contrary, it is quite serious, and every member is expected to adhere to the rules.
According to Cozy, the most important features of any successful "Accountability Group" are:
Be committed
Be honest
Be supportive
Be creative
Be an active participant
Don't be embarrassed
Don't be afraid to share
Don't hold back
Don't judge
Check your ego at the door
Everything must be held in strict confidence
Each member must be accountable to the group
Expect greatness from each other
During a recent talk with Cozy, this is what she told me:
We consider ourselves to be an "Accountability Group." This may be a little different than an advisory board or a more traditional corporate Board of Directors. Here's an example: Recently I was having an issue with analyzing and deciding which route to go with some distribution channels for my line of children's hair care products. I was stuck and having a very hard time moving forward. I was just standing still and doing nothing, which seemed to be the easiest thing to do. My "Diner Gals" called me out on this and helped me to get my wheels turning. Sometimes the hardest part is just figuring out where to start. I couldn't see it on my own, but with their help, and clear expectations of me, I figured it out. Having a group to "report to" has been invaluable to me as an entrepreneur. It's a level of accountability that has allowed me to achieve an even greater level of success than I could have done on my own. And each one of us has a similar story to tell.
The popular image of the creative genius is of an inspired individual swimming alone against a tide of convention. Original ideas do come from the inspirations of individual minds. But creativity is rarely if ever an isolated process. There is a powerful cultural dimension. Creativity is not a purely individual process. There is an essential cultural dimension that is of profound importance for developing creative abilities. Even working alone the individual draws from the ideas, achievements and influences of other people. Creativity draws from networks of knowledge and ideas.
The message is simple: Don't be afraid to reach out. Be fearless. Sometimes it does take a village to get where you want to go.
Related