Our communities face complicated health challenges - that's not news.
Back before the increase in chronic disease rates, illness and disease were the result of bugs and bacteria. Today, our most pressing health issues are the result of interrelated social and environmental factors that interact in equally complex and often unpredictable ways with our genes, medical history, lifestyle choices, and more. Clinicians can invest hours of treatment and test multiple drug combinations with limited, if any, change in outcome.
The solutions to these problems don't come in a syringe or pill. They require long term thinking and a holistic approach, embracing initiatives like early and accessible pre-kindergarten education, affordable housing, livable wages, and paid sick leave.
Renewed Effort and Interest in Collaboration
These initiatives are all working toward systems-level partnerships and community-based solutions to our healthcare problems. As these efforts take root, we will have the opportunity to develop a body of evidence to propel us from great ideas to a sustainable movement to improve health.
Evolving Payment Structures
Many of the initiatives named above make the case that multisectoral collaborations are simply more effective. Tapping into a wide range of skills, relationships, and resources makes efforts to improve health more robust and more likely to succeed.
While these models have been gaining momentum, payment structures in the US have also started to change.
We are moving towards eliminating financial incentives for unnecessary tests and procedures, and instead rewarding hospital systems and practice groups that demonstrate reductions in the total cost of care for a group of patients. New entrepreneurial endeavors are also developing, like former National Coordinator for Health Information Technology Dr. Farzad Mostashari's firm Aledade that will assist independent primary care providers form ACOs.
Despite these promising signs, our outdated "clinical care first" paradigm has been slow to change nationally. In the meantime, individual public health practitioners and primary care providers are often unclear on how they can individually work to foster better health for their communities and patients while national trends catch up.
By distilling lessons learned from innovators working "beyond the lens of healthcare," they identified eleven principles for successful multisectoral health interventions. Groups working to collectively improve health should:
Embrace an inclusive definition of community
Acknowledge power imbalances
Share power
Let the community define what matters
Measure what matters
Operate at individual and community levels
Embrace complexity
Acknowledge that no one can do it alone
Accept that it's going to take time
Build the right team
Search for sustainability
These principles recognize that achieving health is not the sole responsibility of the health sector, but that a community-wide, cross-sectoral effort to improve the so-called "social determinants of health" like education, housing, wages, and more. These principles both represent a fundamental framework to achieving improved collaboration and also complement work being done by other actors and organizations in this space.
Synergies between the Eleven Principles and Practical Playbook
The report recognizes that the principles alone are not enough. Fortunately, the Practical Playbook provides free online guidance that aligns with and provides greater specificity for most of these principles.
For tools and strategies supporting the following principles:
Acknowledge power imbalances [2]
Share power [3]
Let the community define what matters [4]
Acknowledge that no one can do it alone [8]
Build the right team [10]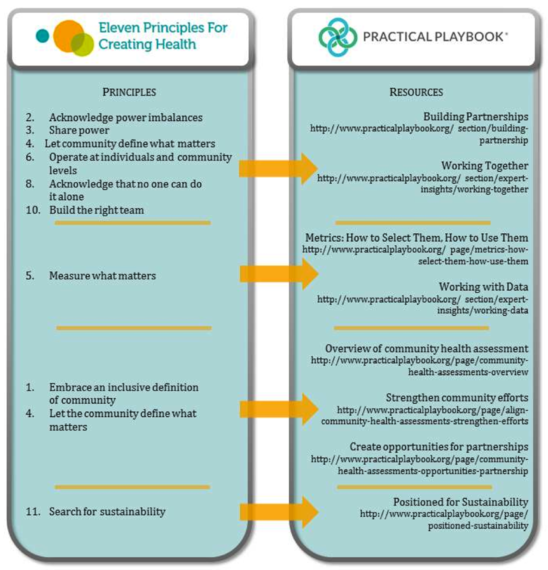 Beyond the principles included in the Collaborative's report is a simple call to action to "just start." The report asserts, "there is no road map, we have to learn by trying." These eleven principles provide a valuable frame through which we can each understand our own actions and how they can better contribute to health.
While we wait for systems-wide reforms, there are still steps that everyone interested in promoting health can to re-orient their own work, the work of their institutions, and the communities in which they live toward achieving health for everyone.
We know enough - it is time to go!
Related