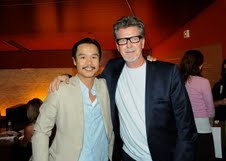 Actor Trieu Tran and Director-Producer Robert Egan comment on their collaboration:
Q-Mr. Tran, what inspired you to write Uncle Ho to Uncle Sam?
A-It's the life I lived. It's been part of my history and my memories for a long time. I had worked with Bob in production in New York about four years ago and during our cigarette breaks we got to know each other. We talked about our various likes and dislikes -- what we could relate to regarding sports and all that. Eventually he asked me a few questions about my family and after a few days Bob turned to me and said "I think you have a story to tell". So he went on to say once we were finished in New York lets meet in L.A. for lunch. And what I thought would be an hour lunch turned into a six plus hour session.
Q-Mr. Egan, what moved you to the point that you decided to attach yourself to this project?
A-I have always really been interested in voices that aren't heard in America. One might say marginalized voices. I was in my formative years during the Vietnam War. When Trieu and I had that lunch, he had a very unique story to tell. His early years were in Vietnam and then the family was forced out of Vietnam to the U.S. Then you had another saga involving the trials and tribulations of assimilation first in Canada and then in Boston. So that type of journey was certainly one that I had never heard about and at the core of the piece was a young man who was not only trying to find an inner peace within the various countries, but also with his dad. So this was a personal and social-political story. Couple that with the fact that Trieu is an amazing performer!
So we started the writing process where I would ask Trieu to write certain chapters of his life and I was surprised to find that his answer to one question would end up being several pages of writing -- so that's the key with Trieu. There is no show unless he has something to say! And so what was there was not only beautiful, searing content, but also poetry. So I knew when that process started to happen, we had the possibility of creating a great show. We worked a couple of years on the rendering of the script, and when Trieu would write, (it was hundreds of pages), I would come in and help to compress it down to about forty pages long. It was a great collaborative process as he saw that I could write both for and with him.
Q-Trieu, you have played some very funny characters. Your roles in the film Tropical Thunder and Newsroom being the latest example. Your role in Uncle Ho, Uncle Sam is the polar opposite of those characters. Do you prefer serious material over comedy?
A-I'm just an actor man! I'm just happy to get work! I attack every role the same way...just commit to it and give my all.
Q-Trieu, you have worked across all mediums in the entertainment industry so far. In which are you most comfortable?
A-Well I come from the theater, so my heart will always be there first and foremost.
Q-Bob, outside of New York, what is your personal take on the world of theater?
I currently run this theater called the Ojai Playwrights Conference. Our mission is to develop plays that are social, political and ethical that attempt to confront the reality in which we live. That's where Uncle Ho started...so we started writing, took it to Ojai, and developed it there. After Ojai we took it to a contemporary theater in Seattle and had a full production. So that's where I live -- I'm interested in playwrights and plays that confront the world in which we live.
My experience with writers such as Stephen Adly Guirgis, Trieu Tran, Jon Robin Baitz, Charlayne Woodard and Danai Gurira amongst others-is that the theater outside of New York isn't necessarily living in the time we live in-which is very polarized. There is a lot of "dis-ease" out there. I think when you are attempting to (even in the non-profit arena) maintain a subscription audience, sometimes you'll shy away from those plays that may cause upset within your audience and provoke a deeper debate about some of these issues. So that would be my impression; that there is still a tendency, perhaps a bit of an imbalance toward what I would call pure commercial entertainment and more private issues as opposed to public discourse. That being said, I still feel that the live theater is coming back in a big way. As the technological age continues to overwhelm us, I think people are craving that desire to be in a room with other people more and more.
Q-Bob, How did the audience in Seattle respond to "Uncle Ho"?
A-Our experience in Seattle was amazing. We were surprised. Every night the place was full-standing ovations. There was a tremendous emotional experience between us and the audience which was predominately white. But Trieu's story really hit them-the story of an immigrant. Many Vietnam vets came to the production, as well as people who lived through that era. Because another aspect of that show toward the end is how Trieu says that we must find a way not to kill to achieve peace with honor, which was the key phrase that came out of Vietnam, right? "We have achieved peace with honor, now we can abandon the country".
So those are the plays that interest me. And I think that theater is in a very exciting state and as the country continues to move forward in this rather odd and fractious way-I think people are going to crave these types of themes more and more on stage.
Q-Bob, you were honored back in March of this year by the Ojai Playwrights Conference for your dedication to playwrights and their ideas. Do you feel it's easier to protect the writers you work with in this medium as opposed to television or film?
A-You know, I have done television and have some projects going on in film as well. I would even say that contractually speaking, a playwright has a lot of power. A theater (I was associated with the Mark Taper Forum for 20 years) comes in with a play and you're choosing the play and the writer because you want to do that work. But even when you are developing the play, (even if there's interest for the institution that needs to be served where you are trying to create plays that will appeal to your audience), the playwright has a good deal of power. On the other hand the focus at Ojai is very different. The Ojai Playwrights Conference sole concern is to serve the vision of the writer.
Television is usually a group effort. There are a number of writers in the room, and even when you are writing your particular episode, at some point everyone is going to weigh in -- including the network. And so now we are talking about people who are looking at the bottom line; they are by and large selling toothpaste, or phones, and they want people to watch it. Unlike theater, television is a completely commercial endeavor. So the writer becomes secondary, and perhaps tertiary to other concerns.
In film, we all know that it's the rare instance when that writer (a) actually gets his script made, and (b) -- when it is made, any number of writers may be brought aboard. So my critique here would be that in the other mediums they do not have what we possess here in theater, which is expert dramatists who are going to work with the writers over long periods of time to help them fulfill their vision. In the other mediums, it's the notion of once they see a log jam, hire another writer. And when that doesn't work, hire another writer -- and so you end up seeing five or six writers on some film projects. The writer's vision can then become secondary to a directors vision or the vision of the studio.

That being said, the theater is a much more commodious place for the writer. Never in my time (and I have been developing plays for thirty plus years) can I think of one single instance where a writer was asked to step back to have another writer be brought in to take over their project., It just doesn't happen.
Q-Trieu, as both the solo performer and co-creator of this piece Uncle Ho to Uncle Sam, what do you want your audience to take from this production when they leave the theater and go about their lives?
A-I would like for them to realize that we are all the same. We are all one in that we all came from the ocean, we are a country of immigrants. I'd like for them to realize that there is hope and redemption's in life-a place for forgiveness in life.
Q-Trieu, what is your opinion on the current state of affairs on the Asian actor in Hollywood?
A-It's getting a lot better, although there remain a lot of hurdles yet to climb. But compared to when I first here out here, The reality though is that there are not enough roles being written for us -- and often times the roles being written for us are not really our stories, how things really are, how it really goes down. So that is what we are still fighting for, to get away from the old stereotypes.
Q-Bob, the Emmy award winning actress Dana Delany said that there is no one more passionate about the creative process than yourself. That's a strong statement -- powerful words. Why is that creative aspect of theater so critical to the world of theater in your opinion?
A-Well first off it's very nice of Dana to say that about me. I can only answer that personally and say that I was raised by an FBI agent dad and a mother who was a social worker in the crucible of the 60's and early 70's and so I was alive and present in the world at 13 when John Kennedy was shot and killed along with Bobby Kennedy, Martin Luther King, and the Vietnam War and Civil Rights era struggle. And I grew up in a very diverse neighborhood where I went to high school and saw quite a bit of violence. And so I made a decision that I wanted to be with people that commented on that world and made attempts to understand that world and move ourselves forward in this experiment called the United States of America. And like any experiment, there is always a process.
And so as a young man I started off as a political economist. That was great because it was kind of sharing scientific analysis of the world you lived in. I was a member of the union of radical political economists by 20! But theater always spoke a language that I could understand. I can recall reading my first Ibsen and Shakespeare plays and I felt that they got to a depth of analysis and commentary on the human condition both on the social and private levels that social science didn't get to. So that's how I was drawn into theater, and I have always been absolutely committed since I first started producing and directing plays going all the way back to England and then Seattle to finding those voices that want to speak to those issues involving social and private reality. And so I just made it my business to find them and to put them in process. Trieu is a great example of that kind of voice. Because if you don't have someone who has a passion for producing and directing those types of voices, they won't get developed.
I have been on this crusade for the last ten years since I left the Mark Taper Forum. I did a hip-hop show with Steve Connell and Sekou Tha Misfit. I met up with Lynn Manning, the artistic director of the Watts Village Theater-a blind black poet and playwright who got shot in the head in his early 20's -- we just did his 90 minute play. Then there is Richard Cabral who was a fairly notorious gang member in East L.A. and now his life is in transformation. He was just awarded the Lo Maximo award -- so we just did his 90 minute one man show. I worked with Luis Alfaro in this very room on his one man show which is about a Latino journey down highway 99 and the death of his dad. So there is just something about the American mosaic -- the voices of today which I think are all asking great questions. They are willing to talk about their lives where they may not have been able to in previous years or decades. Theaters just weren't as interested then --now they are. And there are many people who preceded us -- August Wilson, etc. who paved the way.
Q-Trieu, what projects do you have planned in the immediate future?
A-Well I recently found out that Newsroom, which I am on just got picked up for a third season. And as for this show, I would love to be able to travel around the country with this play.
Q-How about yourself Bob?
A-We are hoping to be able to take this play to Boston. My dream would be able to take it to Europe (England), and perhaps even Vietnam. That would be really exciting. We are also in the early stages about doing a play about Ho Chi Minh. Ironically enough, it was a discussion about Ho Chi Minh that had Trieu and I talking years back in New York before we did Uncle Ho, Uncle Sam. We have done a little bit of writing, and it was Trieu's journey back to Vietnam and what that experience was like. A bit part of that experience is that he walks into a park and Ho Chi Minh starts to talk with him. So stay tuned.....the play is not going to be about taking sides regarding the war in Vietnam. I do, however think that there will be a different re-appraisal of what went on there-and hopefully we'll be a part of that discussion.
Q-Bob you have been quoted as saying that you look for writers who have something to say.
What did Uncle Ho, Uncle Sam say to you on both a private and social level?
A-Well on the private level Trieu's story is the story of a young man who goes through traumatic experiences (as many of us have) with family. When Trieu started the process; his feelings toward his father were not only not ambivalent; they were feelings of rage and resentment. And so during our process of over two years, I figuratively played the role of the father so that when we were writing, dads' voice had to be present. And so we really went deep and in a very complicated process found a way to render that voice. I think Trieu became much more intimate and proximate with maybe some of the suffering that his father was going through. Losing a country, being emasculated -- which is a very big theme for refugees and immigrants. They lost their identity and their country -- which can often erupt in all sorts of volcanic and terrible ways. So on the private level that was all part of the healing process for Trieu.
On another note, we had an African-American woman write Trieu a letter saying that she had basically lived eighty years in this country essentially feeling very bad about not being white. She told him how after watching his play in which he came to terms with being an immigrant, and outsider, and having to assimilate and deal with the family that he dealt with (but never giving up a kind of hope) that he could achieve a level of understanding and forgiveness both with his father and his country. This woman wrote that she now felt that she could find that inner strength and stamina within herself and that it was ok to be who she was. I think that on the political level, most immigrants are faceless people to those who make the decisions. Even here in L.A., you don't often see or hear the real stories from the immigrants who come here, or why they came and the challenges they faced. Those are all important stories, and Trieu's story helps to humanize those struggles. And I have to say that I toured Vietnam, I have a love for that country from afar. I do have a lot of questions, such as why we got involved in that country. Why did we depose so many presidents who weren't fulfilling our agenda?
Why did Ho Chi Minh, come to the U.S. in the early going and quote Thomas Jefferson stating that "we want to build a Jeffersonian Society here". And so the powers that be here heard the word socialism and said nooooooooo. And then we go and invade them. We fought a long war, and a lot of my friends died there. And for what reason, in the end? We lost that war, I guess you can say that we lost. Did we achieve peace with honor? I am not so sure. But Vietnam has survived and moved on in the world. And now we have relations with them. And so Trieu and I are going to try to pick things up from there for our next piece and try to discover who Ho Chi Minh was. Because Trieu had a very different perspective of Vietnam then mine. His perspective was the story of his family being thrown out and abandoned by everybody.
I think these types of stories are important today.
REAL LIFE. REAL NEWS. REAL VOICES.
Help us tell more of the stories that matter from voices that too often remain unheard.